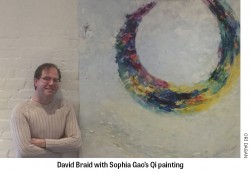 Dream Barriers: David Braid's artistry continues to find new directions, moving steadily forward towards the unexpected, fuelled by tremendous musical gifts. Fresh off a media appearance to discuss his role as composer for the Ethan-Hawke-starring Chet Baker biopic, Born to Be Blue, the two-time JUNO winner sat down for a one-on-one interview to discuss his latest project.
The project revolves around his 12th recording, Flow, which is on the Steinway & Sons label. Later this year he will perform in Russia, Norway, Scotland and Australia to support the album; this month he tours across Canada including a stop in Kingston on April 1 at St. Mark's Church, April 4 at London's Aeolian Hall and April 5 at Jazz Bistro in Toronto.
The new recording is a collaboration with Prague's Epoque String Quartet. "We have a world tour coming up this year, and I really wanted to bring the Epoque Quartet to Canada, so we're doing a cross-country tour." But in keeping with the project's genesis, it's a tour that will feature three different quartets. "The first ten days are with [Epoque]; our last concert before they go home is at Jazz Bistro. Then I fly to Calgary on the sixth and pick up the Borealis Quartet, then central Canada with the Penderecki String Quartet. So I'm having a great time working with these amazing musicians and learning a lot about their world, and intermingling their music with my world."
Flow is a unique departure from Braid's previous efforts, and not only because of the instrumentation. Courageously conceived, the bold recording blends Western classical, folk, ancient and world music forms. Jazz, Braid's musical home turf, is perhaps more evident in the spirit of the risk-taking than the sound. So will this effort net another JUNO nomination and if so, in what category? Braid does not seem to care, and that's precisely the point.
"I found it very liberating to cut myself off from thinking in practical terms – to lose my identity as a 'jazz pianist' and just think about making a program of music that feels like it's fresh and alive and not influenced by any practical decision, i.e. not being jazz, or classical. Not limited by the performance practices of a particular style. I just wanted to build something that was beautiful, that was artistic, that people could connect to."
So why now for this change of direction? "Probably…with me growing increasingly frustrated playing in jazz venues where the sound is so ridiculously loud. I feel like I'm not performing at my best because I'm fighting to create energy. I found that collaborating more with classical musicians opened up the sonic playing field fully for me. I'm really interested in playing my instrument and making a good sound at the piano and using the full range of dynamics, which could be very expressive. I wanted to go back to acoustic fundamental vibrations: strings resonating in a room, piano hammers hitting strings in a room, and nothing that's modified by technology. Revitalizing the beauty of natural sound."
The actual catalyst though, he says, was Werner Herzog's acclaimed documentary, Cave of Forgotten Dreams, which debuted at the Toronto International Film Festival in 2010. The film recounts the experience of French backpackers, who in 1994 discovered ancient caves containing paintings covered by mineral deposits, which took thousands of years to grow.
Braid's wonderment at the film is still evident as he speaks. "It turns out these paintings are 32,000 years old, the oldest art work in the world – twice as old as what was previously considered the oldest. And if you see these images, we're not talking about stick figures or primitive ideas – these are sophisticated three-dimensional drawings with very contemporary ideas. There's a painting of a bison with eight legs – one set of legs extended, the other closed– where else do you see a single image with multiple movements? It's a cinematic idea– and they had the same type of thinking 30,000 years ago – they were explaining in the film that when you hold torchlight up to the images on the rocks, the flickering of the torch makes it seem alive and moving. It's mindboggling…I had never even seen a film twice before, but I saw this film nine times! One thing that really came through for me was that art has the potential to be transformative. This film made me remember that art can have a much deeper, more fundamental, ancient purpose."
In keeping with the theme of visual inspiration, Flow, which will be released on vinyl as well as compact disc, features a stunningly vibrant painting on its cover, courtesy of Beijing artist, Sophia Gao. Currently hanging in Braid's living room, the work is fittingly titled Qi and will be on display with several other original works by Gao at Jazz Bistro when Braid and the Epoque String Quartet play on April 5.
Why did Braid choose the Epoque String Quartet to record with?
"The last couple of years, I played with a lot of string quartets in a lot of different countries, and although they are all great, with the Czech quartet, early on in our collaboration, we talked about recording. We had done a couple of demo recordings, and a pile of concerts in Prague. They weren't sure if it was going to connect with audiences – we were playing in this jazz club in Prague, the Jazz Dock, and it's a real jazz club – here we are with a string quartet and piano, and they were like – 'I don't know if people are going to like it, let's see what happens' – and people went nuts! I felt as though with them, I broke through my dream barrier in terms of making that special type of connection with completely fresh new music. We did two more concerts that tour and we had a similar, deeply emotional response from the audience which was kind of unexpected. With new music this is unusual and so it meant a lot.
"At one of the concerts, the Canadian culture attaché was in attendance and he said 'I hadn't seen a reaction like this before – Czech audiences are usually very critical, especially of new music.' So that audience in Prague, which is the first place I put the program out for public consumption. These guys – all they do is play music. Three out of the four play in the state orchestra, really well taken care of, their families are musical royalty. When I wanted to do the recording, they just said, 'We'll just do it at the best recording studio at the Czech television station with the best engineer, we work there all the time,' and boom, there it happened! So for many reasons, it just felt very natural to do it with these guys."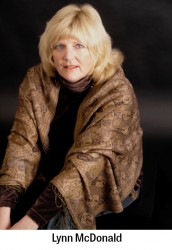 Czech mates part two: Jazz singer, educator and impresario, Lynn McDonald, is no stranger to Prague herself; next month will mark her nineteenth visit to the Czech capital, where she has sung countless tunes and absorbed bountiful inspiration. On April 19 at 6pm, she will be sharing the stage with Prague's star guitarist Roman Pokorny at 120 Diner (where in the interest of full disclosure I should state that I have a significant hand in the programming).
Lynn McDonald's Czech Connection continued from page 19
I asked McDonald about her connection to Prague and how she became such a loyal tourist. She was happy to share her memories:
"When a dear friend from Czechoslovakia, now the Czech Republic, died suddenly, I made it my mission to visit his homeland," she recalls. "In Prague I felt more at home than I do in my own province! I never get lost. My biggest thrill is packing my music charts and going somewhere I do not speak the language. I smile at the band, I count the tune in, and then we communicate."
The Czechs are not "touristic," as she puts it. "They make no effort to be phony or charming. Having suffered both Nazi dictatorship, ghettoization, and then Communist occupation, they are quite serious. However, Czechs form very deep and lasting friendships. I was sincerely welcomed in the 90s. It was rare to get a visitor's visa and took weeks. They called me 'Canada,' saying 'You must be Canada,' when we met over the years. Back in my early visits to Bohemia, we would practise by candle light in small flats heated by coal, electricity being an 'option.' I swear all the musicians lived on nicotine and caffeine then. Oh, and Pilsen on a good day."
"They often asked if I was a diplomat, a jazz ambassador. The jazz musicians at that time had all learned their craft in secret, behind closed doors, mostly from contraband recordings, which they still value. The Communists were pulling out and all kinds of Czech art was coming out of the alleyways and shadows into the bright light of day. Classical musicians were changing to jazz and playing, literally on the bridge all night. I was so exhilarated by the value put on freedom. The Czechs restored their beloved Prague to its former sixteenth-century glory, with new velvet and gold, recobbled streets and fresh paint and frescoes. Sadly in 2002, the Vlata River flooded its banks and destroyed much of their hard work. They started over. The Czechs are in a constant process of reinventing themselves; tirelessly healing, fixing, repairing."
Over the past few decades, McDonald has become intimately familiar with the city's jazz club scene, as well as the Praguers' way of life:
"In Prague, there is a cover charge. People value art and come out seven nights a week to hear music, cuddle in the corner and relax. They are smoking less in the clubs today, if at all. Their homes are small flats so Praguers socialize in coffee shops and clubs.
"Czechs love the standards. They listen with their eyes shut, experiencing what they had only heard on recordings. I enjoy walking home at 1am, hearing my solitary footsteps on the cobblestones, feeling safe in the medieval narrow streets and the archaic gas lamplights. Sheer bliss for me. There is no physical crime that I have heard of. The odd beggar, but I always carry provisions for them."
When she isn't in Prague, McDonald proudly presents live jazz for people who want to listen; she currently books a series at the Jester's Court in Port Perry:
"There is a no-talking policy. I was raised in George's Spaghetti House, the Imperial Room, Café des Copains and Montreal Bistro, where there was attentive silence during the performances. That is why players like to come to Port Perry to be in my music series in the Listening Room at Jester's Court. I pay them, feed them and guarantee an appreciative audience. People drive from Barrie, Peterborough, Oshawa, Bowmanville, Newmarket and Toronto to sit in a quiet reverie. Similar to the vibe in Prague, if you can believe it!"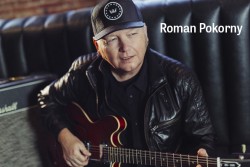 McDonald met guitarist Roman Pokorny in the early 1990s; he put together a band for her and booked gigs.
"When I first heard Roman (romanpokorny.com) he was cranking out one blues after another at the Ungelt in Prague. His band, Blues Box Heroes, cleans up all the awards. The next night he was in a Latin band, Brazilian Mood, with Yvonne Sanchez. The third time I saw him he was playing like Grant Green in a fabulous jazz venue. Roman is a force of Nature on the guitar. Powerful and aggressive or tasty and delicate. A child in Europe is handed an instrument at four years of age and expected to practise daily for hours, for years. He did and it shows. During the height of Communist oppression he would ride his bicycle to the forest and practise alone or jam with friends, willing to chance getting caught, learning forbidden American jazz songs. Czech folk know that nothing is free and nothing comes easy.
"Roman is recording with a New York rhythm section and visiting me for a few days. Tuesday April 19 at 6pm as you know, we are at 120 Diner. But Jester's Court (Sunday, April 17, 7pm) is in the works and also Blues and Brews at the Old Flame Brewery with Howard Ross and Dave Restivo. (Wednesday, April 20, 8pm)."
Ori Dagan is a Toronto-based jazz musician, writer and educator who can be reached at oridagan.com.