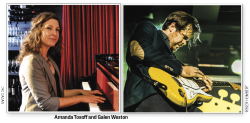 Dollars to doughnuts Amanda Tosoff will win jazz piano fans in a flash with her stupendously swingin' version of Rodgers and Hart's There's a Small Hotel from 2013's Live at the Cellar with Jodi Proznick on bass and Jesse Cahill on drums. But aside from the odd standard or bandmate's original tune, most of Tosoff's recordings to date have focused on her own original compositions, including 2008's Wait and See which was followed by the prestigious General Motors Grand Jazz Award at the Festival International de Jazz de Montréal.
Designed to showcase some of Toronto's finest local jazz talent, the TD Discovery Series is a year-long initiative of music and educational performances created by Toronto Downtown Jazz, producers of the Toronto Jazz Festival, and supported by TD Bank Group. This year, Amanda Tosoff's Words Project is the first of four TD Discovery Series Special Projects. It finds the pianist, composer and arranger echoing a welcome tradition in Canadian jazz and creative music: setting poetry to music with stunning results. As great as the sum of its parts, the project features the following artists: Felicity Williams, voice; Amanda Tosoff, piano; Alex Goodman, guitar; Jon Maharaj, bass; Morgan Childs, drums; Rebekah Wolkstein, violin; Amy Laing, cello. As is always the case, this will be an evening not to be missed, and advance tickets are highly recommended.
Amanda Tosoff is a daring improviser and gifted composer. Words, her fifth release, is a bold move, as evidenced by words taken directly from her website. "The desire to challenge oneself (and the audience) is a key component of the DNA of a true artist." The concept of setting music to poetry was not planned; it was itself an improvised result of a composition exercise:
"One day I just decided to find a poem and write a melody to it – the song on the record called Owl Pellet by Tim Bowling. I had such a great time doing this that I decided to continue on with this idea, eventually choosing a bunch of poems that resonated with me. I have to admit that I hadn't really checked out much poetry since high school, but this project has definitely made me more interested in poetry, and how poems can provide a great starting point for composition. They give you moods, images, emotions and phrasing to start with. I definitely feel that this has expanded my composition skill and also my approach to style. I really look forward to exploring this more."
May the fans of William Wordsworth worldwide check out the opening track Daffodils – it is available for listening on Tosoff's YouTube channel. Other sources of text include Canadian poets Carole Glasser Langille and Laura Lush and song lyrics from talented songsmiths (and members of Tosoff's family), Melissa Mansfield and Lloyd and Ted Tosoff.
At first listen, and very much at the forefront of this project's success, is vocalist Felicity Williams, a musician who shines consistently. Much admired within the communities of creative music, jazz, pop and beyond for her pure, unaffected sound, intense vocal range and endlessly inventive improvisational ability, the York University Music alumna has worked with a wide range of projects, from Bahamas to Hobson's Choice.
"Felicity is amazing," says Tosoff. "She's such a great musician and was perfect for this project. As soon as I wrote the first piece I heard her singing it. I think it is her beautiful pure tone, but also, perhaps, her range too. I have to admit that when I was writing these pieces I was singing a lot to figure out how I wanted my melodies and phrasing to go. I think that her voice was most similar to mine in range and the way I wanted the melodies sung – so I guess I wrote these pieces for myself, but needed a fantastic singer to bring the songs to life!
Says Felicity Williams:
"Amanda found a way to make the music spring up through the words, as though both music and words were flowing from the same point of origin. I think that's what you have to do when you take someone else's poems and set them to music. If you make yourself receptive to the rhythm and the phrasing of the words themselves, you can get on their wavelength. And then you extend the creative process, by making something new."
Amanda Tosoff's Words CD release concert takes place at the Music Gallery on March 10 at 8pm, $20 or $18 in advance; and March 11 at 8:30pm at The Jazz Room in Waterloo.
Readers who find the setting of poetry to jazz interesting will want to check out a previous TD Discovery, the Sarah Yeats Project, a contemporary chamber jazz group that features the poetry of William Butler Yeats. With original music and arrangements by Sarah Jerrom, the featured poems are arranged for nine-piece instrumentation comprised of strings, woodwinds, brass and a traditional jazz rhythm section. This is a highly ambitious project and Jerrom invites you to join her crowd funding campaign to complete the recording of The Yeats Project through her Kapipal page: visit sarahjerrom.com.
Plugged-In Weston: Meanwhile, at galenweston.org you can find Plugged In, the latest recording from innovative fusion jazz guitarist Galen Weston ("Not that Galen Weston," jokes his publicist, citing no relation to the current executive chairman and president of Loblaw Companies Limited). This Galen Weston, owner of a beautiful new recording studio called the Rose Room (roseroom.ca) has an extensive business background, although the music came first:
"I graduated from Humber College in 1997; they were nice enough to introduce me to jazz and ruin my life," he jokes. "Prior to that I was rocking it out, two-hand tapping. I loved instrumental rock – Joe Satriani, Steve Vai, I was a huge guitar fan - then I got there and I had to learn all this vocabulary, speak this new language – but I fell in love with it.
I never achieved what I wanted to achieve in college – I wasn't getting out there and getting to tour with Gary Burton – or anyone, for that matter. So I wasn't sure what I would do because I had this desire to play jazz and fusion and that's what I wanted to do, but my ability wasn't in line with my desire at the point of doing it professionally. My reading was strong, so I would have been good enough to lose my mind in a pit band or something, but I was broke, too. Student loan debts meant that a good paying job for me at that time was eight dollars an hour at a gas station. And I wanted to stay in Toronto so I needed a job to make money."
As a determined self-taught, self-made entrepreneur, Weston went from making 350 phone calls a day selling penny stocks to becoming RBC's most successful rookie.
"The whole company came in and they made me talk about how I got so successful, and then the next day I quit, it just wasn't me. I had enough money to pay off my student debt, but I needed another plan. I liked Lead Generation and working with the internet, and I really worked hard…seven years later, while the US market tanked, everyone wanted safe money so they bought annuities, and I had my entire engine set up for Lead Generation."
Weston is considered a financial Internet marketing pioneer. His company AdvisorWorld.com has helped tens of thousands to obtain successful professional relationships with trusted advisors.
Success has allowed Weston to recently come back to music full circle, spending his time practising, writing and recording at the Rose Room Studio. The Galen Weston Band is comprised of David Woodhead on bass, Al Cross on drums, Matt Horner on keyboards, Richard Underhill on alto sax and appearances by Rick Lazar on percussion. The band's beautifully produced Plugged In album has been slowly picking up steam online; Song For Daphne has been played over 136,000 times on SoundCloud as of this writing. As for gaining exposure in the Toronto music scene, unsurprisingly, Weston has a plan.
"I've always been thinking it's hard to get Torontonians to music in general, it's almost like you have to drag them out by the earlobe. So I thought, how do I get them there? I had to do something that opens me up to a theatre audience. I needed to make my show more theatrical – I don't like speaking and I'm not very good at it – so this was kind of inspired by U2 and Pink Floyd – adding a visual element that people aren't used to."
On March 26 at the Berkeley Street Theatre, the Galen Weston Band will be appearing live – and animated! In collaboration with his uncle, award-winning animator Stephen Weston, the concert experience will take audience members to a world where "Fantasia meets Guitar Hero" and where the animations tell the story of the guitarist's own journey, or as he puts it: "a tongue-in-cheek meditation on the struggle for identity in a genre-obsessed world."
Kudos to the artists who take risks and the audiences who honour them with ears and cheers.
Ori Dagan is a Toronto-based jazz musician, writer and educator who can be reached at oridagan.com.