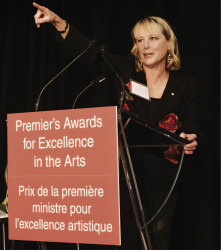 Jane Bunnett's day is so chock full that the only time we can find to do an interview is at Ana Maria's hair salon, down the street from her Parkdale home. It's a big week. Two nights ago (October 20) she won Ontario's Premier's Award for Excellence; today (October 22) is her birthday; and on Saturday night (October 24) she performs at Koerner Hall with Maqueque and Emilie Michel. I congratulate her on the Premier's Award and ask what this particular honour means to a five-time JUNO winner, two-time Grammy nominee and Order of Canada recipient:
"First of all this is my third time up for this award, and every time, the people in this category have been people that I respected. Some of them I knew because they are closer to my field, but when I've been seeing the other nominees and investigated and researched what they do, I'm extremely honoured because I look at them and I think, 'That's amazing, look what this person has done, look what this person has done!' and I'm saying it about everybody and then I go, 'Wait a minute, I'm in the same category!' so that must mean, you know? The jury, my peers are recognizing me in the same way. I'm so very honoured."
Bunnett's talent is astonishing, her passion contagious and her discipline inspiring. She is also lucky in love: her husband of nearly 35 years is producer manager and occasional sideman Larry Cramer. "He is my other half in making these things happen. We are a real team …my vision is not as strong as his vision. A lot of the time I can't quite see it, but Larry sees the end results. I just see all the work that has to get done and I freak out. We're a great team."
The two have toured this planet dozens of times in the past 30 years, acting as Canadian ambassadors, standing up for social and political causes, collaborating with some of the very best in the world and providing countless opportunities for others every step of the way.
"Sometimes it's hard for us to stand back and just look at the total body of what we're doing because artists are so forward thinking and you never know where your next bread and butter are going to come from. To sit back and savour the moment, the recognition because we are always moving forward – you finish a project and you're on to the next one – so to be able to stand back with Larry, it means so much to us. And not to look like a materialistic person, but there is a monetary value to the award that could not come at a better time, when we've been stretched financially. We've set a certain standard for ourselves, and it can't be any less that that. Twenty records later, we have to keep our standard high ... keep it interesting for yourself and your fans if you have fans. So sometimes we have to beg, borrow and steal to make a project happen."
Making a living as a jazz artist in Toronto can seem nearly impossible without a secondary income. Most jazz musicians teach either privately or in a post-secondary institution. Although she is a natural mentor, Bunnett has never had a regular teaching position, which arguably has allowed for the 20 recordings under her belt.
"Who knows down the road, as I get older – I don't know how long my body can handle the running around – as a jazz musician when you are doing what I'm doing, when you don't have a teaching position, you have to travel. To work I have to travel. There's only so much you can do in Toronto, there's only so much you can do in Canada, so you have to up and move, and so when I can combine that with going into a university or a high school or a community arts organization, I really enjoy doing that and I like to be able to shed light on what I do, because some people really don't understand what is entailed in being an artist – the sacrifices that you make to do that. How you put the whole thing together – the whole record – especially with young people, because there is a disconnect with creativity, everything being so hi-tech. The way I work is very organic – in the case of Maqueque – I write a piece of music and then we sit down and we work on it, and I'm very open to people's ideas. If a change is suggested we'll all bounce it around and a lot of the time their suggestions are great. We workshop the material to bring in the different influences. I see myself as a collaborator – I thrive on not only doing my own thing, but bringing other ingredients into what I do – and I think in a certain way, I am good in the educational world, to be able to explain this experience."
Maqueque: The group Maqueque – which is also the name of their debut album – is Bunnett's latest triumph, finding her in the company of five female Cuban twentysomethings: Daymé Arocena, vocals and percussion; Dánae Olano, piano and vocals; Magdelys Savigne, vocals and percussion; Célia Jiménez, vocals and bass; and Yissy García, drums. Maqueque won the 2015 JUNO for Jazz Album of the Year – Group.
"The record was done in 2013 and it was done pretty quickly. We put the group together down there, and we rehearsed three or four days, and then went into the studio and made the record. I hardly even knew most of the girls."
Having followed Bunnett on Facebook for the past few years, I've noticed many posts about favourable receptions on their North American tour. I asked her what surprised her about the response to the album, both from critics and audiences:
"That's a good question. When we made that record, I had no idea – Maqueque was actually a very difficult record to make. There were certain things that happened … part of the tracks were recorded on a broken bass, and I didn't even know it! Celia didn't even own a bass – she was a classical bassoon player but she really wanted to play jazz and picked up the bass but she didn't own one. I don't even know whose bass she was using. We were in the studio and then when were mixing, both Jeremy Darby and David Travers-Smith were like 'I don't know what to do about the bass sound, it's just dreadful' and I was quite overwhelmed with all the things that were going on. I knew something was funny but, I later found she was playing on a broken bass that wasn't hers and she didn't want to tell me because she thought I wouldn't let her be in the band. Yeah, thanks! Thousands of dollars later and trying to clean up the sound.
"And then there was making a record and not knowing who the record was going to be for, because at that time EMI was being bought by Universal and so we didn't have a label for it. A lot of people work like that, do it independently, but we had spent a lot of money and we were very lucky, we got some assistance from Ontario Arts Council and Toronto Arts Council and FACTOR to make that recording. That all being said, when it was done, I thought, 'This music is very, very different from any of the musics I have written.' There is a feminine – there's something different from any other record I've made. There's all these women singing – there's a vocal component on four tracks – it's not a pure jazz record, not a pure Afro-Cuban record, it's a real mixture of the two things. I was really afraid of how people were going to react to it.
"As with all of our recordings, we are always moving ahead of the curve when we make something and it's also our problem in a way too. I can't stay in one place, do the same thing over and over again, but just as somebody starts to understand what our last project is, we have moved on to something different. So there's always kind of a catch-up mode with your audience, and some people get it and some people don't. But yeah, I was really afraid, to be totally honest. Plus with it being an all-female record, I was worried that people wouldn't give it their ears – an all-girl group – not give it the real attention and look at the integrity of it. Every one of those artists, even though some were more developed than others – it was a leap of faith taking a bunch of girls – most of them had never been into a studio before and it was their first recording.
"It's a whole bunch of firsts and Larry and I were carrying all these new things, it was a huge leap of faith and money to do this and say to the world, "What do you think of this one now?" Larry really was the one that was saying, 'It's going to be a great record.'"
Maqueque is now working on their second album.
"We're writing new material and rehearsing every day, much to my neighbour's chagrin," laughs Bunnett. Following Saturday's concert, they are doing a tour of Australia – Bunnett's first time down under since 1993 – as well as performances planned in Cuba as part of the JAZZ.FM91 jazz safari and the Kennedy Center in May.
"The record was great and it's the door opener, but I think when this group gets on stage, people's minds are blown because the energy is so strong from these young women. They so love performing and they so love the opportunity to get on a stage. I have been saying this for years in interviews: the only way you get better – you get more popular, you become great – is by performance opportunity. Look at Esperanza Spalding as a perfect example. She is a great talent, but if she didn't get all those opportunities with Joe Lovano and all those people, they have all been stepping stones to her becoming her own artist.
"There's the 10,000 hours thing which has been studied – but you can put all those hours in and not get the opportunities too. I feel it so greatly when I get on the stage with them … they have these great big smiles and they are not being phony. They're so excited to be in front of an audience, playing and getting feedback. They love it and it's very contagious. And they're all kickass musicians who play their instruments so well. They love being together as a group, and I know that because they're all living in our house! So I see how it works, there is a deepness in the relationship, all the girls coming from Cuba and knowing what they've had to be up against. And knowing that what is happening for them right now is a huge opportunity. It's been great for me because it has given me new energy also."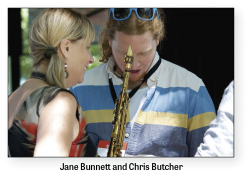 Heavyweights' Chris Butcher: As selected by Bunnett, the Emerging Artist Award that goes with the Premier's Award went to trombonist, composer and bandleader Christopher Butcher. At the awards gala, she introduced him:
"This wonderful young musician has been in the trenches as an artist/educator/radio show host at U of T and an arts activist. Along with his Heavyweights Brass Band, he brings great musicianship to the streets and concert halls…"
And says Butcher: "It is a huge honour to be selected by Jane Bunnett as emerging artist at the Premier's Awards for Excellence in the Arts. The award comes at an important moment in my career. I'm heading to New Orleans in January to study with trombone master and producer Delfeayo Marsalis, with support from the Ontario Arts Council. I look forward to being able to focus on my art while soaking up vibrations from the birthplace of the music I love. I'll be coming back to the first American tour of my group the Heavyweights Brass Band in March, with clinics and concerts in NYC, Buffalo, Williamsville, Cleveland, Akron, Detroit and more, as well as heading out west with Mexican singer/songwriter and JUNO award-winner QuiQue Escamilla."
Butcher, like many musicians – yours truly included – feels lucky to have Jane Bunnett as an inspiring beacon in our community.
"Jane has been a mentor and inspiration to me for years. I feel validated and inspired to have been selected by her. Not only do I want to work harder for a positive change to the fabric of Canadian culture through my art/music, I also want to give back to the community and have a positive impact on humankind. With her Spirit of Music Foundation, which provided instruments for Cuba, and countless benefit concerts, Jane has showed the way."
Ori Dagan is a Toronto-based jazz musician, writer and educator who can be reached at oridagan.com.