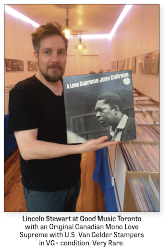 This holiday season, choose old-school LPs over iTunes gift certificates. The reason? #VinylRevival. It's the old thing. It's the new thing. And for the record: if you need cash, dig out those old LPs – they could be worth something. To get your money's worth, check out a store called Good Music Toronto, recently relocated from its Queen Street location downstairs from Black Market Vintage Clothing to new premises at 1611 Dundas West, at Brock, just steps away from Lula Lounge.
"I've been selling records in Toronto for ten years – eight as manager of Vortex Records and two as owner of Good Music [ilikegoodmusic.com]," says Lincoln Stewart, who prides himself on giving the fairest prices in town (half of what he sells the record for) for quality vinyl. "I have been a music lover my whole life and got into the business when the owner of Vortex asked me to work for him. Seven years prior I'd been the manager of his video store, Art & Trash."
What about this business has changed in the past few years? I asked him.
"Certainly an increase in sales! Vortex has been in business since the '70s and was one of the few Toronto stores to survive the drought of the '90s/00s and come out the other side. Also, young people are buying vinyl again, which is very nice to see. I've also seen a drastic increase in prices, which is bad. Gone are the days when we could sell Fleetwood Mac and Dark Side of the Moon for $5. I find that disappointing because I'm a music lover first and a businessman second. Our motto sums us up nicely: Quality records bought and sold. Fair price in and out. Because we guarantee everything that we sell, we try not to carry records with audible marks on them. Our records play clean. If one doesn't, bring it back for a full refund. I also photograph most everything that's interesting and put it on
instagram.com/goodmusicpopup.
Just one thing about Good Music Toronto – while they have a great jazz selection, they do not currently buy or sell classical music. Thankfully there's Amoroso Records (amorosomusic.com) at 4 St. Patrick Street, across the street from the Rex Hotel, which specializes in classical as well as jazz, rock and rarities. This family-run business is co-owned by sisters Anne Lai and Jacqueline Lai. Says Jacqueline:
"I decided to take a break from the bank, so I started working for a friend of mine at Second Vinyl. The year was 2000 and that was until 2004. Then, reality came in and I had to go back to the bank, so from 2004 to 2008 I worked for CIBC. At the beginning of 2008 I had had it, and I asked my family for help, and this is how Amoroso formed.
"In the beginning, vinyl hadn't quite come back yet. I have to admit, now we are in our eighth year, and only in the last two years, vinyl did come back. But, the problem that we have is that people are very selective. People want only certain things. For example, in the rock section, people want Led Zeppelin, Pink Floyd, Neil Young, those are all sellable. Everyone comes in wanting just that and nothing else. In classical, only violin, cello, solo piano, nothing else. So I'm right here doing my best to introduce people to different music."
There are some great finds in this store and Jackie, as she is affectionately known, is a real gem in her support of the local music scene, always accepting flyers from musicians and eager to know about your next gig.
Music lovers in the Annex still miss Sonic Boom (sonicboommusic.com) but the new location at 215 Spadina Avenue is a cool destination for the Hogtown vinyl lover. As well as being Canada's largest independent record store, Sonic Boom is open 10am to midnight, 364 days a year. Says store manager Christopher Dufton:
"The vinyl format has been important to Sonic Boom for 15 years now. It's been within the last five years that we've experienced some real growth in the amount of people making vinyl their choice of format. We've seen a steady growth in new and used vinyl sales of about 30 percent year to year over the last several years."
Why are consumers buying more vinyl?
"Buying and listening to music on vinyl is a more complete experience than buying and listening to music on MP3. Buying music on vinyl requires a trip to your local record store, a place of excitement and discovery. You have the opportunity to interact with other fans of music and are surrounded by the physical media and the beautiful art that's included in a record. Taking that record home and putting it on your turntable provides an experience that the click of music cannot. There are many local bands and artists releasing music on vinyl. A few examples are Born Ruffians, Grounders, Fresh Snow, New Fries and Mimico, which all released new albums on vinyl this year."
Parkdale peeps should take note of a cool new place on Queen West called Parkdale Platters (instagram.com/parkdaleplatters), which opened in January of 2015. "When I was younger I always wanted to own a record shop but after years of working other jobs I lost sight of that prospect," says Parkdale Platters owner Chris Gibson. "Then I began coming across lots of records and the thought of having a record store re-emerged."
Gibson notes that "In the past few years record buyers wanted records that previously were not as sought after – records that people already had or weren't interested in. Also, people have a wider range of interests in genres. While selling records at a rather low price, we stock the store to be inclusive."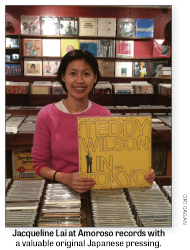 Kensington Market's Paradise Bound (paradisebound.ca) sells both rare records and antique Japanese art. "Me and my highly personalized, knowledgeable service. Little shop – only ever me in there," proprietor G. Coyote says. "I got into it because working for other men in corporate settings was choking my soul and I love vinyl. So, I bought a lot of records cheap over a few years and opened in 2000."
Like Paradise Bound on Facebook to save 15 percent off your next in-store purchase!
Over in the Beaches, discover Discovery (discoveryrecords.com) at 1140 Queen East in Leslieville. "I really thought it was just a lark but from day one it paid the bills," says Jim Levitt, owner of Discovery. "We attempt to stock a wider variety of music...not just rock, jazz and blues but also C&W, classical, spoken word, comedy, easy listening ...etc., etc. We also list our entire LP selection on our website."
I wish I could do more than just mention others as well: there are literally scores of sources for vinyl in Toronto, all worth looking up. Kops Records now has three locations, two for She Said Boom! (separately owned) plus Vortex at Yonge and Eglinton, L'Atelier Grigorian in Yorkville, June Records in Little Italy, Grasshopper Records at Dundas and Ossington and Rotate This on Queen West.
Star jazz singer Alex Pangman – just named Best Female Vocalist in the NOW Magazine Readers Poll – is a fellow vinyl collector. When "Canada's Sweetheart of Swing" released what some view as her magnum opus 33 (2011), featuring songs that were famous in 1933, she was 33 years of age. Needless to say, she couldn't resist releasing the album additionally in vinyl, at 33 1/3 RPM:
"People that love vinyl get so excited when you have it! Like really excited…An LP is a beautiful thing! Records are objects you want to own and take the time to listen to carefully and read the liner notes. I feel that in the digital age, music is becoming invisible, and especially this music, it has a groove...(pauses)...literally!" she laughs in our over-the-phone interview. Her talent is itself a gift that's difficult not to admire; those who know and love Alex's music also know the obstacles she has overcome with her health. Born with cystic fibrosis, she is a two-time double lung transplant recipient and an organ donation advocate. It would make her holiday season to know that WholeNote readers are giving the gift of life: beadonor.ca.
Speaking of gifts, another great idea: the Royal Conservatory's music appreciation classes. From Music Theory 101 to Outside the Box Baroque, this is your chance to Meet the Mendelssohns and The Great Conductors. You can even learn How Jazz Works and much more with these courses which range in price from $99 to $375. For more information or to register, call 416-408-2825 or visit rcmusic.ca/musicappreciation.
So, here's wishing everyone a wonderful holiday season that's full of music appreciation, be it by supporting live music, your local treasured vinyl shop, or hopefully a mix of both!
Ori Dagan is a Toronto-based jazz musician, writer and educator who can be reached at oridagan.com.