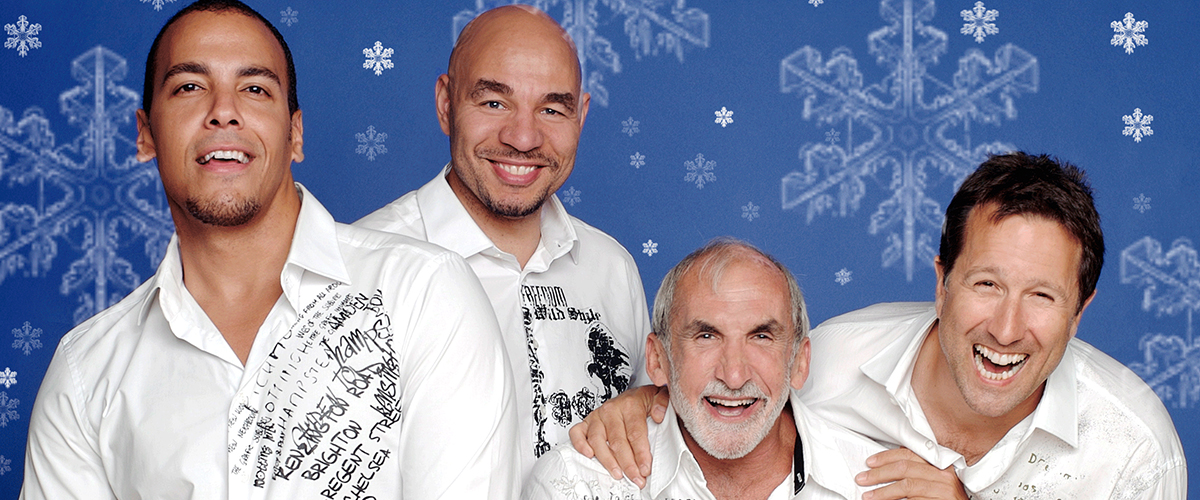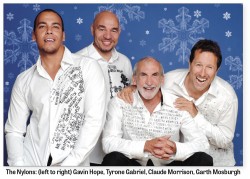 The fact that festivals are becoming as ubiquitous in Toronto as ways of collecting, and spending, frequent flyer miles, shouldn't deter one from paying attention when really good ones come along. Over the past few years, SING! – the Toronto Vocal Arts Festival – has stuck to the task of shining the spotlight on the diverse world of a cappella music – including great visitors and top talents who grace the scene year-round. This year the fest will illuminate some of the best, including an appearance by veterans of the scene, the Nylons, as part of their Farewell Tour.
Founded in 1978 by Paul Cooper, Mark Connors, Denis Simpson and Claude Morrison, the Nylons became one of the most prolific collectives in the a cappella world. After 37 years, the only surviving original Nylon is Morrison, now 63 and ready to embark on semi-retirement, but not before an extended farewell tour that includes a SING! concert May 14 at the Jane Mallett theatre.
"When we began I was the youngest, now I'm the oldest – the mileage is beginning to catch up with my body. I find that the less I do, the more I enjoy it, and sometimes the less I do, the better I do it. That said, it won't be over until about a year from now. We are taking the show across Canada and into the United States, so it's a bit of an extended farewell, kinda like "I can't miss you if you don't leave!" (chuckles) It's been a good long run. I can't even think of many groups who have been around for this long. It's been a great life – more than a living, more than a lifestyle, it's been a life."
It has been said that a cappella found the Nylons and not the other way around; but Morrison, who was working as a professional dancer at the time, recalls it thus:
"I remember Mark [Connors] saying to me, we're going to form this a cappella group, we want you to be in it, and we're going to go all over the world and be really famous. So Mark seemed to have an idea that this was going to take off, and we just kind of stumbled head over heels into this and never looked back. For some reason, at the time four guys singing a cappella was considered to be outrageous. We played fashion shows, parties, benefits, and word of mouth took off very quickly. We became media darlings here in Toronto. Fast forward to a couple of years later, we self-financed our first album which was self-titled. That went Gold in about a month and Platinum in about two months, so there was a market out there."
Is there a particular recording you're proud of?
"Our version of This Boy by the Beatles has got this breathtaking key change, and I remember the night we recorded it, thinking, I'm going to remember this night forever because I was dealing with an unrequited love, and all my pain went into that key change. Of course, The Lion Sleeps Tonight has been really good to us. One arrangement I'm personally proud of is O Canada which they still play in the schools! I remember we did a show on Canada Day on Parliament Hill, and at the end of it everybody joins hands and sings O Canada and it was like Kumbaya. I remember thinking, where is the energy here? Who died? So I thought, let's do a version where there's a beat to it. People seemed to love it. We did it at Game 6 of the Blue Jays World Series in 92, down in Atlanta, which was very exciting. We did a show recently where someone yelled out, 'Do O Canada!' and I said, 'Well that's a cheap way of getting a standing ovation!'"
Your reaction to the thriving a cappella scene?
"I'd like to think that we contributed to it somehow. So many people from that world come up to us and say, we owe this to you, because we probably wouldn't have done it unless we had seen that you were able to do it, and it gave us the boldness to go for it. So that's really gratifying to know that you've made a difference in people's lives, that you inspired them."
FreePlay: One such talent is Dylan Bell, who went on to produce and arrange for The Nylons. As Claude Morrison puts it, this man is "a bundle of talent, wonderful to work with and all over the place! Performing with four or five different groups, he's like a moving target that's hard to hit."
Bell first heard the Nylons at age ten, then went on to become a Bobby McFerrin devotee and didn't stop there:
"I still remember the moment I got my copy of Take 6's debut record. I ran into our music room and said to my friend Kevin Fox: 'Stop everything, and listen to this.'" Shortly after that, Suba Sankaran and I met at York University, where we were both members – and later directors – of the student-run a cappella group Wibijazz'n'. That was in 1993, and we've been singing together ever since. Kevin now sings with the Swingles, and Suba and I have since made a cappella singing the cornerstone of our musical careers."
Partners in crime, Bell and Sankaran perform together as the FreePlay Duo, and I'm willing to bet that even the most ardent a cappella fan would be wowed by this act. FreePlay's voices are as impressive as their arrangements, where Bach, bebop, solkattu and hip-hop harmoniously transcend cliché. Very much a modern group, they even add a loopstation to the mix in order to create a multilayered sound in live performance. With the help of various granting organizations, Bell and Sankaran have taken their act on the road, with stops in North America, Europe, East Asia, India and Africa.
One memorable highlight: "In 2013, we embarked on our first trip to Africa, specifically Nairobi. Mary Tangelder, Suba's former jazz choir member and voice student, wanted to create a program to explore using music as a tool for cross-cultural communication and healing. Living in a multicultural environment such as Canada, we take cross-cultural enrichment for granted: in Africa, exchanges between members of different tribes or linguistic groups can be tense or even dangerous. As part of our workshop, we taught a simple vocal counting exercise, and as part of the cross-cultural component, we had workshop participants teach each other the exercise across languages. What seemed a simple exercise for us was novel for them: the idea of teaching your language to another tribe was almost unheard of, and was an eye-opening experience for all of us. One workshop participant, hearing about our workshops, came in from eight hours away, near the border with Somalia. Being from a strict Muslim sect, he had never made music before in his life, and the experience for him, he told us, was life-changing."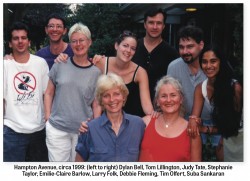 Hampton Avenue: Just how did Debbie Fleming go from versatile vocalist to sought-after arranger and founder of a cappella group Hampton Avenue?
"Well, to start, I had my Grade 8 piano in high school and took Grade 2 theory just so that I could have an extra subject in Grade 13. When I married my ex-husband (Gordon Fleming), he was one of Toronto's major B3 R&B players, but couldn't read a note. I became his copyist – so I became pretty adept at hand-writing music. Then Atari Notator came along, and I was so scared to get into computerized stuff, but damn it, it was so exciting! And suddenly, I thought, you know what? This would make the music far easier for singers to read. So because I had the computer, and I had the ideas in my head, I started to think about arranging more seriously.
"Actually I was motivated to put together another vocal group thanks to David Blamires. He had come home from a tour with Pat Metheny – he was touring with him at the time as a singer – and when they were in Holland of all places, he heard this fantastic vocal group, Take 6, and you couldn't buy them here. He brought a tape back for me and I freaked when I heard them, I thought, that is the kind of harmony I want! And one of the first things I did was, I sat down and I tried to lift the six parts that they did of Quiet Place. I thought, maybe I could do this. It was one of the most difficult things I've ever done in my life. Hearing the outside parts was easy, but hearing all their little crunchy things in the middle – it was a trial but it was a joy, because it kind of honed my ear.
"So I put together a bunch of singers who did studio work and could read really well, and one of them was Emilie-Claire Barlow, Judy Tate's daughter. I remember Judy said, 'Why don't you bring Emilie in?' and I said, are you kidding? And she said 'Oh no she really reads well!' and I thought, well okay, let's try her. So she worked out like a dream, and we would sit around my dining room table, all these people, Elaine Overholt, Laurie Bower, and we would just love to do this.
"I discovered Suba Sankaran and Dylan Bell through Phil Dwyer. I said to Phil, 'You're teaching up at York University and I'm always wanting to find people who can read and who like jazz harmony.' He took me to see Suba and Dylan, they were only 19 years old, and they knew Tom Lillington because they were part of Wibijazz'n' – they started that group. So they joined us.
"We had regular rehearsals, and our first concert was at the Music Gallery, before we had recorded, which was in 1996. It was kind of hard to get people out, as it is now. I had to do a lot of promotion and publicity. In 1997 we did our Christmas CD.
"By the time we were first written up in The WholeNote – 1999 I think it was – we had two concerts a year. It was happening, but it wasn't something that hit the major population – jazz a cappella wasn't really a huge thing. But for those who dug it, we were it. We did the crunchy harmonies – we'd hold a chord and it would be so great with sharp elevens and the whole damn thing and then there would be dead silence and you could hear everyone go 'Ahhhh.'" (laughs)
The distilled version of the group, The Hampton Avenue Four, will be performing at the SING! fest. Also this month, Fleming is thrilled to be releasing a new recording, Back to Bacharach, featuring an all-star band led by all-star pianist Mark Kieswetter. But why Bacharach?
"I was at one of Laura Marks' jams out on the east end. I got up and sang one of my all-time favourites, A House Is Not a Home, which I have been singing for years. It's not jazz but it's one of those songs that gets me right in my heart. Well, Maureen Kennedy was there, and she came up to me and said, 'You know, that was really nice. I could never really sing Bacharach, because it's really hard to do it well.' So I thought, BINGO! I wanted to do another album, and I was looking for something that would set me apart from all the other great singers in town. There are so many who sing the American songbook like the phone book for God's sake. But I have never fit into a slot. I've done everything from classical to rock 'n' roll to country to R&B which is my heart and soul, and jazz. And this was like water off a duck's back – yes, rangy, yes, melodic, but I could perform Bacharach with no problem. Since Dionne Warwick started off as my favourite singer, and later on Aretha Franklin, and both of them did covers of Bacharach, I thought Back to Bacharach. We recorded it at Studio Number 9 and the release is Thursday May 26 at Jazz Bistro.
For all the SING! listings visit singtoronto.com. May this festival, along with the Canary Pages, inspire YOU to sing, Toronto!
Ori Dagan is a Toronto-based jazz musician, writer and educator who can be reached at oridagan.com.