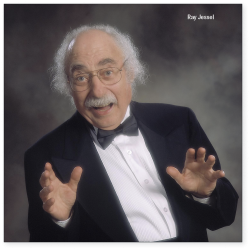 Whodunit? Ray Jessel done it. He lived a life that was full. Much more than this, he did it his way, right up until the night he passed away in his sleep at 85, just a few months ago.
Born in Cardiff two weeks before the stock market crash of 1929, the acclaimed Jewish-Welsh-Canadian-American was five times recognized by the Manhattan Association of Cabarets and Clubs. Jessel's songs were recorded by Louis Armstrong, Jimmy Durante, Michael Feinstein and John Pizzarelli, to name a few. He will forever be considered a master composer, lyricist, musician and cabaret performer. If that weren't enough, in his final year on the planet, at 84, he became a YouTube sensation, when he performed What She's Got (The Penis Song) on the NBC reality television program America's Got Talent.
"The comedy was always there, and so were the one-liners," recalls his beloved sister Vivienne Muhling, with whom he was extremely close. "When he was in college in Cardiff, he wrote a story in his college magazine which was a whodunit, and he started by saying "Who done it? The butler done it!" (laughs).
Before showing me a 1965 Broadway playbill of Baker Street, which brought Jessel to New York City to collaborate with Marian Grudeff, Muhling reminisces about her brother's humble beginnings as an aspiring classical composer.
"Grudeff persuaded him to write for a revue called Spring Thaw in Toronto – that was the beginning of it. Then, when Alex Cohen came here to put on the very first musical that opened the O'Keefe Centre, which was Camelot with Richard Burton, he was told about the two of them. Then, when he needed someone to write Baker Street, he called Ray, and that's how he got to New York from Toronto.
"But let me go back a little. He wrote his first song at two-and-a-half years old, and he wrote it because we were close, and I went off to school because I was five … When we got older there was a competition in the weekend papers, a songwriting competition, and we wrote a song together called 'Stargazing' which I still have a copy of, and we lost out to a pair of old spinsters who had written 'Cruising Down the River on Sunday Afternoon'– so he was already writing popular music, even though he thought of himself as a classical composer then.
"In Toronto, he did a lot of writing for people – he wrote whole programs for them for them to go on stage – Pamela Hyatt is one of those singers."
Indeed, at Lisa Particelli's "GNO Jazz Jam," on a June night in 2011, actress and singer Hyatt was showcased. Out of her five selections, three were by Jessel, including a definitive version of Life Sucks and Then You Die, what she calls "Jessel's ode to Shirley Temple." That night, Hyatt's brilliance matched that of Jessel's on The Things You Do and I'm All Right Now, a classic collaboration between Jessel and his wife Cynthia Thompson. The two met in 1980 and collaborated on songs since then.
Hyatt had the amazing experience of working with Jessel in 1958 for CBC's musical revue Off Limits directed by Norman Jewison, co-starring with Jack Creley, Dave Broadfoot, Sammy Sales, Sheila Billings and Jimmy Hannan.
"Ray wrote deliciously silly material," says Hyatt, "and it was always fun to perform his songs. That show broke all house records for the Mountain Playhouse in Montreal, ran the entire summer. Looking back, I am hugely privileged to have worked with Ray in his youth, and been given the opportunity to perform his and Cynthia's songs in my dotage." Asked if she has a favourite Jessel tune, Hyatt says: "I adore his and Cynthia's tender ballad I'm All Right Now because the images are so precise and they don't demand any self-pitying nonsense. He was a brilliant wordsmith with a great love of his fellow humans, our foibles, our fears, our utter lunatic behavior. His songs really covered so much of the human condition. They were never formulaic."
Jessel's career highlights on Broadway would include being chosen by Richard Rodgers to write additional lyrics for I Remember Mama in 1979, and his songs being recorded by Louis Armstrong, John Pizzarelli and Michael Feinstein (who nicknamed Ray Jessel "the millennium Noel Coward").
At 72, Jessel made his cabaret performing debut at Hollywood's Gardenia Room in April 2002, after which he played to a series of sell-out performances there, at L.A.'s famed Jazz Bakery and in New York at Danny's Skylight Room and at Don't Tell Mama. He made his debut at Toronto's Top o' the Senator in May of 2003, and ten years later, October 2013, he played at the same address, 251 Victoria, now Jazz Bistro. Both shows were booked by Sybil Walker, who reflects on the first time she presented him alongside the great Jackie Richardson:
"Meeting Ray and presenting him to Toronto audiences was a uniquely rewarding experience – I was prepared for him to be entertaining but he was jaw-dropping funny, singing impossibly clever lyrics that left every member of the audience in a state of hilarious disbelief. Top o' the Senator audiences had been entertained by the wonderful lyricists Dave Frishberg and Mose Allison through the years but Ray's was a talent that caught us all off guard."
JAZZ.FM91 on-air personality, producer and Jazz Safari bwana, Jaymz Bee, has long been a fan:
"The first time I saw Ray Jessel was at Birdland in New York City. My dad and I laughed so hard we literally had tears in our eyes and he came over to our table to chat.
When I told him I knew his sister Viv he made a big fuss over us. Since then I had the privilege of interviewing him several times for JAZZ.FM91 and he was always down to earth and hilarious. The fact that he was so funny never prevented him and his wife from writing serious love songs. He is up there with Bob Dorough and Dave Frishberg in my books – one of my favourite composers!"
Ray Jessel's legacy will be celebrated at Jazz Bistro on Monday, October 26 from 7 to 11pm with a very special lineup of singers that will pay tribute to his life and music. Reservations are highly recommended (416-363-5299).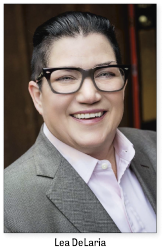 Finally, I do have another live music tip for you. If you're not planning on going trick-or-treating, I recommend that you treat yourself October 31 to a night with Lea DeLaria at the Danforth Musical Hall.
Since being cast as Big Boo on the hit Netflix show Orange is the New Black in 2013, the larger-than-life DeLaria has become an international star, but she has been hard at work for quite a while. In 1993 she made history as the first openly gay stand-up comic on the late-night talk-show circuit with an appearance on the Arsenio Hall Show. She has been based in New York for many years, appearing on countless stages and screens.
In addition to her stand-up and acting career, DeLaria is a well-known and highly entertaining jazz singer whose bebop chops are served with an in-your-face bravura. With a voice that is as big as her imagination, she has long been an audience favourite in New York clubs for her outrageously entertaining shows. DeLaria's latest jazz recording, House of David, finds her reimagining a dozen David Bowie classics. On the Danforth Music Hall stage, DeLaria will be joined by longtime friend and frequent collaborator, stand-up comedian Maggie Cassella. Expect big laughs, good times and priceless timing.
Ori Dagan is a Toronto-based jazz musician, writer and educator who can be reached at oridagan.com.