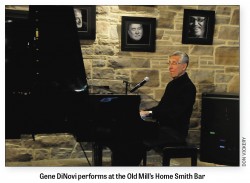 On an excruciatingly cold January afternoon Gene DiNovi welcomes me into his home and provides warm smiles and a pair of slippers. He leads me up the stairs, through the kitchen, proudly showing me family photos and art pieces he has collected through the years. We finally reach "the museum," a spacious room busily adorned with framed photos and autographed posters, shelves full of sheet music and a grand piano.
Now 87-years young, DiNovi has been in show business for seven decades and has hundreds of stories to share: We talk about his new gig at The Old Mill on the first Tuesday of every month; on his triumphant career as pianist, arranger, songwriter and musical director; on working with Peggy Lee, Tony Bennett, Lena Horne and Carmen McRae; sitting in with Dizzy Gillespie and Charlie Parker; recording with Lester Young and Benny Goodman; his native Brooklyn; a stint in Los Angeles; moving to Toronto.
But how did he get into this music in the first place? He takes a moment, stares ahead, and smiles as he remembers his first musical inspiration: "I heard a record of 'The World is Waiting for the Sunrise' which is a Canadian tune actually, by Ernest Seitz and Gene Lockhart. It was Mel Powell and His Orchestra – Melvin Epstein from the Bronx, who became Mel Powell. My brother Victor used to take me to the Paramount Theatre on a Saturday, or the Strand, or the Loew's State Theatre. But I heard Mel there. Mel recorded that song a number of times with Benny. On this particular side he plays a solo which had three or four horns on it: Billy Butterfield on trumpet, George Berg on tenor, Lou McGarity on trombone and of course Benny on clarinet, Kansas Fields on drums, who I played with later. So I heard this piano solo, and it is, to me, the greatest piano solo I ever heard in my life. Mel Powell was very different from me – incredibly gifted guy. At 16-years-old he had it all together. He could play like Teddy, he could play like Tatum, he could play like everybody. Once I heard that record, that was it … and I'm still trying to do it," he laughs. "I still get chills when I hear it!"
As for diving into the music:
"I started late, at 12 years old – the reason I got the start was, my brother would decorate houses in Brooklyn, and this guy, Frank Izzo, who was a very eclectic guy said, I don't have enough money to pay you, can you wait? And my brother said, give my kid brother piano lessons. To this day I can't really say if it was a good deal or not," he chuckles.
Living in Brooklyn meant being a subway ride away from the seminal musicians of the day. "I used to hang out on 52nd Street, where you could stand in the doorway and listen to Art Tatum. You go to the next one, you listen to Billie Holiday. You go to the next one, you could listen to Red Norvo. There were six, seven, eight clubs. You could hear all of this on a summer night."
At the age of 15 – 15 and a half, to be precise – he found himself on stage with Dizzy Gillespie and Charlie Parker, a life-changing moment.
"This was at the Spotlight, in 1945. There was still a curfew in New York City because of the war. They would start playing at four in the afternoon. I would get a ginger ale and just sit there. By that time I was on the street so much the owners and the musicians knew who I was. Dizzy had heard me at one of the other clubs … eventually he was like an older brother to me."
By his late teens, DiNovi became a fixture on the modern jazz scene, but before long he needed a change.
"You got to remember, this was the beginning of the bebop period, which was a terrible period from the narcotics point of view," DiNovi recounts. "And I never understood it – why the hell do you want to do that? For me, the music was enough … . Working at Birdland a couple of years later on, I turned around and realized that everyone on the bandstand was a junkie but me. And I said, wow – I have got to get away from this – where can I go to play the music I love without being around this – so I ended up with Peggy Lee, the first singer I played for. Can you believe it? Never a note out of tune. Never a note out of time. She was one of the great natural musicians."
DiNovi spent many years as a treasured accompanist and musical director to some of the greatest vocalists of the day: Tony Bennett, Carmen McRae, Mel Tormé, and most notably Lena Horne, with whom he worked from 1955 to 1963, and occasionally after that.
Composing and arranging: Studying with Mario Castelnuovo-Tedesco launched DiNovi on another arc in his career – composing and arranging. "He trained me, he trained André Previn, Nelson Riddle, Mancini, John Williams, Marty Paich, a generation of film composers. A lovable man, an Italian Jew who had to get out of there fast when Mussolini hooked up with the other guy. He ended up in Beverly Hills where he taught all these people. Can you imagine? You walk in and Villa-Lobos is in there or Segovia is there going over the fingering, you know? (laughs) It was heavyweight stuff!"
Living in Los Angeles, DiNovi started to gain respect as an arranger and musical director and worked on six specials for Gene Kelly. But the times they were a-changin': "Things really dried up because this was a period where you could replace 65 guys with two synthesizers."
DiNovi pauses to ask me if I want to hear one of his tunes that Carmen McRae recorded, and how can I decline? It's titled "Boy, Do I Have a Surprise for You" (lyrics by Spence Maxwell) from the 1968 album, Portrait of Carmen on Rhino Atlantic. To the ears of this McRae fan, she never sounded better than on this majestic recording, which DiNovi also arranged and conducted.
After a memorable engagement with McRae at the Colonial Tavern for a week in 1971, DiNovi tells me, he soon found himself back in Toronto accompanying two other MacRaes – Meredith MacRae for two weeks, followed by two weeks with her mother, Sheila MacRae.
"So I lived at the Royal York Hotel for six weeks for the lowest rate in the 20th century! It was a couple of hundred bucks for the six weeks (laughs). ... So I said hey, I like it here in Toronto! It looks like New York in 1945. In L.A. you had to drive 50 miles just to have a cup of coffee with somebody. I liked the New York feel of Toronto."
These days DiNovi still maintains an admirable performance schedule, appearing with clarinetist James Campbell, guitarist Andrew Scott and bassist Dave Young, to name a few. And at the end of our interview he melts my heart as he gracefully tickles the 88:
"There are three tunes always on my piano: Strayhorn's 'Lush Life,' Harold Arlen's 'Last Night When We Were Young' and 'The Bad and the Beautiful' by David Raksin – those three, you're gonna go in the swamp if you don't play them every week."
To experience the magic of Gene DiNovi's playing up close and personal, and to hear some of his famous stories, do not miss the opportunity on the first Tuesday of every month at The Old Mill's Home Smith Bar from 7:30 to 10:30pm.
Stylianou JPEC-Bound: Some 70 years after DiNovi sat in with Gillespie and Parker, it isn't uncommon for Toronto-based jazz artists to leave the nest and head towards the Big Apple. Vocalist Melissa Stylianou, formerly a fixture at the Rex Hotel Jazz & Blues Bar, where she started out as a waitress and ended up a headliner, is a fine example. About the decision to relocate, she says:
"I did the Jazz and Improvised Music program at the Banff Centre in 2003, and many of the faculty and other musicians I met happened to be from New York. I came down to visit and to take some lessons and later received a grant from the Canada Council for the Arts to relocate here temporarily and study. I fell in love with the place and the people and decided to stay. I feel a real kinship with the large but still tight-knit group of musicians I play with and listen to here and find myself inspired to explore different musical directions as a result."
Stylianou performs regularly in New York City, especially at the 55 Bar in Greenwich Village, where she has held down a monthly residency for the past six years. Of all the venues in New York City, this casual, cozy and unpretentious spot is perhaps the most Rex-like.
"Toronto will always be my home, but New York is the source of much of my creative inspiration. Living in New York is an intense proposition. I've found I need to be really present all day long here: to navigate this crazy city and get where I need to go; ... to be aware of my surroundings in the interest of my personal safety, and to grab opportunities for connection with the people in my life. And being the parent of a toddler in the city adds some interesting elements - what little time I have to work on my craft and the business of music is often squeezed into tiny cracks in my life."
The silken-voiced Stylianou will be performing a concert titled "Everything I Love" at the Toronto Centre for the Arts on Saturday February 13, launching an exciting new series presented by JPEC (Jazz Performance and Education Centre).
"I'm really excited to be coming up to play this concert. Jamie Reynolds (my husband and musical collaborator) and I have been exploring the voice/piano setting since our first musical meeting in 2003, and we both love the intimacy and space this format provides. We'll be playing repertoire which stretches from Fats Waller and Irving Berlin to Bjork and Annie Lennox, along with some of our original songs. We'll be joined by my friend (and former member of the Melissa Stylianou Sextet back in the day!), John MacLeod on cornet and flugelhorn."
The TCA JPEC series continues February 27 at the Toronto Centre for the Arts with "Justin Gray's Synthesis" fusing Indian music and jazz, featuring Justin Gray on bass, Derek Gray on percussion, Ravi Naimpally on tabla and special guest Ted Quinlan on guitar. On March 5: "Jazz n' Pizazz" with Jane Fair on saxophone, Rosemary Galloway on bass, Nancy Walker on piano, Lina Allemano on trumpet and Nick Fraser on drums. Tickets are $30 and $20 for students. Visit jazzcentre.ca for details.
Ori Dagan is a Toronto-based jazz musician, writer and educator who can be reached at oridagan.com.