How does it happen that a young conductor from Birmingham, UK makes his Canadian debut leading the Kitchener-Waterloo Symphony in a pair of concerts? How is it that a young Taiwanese-American violinist makes his Toronto debut at Mooredale Concerts? And what accounts for a young German-French cellist making his Toronto debut at Koerner Hall? The coincidence of three emerging young professionals all arriving in our area over the next few weeks sparked the above questions (and several more). Their answers in a series of emails mid-January were as diverse as their backgrounds but all shared the common thread of personal connections.
Alpesh Chauhan, the 27-year-old conductor from Birmingham, told me that his management are on very good terms with the management of the Kitchener-Waterloo Symphony and keep in touch sharing information on their clients. The invitation to guest conduct on February 9 and 10 developed out of interest on the orchestra's part; a grateful Chauhan attributes it to strong trust between the parties.
Twenty-seven-year-old Paul Huang's route to his February 18 Toronto recital travelled directly through pianist Wonny Song, Mooredale's artistic director, who is also artistic director of Quebec's Orford Music Festival. Huang, the recipient of the prestigious 2015 Avery Fisher Career Grant and the 2017 Lincoln Center Award for Emerging Artists, told me, "Both Wonny and I have won the Young Concert Artists International Auditions at some point in our careers and Wonny first heard me during a trip to New York and we were introduced through a patron of YCA." That meeting led to Song booking Huang for his Canadian debut last summer at Orford. "He must have liked what he heard and here I am, making my first visit to Toronto!"
Versatile soloist and chamber musician, 35-year-old Nicolas Altstaedt, was chosen by Gidon Kremer to succeed him as artistic director of the Lockenhaus Chamber Music Festival; and he was selected by Adam Fisher to follow him as artistic director of the Haydn Philharmonic. Altstaedt spoke to RCM executive director Mervon Mehta, who books their concerts at Koerner Hall, in March of 2016 when the cellist visited Toronto with his friend and sometime chamber music partner, violinist Vilde Frang, who was giving a recital at Koerner Hall at the time. Altstaedt expressed his desire to play there and the confluence of this season's cello series and Mehta's familiarity with pianist Fazil Say (Altstaedt's collaborator) sealed the deal for the March 2 recital.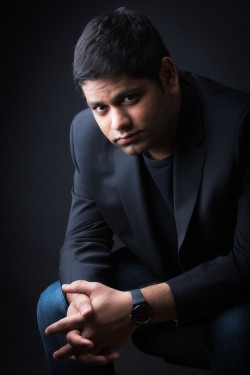 Alpesh Chauhan: Chauhan first discovered classical music at school, when a cello teacher performed in his school assembly in Birmingham. He was instantly hooked, and went home later that day with a cello under his arm, much to the surprise of his parents who were born in East Africa (father in Tanzania and mother in Kenya) of Indian descent (Gujarati). He became increasingly passionate about classical music throughout school and later studied cello at the Royal Northern College of Music, while at the same time conducting friends in concerts he arranged for charity. "That was my first real conducting experience and I knew it was something I wanted to pursue," he said. "I quickly grew an obsession with the people at the front, and the sound they created from the podium.
"Following several years of training, studying and being mentored by great conductors like Andris Nelsons and Edward Gardner, I have now conducted two concerts at the BBC Proms, a production of Turandot at the Teatro Lirico di Cagliari, the BAFTA-winning children's film Ten Pieces II with the BBC Philharmonic and a main season concert at the Barbican Centre with the London Symphony Orchestra. I also became principal conductor of the Filarmonica Arturo Toscanini last year."
Asked specifically which conductors inspire him, Chauhan continued: "I love the gestural genius of such conductors as Carlos Kleiber and Gennady Rozhdestvensky," he said. "One learns so much about the interaction between conductors and the sounds they wish to inspire (and the success thereof) from both of these conductors. I am very inspired by Sir Simon Rattle too as well as other visiting conductors that I assisted as guests at the City of Birmingham Symphony Orchestra [where he held the position of assistant conductor] including Edward Gardner, Walter Weller and Vassily Sinaisky. A huge inspiration for me was Andris Nelsons who I was assistant to at the CBSO in his period as music director. Some of what I learned from him includes trust and respect of the orchestral musicians, freedom in performance and concert and strength of musical ideas and interpretation."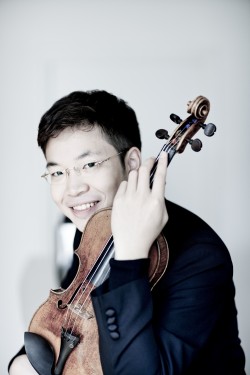 Paul Huang: "I was mesmerized by the sound of the violin when I was a kid," Huang told me. "It was the singing quality and the sound that is so close to the human voice that drew me to the instrument. As a child, I was terribly shy and was not good with words, so playing the violin was a way to express myself without using words!"
I asked who his musical idols were in his formative years and he told me it was a hard question to answer. "But I will say that there are several violinists (mainly the ones from the past) that I would constantly listen to (and still do), people like Kreisler, Oistrakh, Milstein, Hassid and the young Menuhin. Outside of the violin world, Frank Sinatra and Judy Garland are some of the singers that I constantly listen to and find myself feeling so inspired every time I listen to their voices."
As to what violinists inspire him, he said those violinists who have a strong viewpoint and a voice that is convincing and unique. "I find that most of the violinists from the past generation all have a sound that is so distinctive from each other. They are all inspiring to listen to."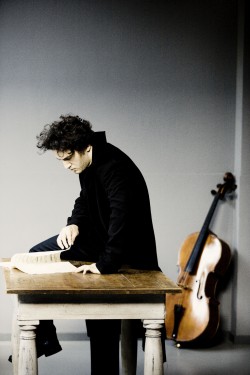 Nicolas Altstaedt: When I asked Alstaedt what drew him to the cello he told me that his father played the piano a bit as well as the cello. His older brother started playing piano so when he was six he picked up the cello. "Once I started playing, I didn't think of doing anything else in my life."
He never "idolized" interpreters he told me, "though I have certainly been influenced by artists I admired such as Gidon Kremer or Nikolaus Harnoncourt. I have always found deep fascination in the process of composing and creating an artwork. There is a danger in our society in idolizing performers rather than recognizing and understanding the achievements of true creators."
As to whom he considers to be his musical mentors, he pointed to violinist and chamber musician Eberhard Feltz as the most influential figure in his life for almost ten years. "I met him through the Quatuor Ébène, who have been working with him for a long time. They regularly came to Berlin, staying at my place while i was attending classes for sometimes up to eight hours a day. I started to study with him in 2009 and still see him on a regular basis. He keeps surprising me every time and each encounter leaves food for thought for several weeks."
Next, I asked each musician to comment on the repertoire they will be performing.
AC: We have a great program for my KWS debut. A flashy overture by Magnus Lindberg, Aventures, which quotes many popular classical music works including Prokofiev's Classical Symphony and even Berlioz's grand fantasy-themed Symphonie Fantastique which we perform in the second half of the concert. In between we're joined by pianist André Laplante for Beethoven's Fourth Piano Concerto. I have a long relationship with the Berlioz as I conducted rehearsals as an assistant in Birmingham, went on to assist it a couple of times in my time at the CBSO and then conducted it in Scotland in 2016 in a program that also included Debussy's La Mer!
PH: In general for my recital programs, I want to give audiences a variety of musical styles and a sound world palette which the violin is able to convey. For this program with my duo partner Helen Huang, we will be bringing the Dvořák Sonatina, a piece which Dvořák wrote while in America but very much had nostalgia towards his roots, with several joyful Czech dances throughout the movements. The Prokofiev F-Minor Sonata is perhaps one of the darkest sonatas ever written (like a Russian epic novel). It was written during WWII, a sonata that almost in a way documents history through the notes. In the second half we have prepared two miniature pieces (Sarasate and Kreisler) to lighten up the mood from the dark first half and make a transition to the finale of the program, which will be the colourful and brilliant Saint-Saëns' Violin Sonata, a piece that is very dear to my heart.
NA: The repertoire for Altstaedt's recital consists mostly of the works on his recent Warner Classics CD with his Koerner recital partner, Fazil Say. "I met Fazil seven years ago and commissioned a sonata while I was on the BBC New Generation Artist scheme. We started to play recitals and the following program evolved. I have a strong passion for the music at the beginning of the 20th century; Janácek and Debussy are two very different exemplary masterpieces of that period. Shostakovich has been the most influential composer in my childhood and his sonata is very similar to Fazil's in term of architecture."
I concluded my virtual symposium by asking each musician the question: What do you find most rewarding and most challenging in your professional life?
AC: I think one of the most important elements of my professional life is the musical and emotional reward I enjoy when playing and conducting live music. The most challenging, however, is the travel and unsettled lifestyle, which can be very tiring. I also find constantly changing repertoire to be a challenge! For example, the week before I conduct the Kitchener-Waterloo Symphony, I will be in Italy conducting Shostakovich 11. I'll then travel straight to KWS for Berlioz Symphonie Fantastique, followed by the Netherlands to conduct Tchaikovsky 4 and then back to Italy for Shostakovich 10!
PH: Very often when I get together with musicians we ask each other is all the stress, travelling, hours of practising, the nerves of getting on stage night after night, is this really worth it? But the answer at the end is always yes. Because when I see people coming up to me after concerts telling me how much they enjoyed the evening or sometimes how it made their lives more meaningful or even made some positive impact in their lives, for me, that's what makes everything worth it. I believe music is the most wonderful and powerful way of bridging different roots, different cultures, different languages, different religions and different backgrounds. In the world of music, we are all on this wonderful musical platform where we are all the same and can share something in common and can understand and respect each other on a much deeper level.
NA: It is very rewarding to spend your life communicating with people in the most diverse and powerful language. I am very aware and grateful for that every day. I am currently working on The Seasons by Haydn and it has been a revelation. The same goes for pieces I have already performed like the concertos by Dutilleux and Dvořák and the complete Bach Suite Cycle, that I am playing the following week. To be in touch and discover artworks that widen your awareness on a daily basis is the most wonderful thing to grow in life.
George Li
Last month I did a Q&A with pianist George Li whose Toronto debut recital in Koerner Hall on February 4 has been postponed with no new date announced as of press time. The Q&A prompted a comment by New England Conservatory visual assets manager Andrew Hurlbut who pointed out that Li's musical education owed a great debt to the NEC and to his studies with Wha Ryung Byun as part of the NEC/Harvard dual degree program. "It seems to me that long through line in his training is at least somewhat responsible for his current well-deserved success," he wrote in an email. We appreciate and welcome the comments of readers far and wide.
QUICK PICKS
Feb 5: The Kitchener-Waterloo Chamber Music Society is taking full advantage of charismatic clarinetist Dionysis Grammenos' stint as assistant conductor for the COC's production of Mozart's The Abduction from the Seraglio. K-WCMS is connecting him with the popular piano quartet, Ensemble Made in Canada, for a performance of Brahms' Clarinet Quintet Op.115, another exquisite work from the composer's last creative output. The performance will be repeated Feb 7 in Toronto as part of the COC's free noontime concert series.
Feb 11: Anyone who was fortunate enough to experience the electricity of Stravinsky's Petrushka at David Jalbert's and Wonny Song's duo piano Mooredale Concerts recital January 14 need not be reminded of Jalbert's next appearance in our area. For his K-WCMS solo concert, the Ottawa-based virtuoso will burnish his reputation as one of Canada's finest pianists with three Prokofiev sonatas – Nos. 2, 3 and 5 – on the same program.
Feb 15: TSO principal violist Teng Li brings her warmth and sensitivity to a program of transcriptions by the celebrated 20th-century violist William Primrose in a free noontime recital at U of T Faculty of Music's Walter Hall. Lydia Wong is the collaborative pianist.
Feb 16: Leon Fleisher, who turns 90 later this year, conducts the Royal Conservatory Orchestra performing Beethoven's Egmont Overture, Strauss' Four Last Songs and Sibelius Symphony No.1 in Koerner Hall. He will give masterclasses in Mazzoleni Hall Feb 11 and 17. Masterclasses with Fleisher are inspirational and memorable, strewn with anecdotes. It's no surprise, considering his close connection to Beethoven through his teacher, Artur Schnabel, a student of Theodor Leschetizky, who studied with Beethoven's pupil, Carl Czerny. A few years ago, Fleisher said he once had "the pleasure of performing with three guys named Jascha, Grisha and Bill [Heifetz, Piatigorsky and Primrose]. And it really was a pleasure."
Feb 22: Music Toronto presents the Apollon Musagète Quartet in a program of Haydn, Arensky and Grieg. The dynamic young Polish quartet made a memorable debut in the Jane Mallett Theatre in November 2015 and their return is eagerly anticipated.
Feb 25 and 26: Canzona Chamber Players give us another chance to hear Brahms' great clarinet quintet (along with with Hindemith's) with Canzona co-founder Jonathan Krehm joining Csaba Koczo, Jessica Tong (violins), Robin Howe (cello) and Pocket Concerts' Rory McLeod (viola).
Mar 1: Lang Lang, recovering from tendinitis in his left arm, will share the keyboard with 15-year-old Maxim Lando (a Lang Lang International Music Foundation Scholar) in a piano four hands arrangement of Gershwin's exuberant Rhapsody in Blue. Peter Oundjian conducts the TSO.
Paul Ennis is the managing editor of The WholeNote.