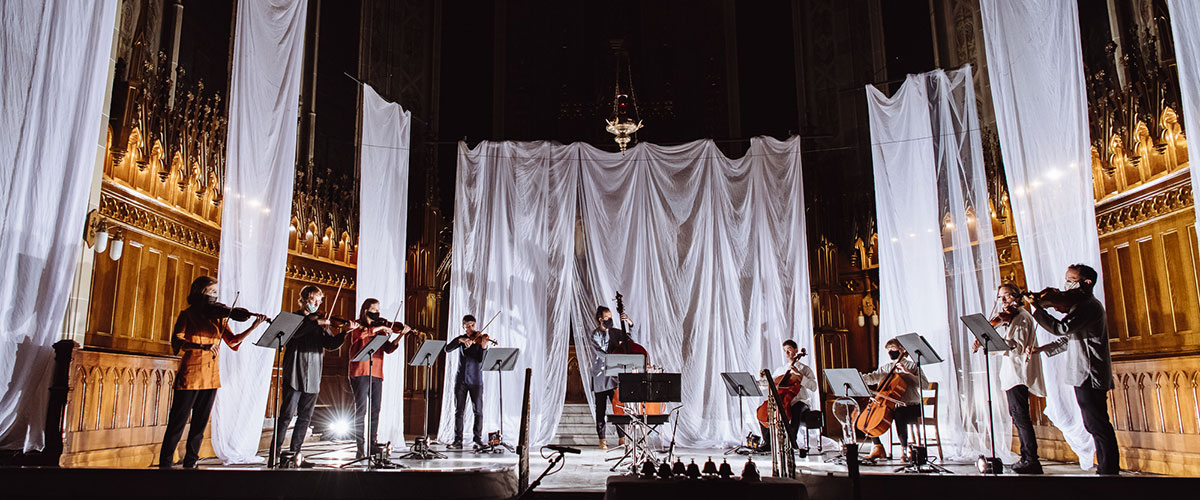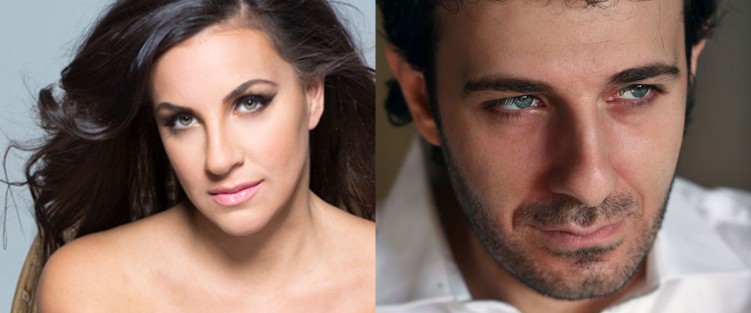 As I write this while an early spring blooms beyond my locked-down window, music presenters are trying their best to surf COVID-19's Third Wave. The venerable Women's Musical Club of Toronto – founded in 1898 – calmly announces on its website, "We've been here before… and we've survived." After all, they have been holding Music in the Afternoon concerts since well before the flu pandemic of 1918/1919, enduring two World Wars, depressions and recessions, and our current devastating virus. "We will survive this one too."
Their 2020/21 season has pivoted to live streaming and video on demand. 2019 Banff International String Quartet Competition winner, Viano String Quartet, has just concluded an on-demand run from April 1 to 25. May is devoted to Lebanese-Canadian soprano, Joyce El-Khoury, and Armenian-Canadian pianist, Serouj Kradjian, in an on-demand recital that mixes songs by Bizet, Fauré, Chausson, Ravel and Saint-Saëns with 20th-century Lebanese songs in Arabic. El-Khoury and Kradjian are preparing an extensive project involving music and instrumental artists from their home countries culminating in a CD that will include these Lebanese songs.
The Royal Conservatory of Music (RCM)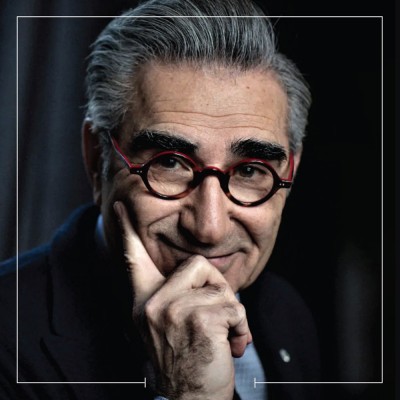 "If I'm walking down the street, the rhythm of my walk will set off a tune in my head," Eugene Levy said during an entertaining conversation on April 22 with RCM president and CEO, Peter Simon. "I'm always humming something – a lot of time I'm making things up." The multi-talented comic actor – known worldwide for Schitt's Creek – was helping to launch the new online RCM series Music of My Life, a free continuing event featuring well-known performers in conversation illustrated with musical excerpts. The series is accessible at RoyalConservatory.Live, the new digital channel of the Royal Conservatory. At the time of writing, four more episodes have been confirmed: celebrated pianist and conductor Daniel Barenboim (April 29); Steven Page, founding member of the Barenaked Ladies (May 6); Cynthia Dale, star of music theatre (May 13); and Paul Shaffer, best known as David Letterman's musical collaborator for more than three decades (May 20).
Surprisingly – considering Levy's memorable musical roles in Waiting for Guffman and A Mighty Wind as well as his accordion-playing Shmenge brother duo with John Candy on clarinet – there was no music played in his house until he was 12, which he attributed to the busy lives of his parents. Eventually, his brother took piano lessons and he dabbled in the accordion; in high school he took music as an option for five years, choosing tenor saxophone. He played in a full orchestra ("Wow! This is a whole new world here," he thought) and also a 12-piece dance band ("You gotta do the standing-up thing").
During the 48-minute conversation, Levy spoke about the origin of the Shmenge brothers in Candy's hotel room while shooting SCTV in Edmonton; and about faking live concerts backed by a polka band, with his accordion gutted so it couldn't make a sound. Prompted by Simon, Levy talked about the origin of his character's two left feet in Christopher Guest's film Best in Show. And how his love of Bach ("I just loved the cluster of notes in a fugue") grew out of watching a friend (Bob Morrow, who later became Hamilton's longest-serving mayor) play Bach on the piano. That anecdote was the cue for Glenn Gould School student Godwin Friesen to perform Bach's Prelude and Fugue in C-sharp Major in an empty Koerner Hall.
Nowadays, music is a big part of the Levy household. His wife Deborah puts music on in the morning – "usually a classical station" – and plays piano most days. Simon prodded Levy for his take on Gershwin ("I love the intricate rhythms, the dynamic piano; it kind of says New York to me") – which set up Anagnoson & Kinton who delivered a spirited two-piano version of Gershwin's Rhapsody in Blue from an empty Koerner Hall.
The new channel features hundreds of hours of performances filmed in Koerner Hall with its superb acoustics, as well as engaging talks, documentaries (including the Music of My Life series) and celebratory events. New content will be added weekly.
Also from the Royal Conservatory, it's always noteworthy hearing what Marc-André Hamelin is up to. His consummate musicianship fuelled by seemingly effortless technique will be on display in a livestream from Koerner Hall on Sunday, May 30, 2021 at 3pm and available for seven days for ticket holders (the concert has already been rescheduled twice). It's a classical lineup with a C.P.E. Bach Rondo, a Haydn Fantasia and two Beethoven sonatas – No.3 in C Major, Op.2 No.3 and the justly celebrated, dynamic No.23 in F Minor, Op.57 ("Appassionata"). Rounding out the program is the world premiere of a new work Hamelin commissioned from Canadian composer John Oswald.
TSYO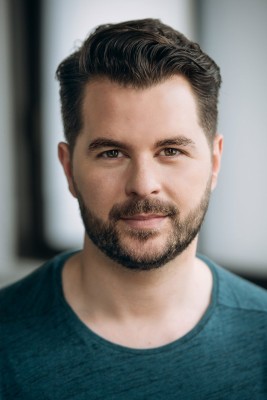 During this unusual season, the 89-member Toronto Symphony Youth Orchestra (TSYO) – made up of talented young musicians under the age of 22 – has maintained a commitment to learning and developing their craft. The students have continued to practise and work hard from the safety of their homes, with regular online workshops, lectures and masterclasses with TSYO Conductor Simon Rivard and TSO musicians and staff. Ordinarily, the TSYO would give performances throughout the season, culminating in a finale at Roy Thomson Hall. But this year, the young musicians came together online, giving a virtual recital for family and friends.
"Thanks to the efforts of the TSYO, we have all remained motivated and musical throughout these difficult times," said 16-year-old cellist Anika Grieve, a member of the TSYO for two years, who performed in and co-hosted one of the recitals.
Gemma New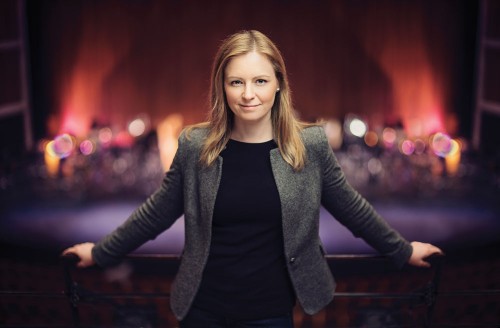 Earlier this year, New Zealand-born Gemma New, music director of the Hamilton Philharmonic Orchestra and principal guest conductor of the Dallas Symphony Orchestra, was named the 12th recipient of the Sir Georg Solti Conducting Award, the second woman to be so honoured. She had previously earned Solti Foundation U.S. Assistance Awards in 2017, 2019 and 2020.
The Solti Foundation U.S. is currently the only American foundation to grant these kinds of awards each year to young conductors. American citizens or permanent residents of the United States, 38 years of age or younger, who are career-ready artists in the field of conducting are eligible. The award comes with a $30,000 prize "to provide the recipient means to continue to master their craft." The winner is selected "based on their skills and abilities, as well as their passion for communicating through music.
Music Toronto
Music Toronto's free virtual concert series continues May 13, 2021 at 7:30pm (available until 7:30pm May 15) with a representative program of new music by the celebrated JACK Quartet. Included are works by Rodericus (arranged by Christopher Otto), Ruth Crawford Seeger, Elliott Carter and Tyshawn Sorey. Two weeks later at 7:30pm, May 27 (and available until 9:30pm May 29), clarinetist Julian Bliss joins the UK-based Carducci String Quartet in a performance of Mozart's sublime Clarinet Quintet K581 and David Bruce's Gumboots (2008) – the title refers to South African labourers' footwear in flooded gold mines. The York Press described it in 2019 as having a deceptively calm opening leading into a "whacky dance that grows increasingly wild."
Rituaels, a concert film featuring the engaging Quebec ensemble collectif9, with interpretive dance, stage movement and visuals and music by Hildegard von Bingen, Arvo Pärt, Michael Tippett, Nicole Lizée, Jocelyn Morlock and more, will be streamed June 17 at 7:30pm (available until 9:30pm, June 19). The St. Lawrence String Quartet presents a new Haydn Discovery, a lecture/demonstration followed by a complete performance of Haydn's String Quartet Op.20, No.5 on June 30 at 7:30pm (available until midnight July 3).
Einaudi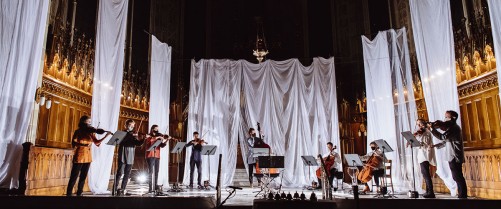 The Ludovico Einaudi Seven Days Walking Tour, originally set for Roy Thomson Hall on April 25, 2021, has now been rescheduled to July 6, 2022 at 8pm. Excerpts from Day One and Day Three of Einaudi's Seven Days Walking were crucial to the artistic success of Nomadland which won three historic Oscars on April 25 (during what would have been the RTH concert). Frances McDormand became the first Best Actress winner to also win Best Picture – McDormand was one of the film's producers – and Chinese-born Chloé Zhao became the first woman of colour (and only the second woman) to win Best Director. Zhao recently spoke to Joe Dempsie, the host of Experience: The Ludovico Einaudi Story podcast about discovering Einaudi's music for the first time. "I went online to search for classical music inspired by nature… I then started listening to Seven Days Walking and was so amazed by how I felt Ludovico was walking in the Alps. I felt like he and Fern [Frances McDormand's character] were walking in parallel; their love of nature connects them, and I knew then his music would fit perfectly with our movie."
Paul Ennis is the managing editor of The WholeNote.