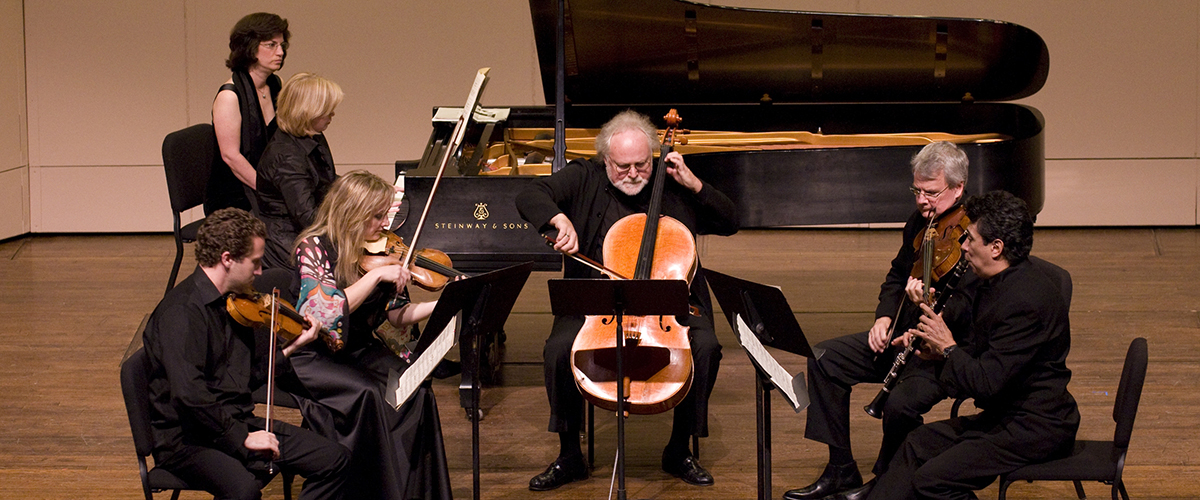 As Beethoven's 250th birthday approaches – thought to have been born on December 15 or 16 he was baptized on December 17, 1770 – there are several notable chamber music concerts being livestreamed from December 5 to December 13, the last remnants of what was to have been a year-long celebration that was curtailed by the pandemic.
Goodyear and Ehnes
Internationally acclaimed superstar and Canada's preeminent violinist, James Ehnes, will be joined by virtuoso pianist Stewart Goodyear for a complete traversal of the ten sonatas for violin and piano in three recitals – to be livestreamed from Koerner Hall December 11, 12 and 13. Goodyear is celebrated for prodigious pianistic feats like performing all 32 of Beethoven's piano sonatas on the same day.
Despite the marathons and the prodigious technique and memory that they require, the basis for Goodyear's appeal is his empathetic relationship with the music he performs and his ability to communicate that to an audience.
Beethoven's sonatas for violin and piano were spread over much of his lifetime, falling into the early and middle periods of his compositional career. The December 11 recital features the first four sonatas: the delightful Op.12, Nos.1-3 filled with grace – written in the last years of the 18th century – and Op.23 from 1801. The December 12 concert begins with the freshness of Sonata No.5, Op.24 "Spring" followed by Op.30 Nos.1 & 2, from 1803. December 13 at 3pm features Op.30 No.3, the virtuosic, justly popular Sonata No.9 Op.47 "Kreutzer" and the intimate Op.96 "The Cockcrow" that sits on the precipice of Beethoven's visionary late period.
Interestingly, Ehnes and Goodyear have performed together only once before – the afternoon of December 6, 2007 at the Women's Musical Club of Toronto – but these Koerner Hall concerts will be the first time they will play Beethoven together. I asked each of them to respond to two simple questions about their relationship to the music of Beethoven.
What was the first piece of Beethoven's music that made a strong impression on you (and why)?
Stewart Goodyear: One of the first pieces of Beethoven that made a strong impression on me was the final movement of his Ninth Symphony. My introduction to this mammoth utterance was on a greatest hits album, and what first enthralled me was that the finale of the Ninth Symphony took up the entire Side 2 of that LP, while the first side had the first movement of the Fifth Symphony, the first movement of the "Moonlight" Sonata, and other famous works that were around three to four minutes long. As soon as I saw the second side, and seeing that the movement was around 24-minutes long, I knew I was going to be on a long adventure, but I had no idea what I was in for!
The first chord made me jump… that startling dissonance, as if to say, "Forget what you heard on Side 1… this is the music of the future!" From there, I heard the operatic cellos and basses, the orchestra interrupting them by playing snippets of various themes that somehow did not belong. The cellos and basses became more gruff, almost like they were insisting they needed to be heard. And finally… they play the glorious, famous "Ode to Joy" theme, and slowly the orchestra comes in, finally in agreement that despite intense differences, the hymn of peace, brotherhood and sisterhood, and love, united them all. I was already moved to tears, and it was only the first four minutes of that 24-minute movement. Twenty minutes later, I was riveted… I never heard such music – comforting and exulting the listener, a music of optimism and a bright hope for humanity.
James Ehnes: Beethoven's music was always in my life (my parents always played music in the house), so I can't exactly say, but I remember becoming obsessed with Beethoven's Seventh Symphony when I was probably about eight or nine. The second movement made a profound impression on me; it was the first time I think I really understood that music could express emotions for which we have no words. I still think it's impossible to express the emotions in that movement, and I think the world would be a vastly poorer place without it.
And what does Beethoven's music mean to you today?
JE: Beethoven's music is central to the art form. It's impossible to overstate his influence, or to imagine how music would have developed without him. His music made the world a better and richer place.
SG: More than ever, I think all of us need Beethoven's music. Every work he has written leaves feelings of comfort and exultation, especially this year. I believe that it is no accident that this dark year of COVID-19 is also the Beethoven 250 year, because everyone needs to know that, although this chapter of our lives seems unending and painful, it is a chapter that will soon end, and if we hold on, have faith and take care of one another, we will get through this.
The Gryphon Trio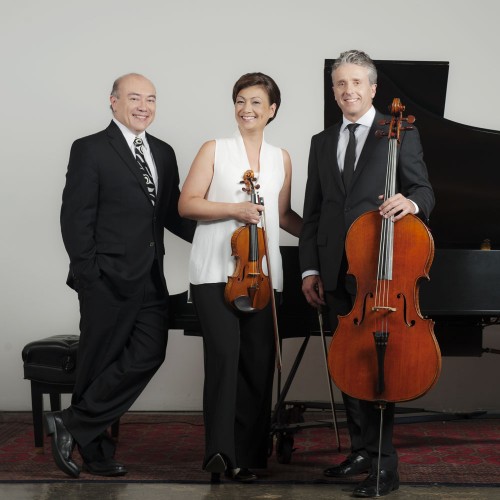 Canada's foremost piano trio, will also string together all-Beethoven programs back-to-back, performing Beethoven's six most celebrated piano trios on December 10 and 11 in Kingston's Isabel Bader Centre for the Performing Arts in an interactive livestream event hosted by broadcaster Eric Friesen and featuring guest commentator Rob Kapilow. The concerts will include a 20-minute intermission during which Friesen and Kapilow will discuss aspects of Beethoven's life and work. Both livestream performances will remain accessible until December 17.
Beethoven built on the development of the piano trio begun by Haydn and extended by Mozart. The Gryphon Trio will perform the first three trios, Op.1, Nos.1-3 on December 10; Op.70 No.1 "Ghost" and Op.70 No.2, plus Op.97 "Archduke" on December 11. With its grandeur, textural richness and melodic content, the "Archduke" stands out as the greatest of Beethoven's trios. Its premiere in 1814 with the composer at the piano was Beethoven's last public appearance as a pianist. Archduke Rudolph of Austria was also the dedicatee of the Fourth and Fifth Piano Concertos, the "Hammerklavier" Sonata, the Grosse Fuge and Missa Solemnis, among others.
Each concert will be followed by a Q&A session with the Gryphons. Patrons will be encouraged to submit questions via the chat function throughout the concert. Tickets will be available directly through the Gryphon Trio for $25 for the pair or $15 for a single event, per household by contacting gryphontrio.com. All these ticket buyers will be sent an invitation to participate in a Zoom party hosted by the Gryphon Trio on December 17 at 7pm.
Tickets can also be obtained (terms may vary) via partner websites (presenters in various Canadian and US cities). During the 90-minute interactive event, the Gryphon Trio, Rob Kapilow and Eric Friesen will also engage in a series of discussions and share pre-recorded musical offerings that will include musician colleagues such as Duo Concertante, Bergmann Duo and Jon Kimura Parker (Orcas Chamber Music Society).
Here are responses by Gryphon Trio violinist, Annalee Patipatanakoon, and pianist, Jamie Parker, to the same two questions I asked Ehnes and Goodyear.
Annalee Patipatanakoon: I had learned and performed many works of Beethoven (sonatas, concerto, quartets, short works, trios etc.) from the beginning of my musical education, but interestingly, it was much later when the Gryphon Trio presented Beethoven's famous and much-loved "Archduke" Trio with our colleague, Rob Kapilow, as part of his series titled "What Makes It Great?" that I reflect on as leaving a strong impression. I was reminded of something I always knew and understood – that there is always more to learn even if the work is well known to you, and to explore and be amazed every time we pick up any piece of music.
And today I am so grateful to have this incredible music available to the Trio, and that I can continually explore these works and share my exploration with others. As well known as most of these works are to the Gryphon Trio, I love that every time we pick up one of the trios, something new is revealed, and it is this possibility of adding these discoveries into our next performance that keeps our performances fresh and inspired.
Jamie Parker: I can't even remember the first Beethoven piece that made a strong impression on me. They all did. The Fifth Symphony. The Third Symphony. Whichever symphony!
And today, Beethoven is the world to me. He's the first composer that accesses the totality of human experience; he accesses the totality of the collective unconscious; he transcends time. It is one of my great joys in life to be able to share this music with people today.
And elsewhere
Earlier in the month, December 6 finds the Gryphon Trio in Koerner Hall for a livestreamed performance of the "Archduke" Trio, this time preceded by Beethoven's effervescent Clarinet Trio in B-flat Major Op.11 "Glassenhauer". James Campbell joins Roman Borys (cello) and Jamie Parker (piano) for the first work, replacing Annalee Patipatanikoon's violin with his clarinet. Both pieces are in the same key (B-flat Major).
Still in Koerner Hall – on December 10 – (but not all-Beethoven) the New Orford String Quartet opens a livestreamed concert with Beethoven's String Quartet No.3 in D Major Op.18, No.3 followed by a slice of French Romanticism, Chausson's gorgeous Concerto in D Major for Violin, Piano and String Quartet Op.21. The Chausson could be thought of as a sonata for violin and piano accompanied by a string quartet. Joining the New Orford will be the co-curator of this RCM mini-Beethoven festival, violinist James Ehnes, and pianist Charles-Richard Hamelin, whose attentive and sensitive keyboard playing makes him a natural for chamber music. Interestingly, both pieces are again in the same key (D Major).
Sinfonia Toronto began the year pre-pandemic with Beethoven – the Triple Concerto and Sixth Symphony. They will end in his birthday month with a Beethoven livestream at 8pm on December 5 (available until 11pm on January 4, 2021). The composer's Six Ländlerische Dances will be followed by the rousing Symphony No.7 in A Major, Op.92 arranged for chamber orchestra by Sigmund Anton Steiner and adapted by Sinfonia Toronto's music director, Nurhan Arman. In a deft piece of programming, Arman has paired the symphony – dubbed "the apotheosis of the dance" by Richard Wagner – with six ländlers (folk dances in 3/4 time that were the progenitor of the waltz). Tickets are $15 (plus HST) from sinfoniatoronto.com.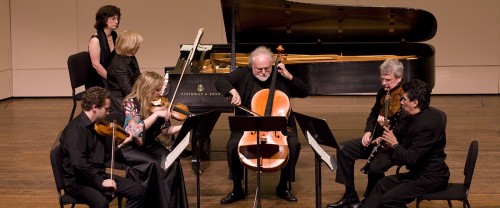 Also in December, ARC Ensemble (Artists of the Royal Conservatory) will contribute to The Royal Conservatory's Beethoven anniversary celebrations with a concert of some of the composer's less-familiar works: his own arrangement for piano trio of his Second Symphony; the String Quintet in C major, Op. 29; and a set of five folk song arrangements performed by soprano Monica Whicher. For the moment, social distancing measures will not permit an audience in Mazzoleni Hall, but the concert will be recorded so that it can be shared online in the future at a date TBD.
Paul Ennis is the managing editor of The WholeNote.