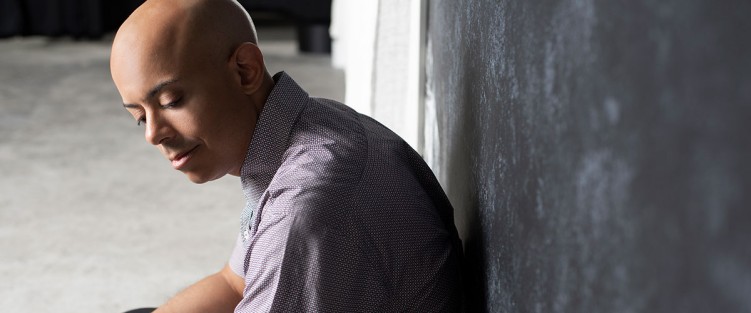 There are hopeful signs of live-music life at the RCM's Koerner Hall. On November 27, virtuoso pianist Stewart Goodyear, joined by the Penderecki String Quartet, perform the world premiere of his piano quintet based on themes from Beethoven, after which Goodyear takes on Beethoven's monumental Symphony No. 9, in Franz Liszt's transcription for solo piano and voices, accompanied by members of the Toronto Mendelssohn Choir, soprano Jonelle Sills, mezzo-soprano Beste Kalender, tenor Zachary Rioux and baritone Korin Thomas-Smith, all current or recent students of The Royal Conservatory. I caught up with Goodyear for an email conversation that touched on his response to the pandemic, his relationship to Beethoven and how he is feeling about his first public appearance in Toronto since the pandemic.
UPDATE: Due to a member of the company of artists being in quarantine, the concert originally scheduled for Saturday, November 27, 2021 has been re-scheduled for Wednesday, February 9, 2022 at 8pm.
WN: It's been about a year since our most recent email exchange; you were just about to traverse Beethoven's ten sonatas for violin and piano with James Ehnes last December – livestreamed from an empty Koerner Hall, and you talked about how the finale of the Ninth Symphony was the first piece of Beethoven's music that made a strong impression on you. "I was riveted," you said. "I never heard such music – comforting and exulting the listener, a music of optimism and a bright hope for humanity." What's it like to be back?
SG: It will be my first public appearance [here] since the pandemic. Very meaningful to me as I was in my home town for most of the pandemic; finally performing in public in this city makes me feel like I am playing for friends who I grew up with. I am honoured to perform Beethoven's Ninth; its ode to humanity is something I believe we all have to internalize, especially with the things that have happened these past two years.
Was the pandemic a fertile time for you creatively?
Yes and no. It was a very trying time, and there were moments where it took a lot of energy to feel hopeful and optimistic. I wish I was a composer who can pour out emotions when spirits are low, but I felt depleted of inspiration, and I spent more time learning repertoire, reading and cooking than writing. I must say, however, that after the pandemic my approach to composing deepened, and my piano playing has changed as well. I think that is due to a feeling of hope spreading everywhere, plus the warmth I have experienced from audiences in the past few months as concert halls reopened.
It's an auspicious return to Koerner, not the least of which is the world premiere of your Piano Quintet. What sparked you to base it on themes from Beethoven?
Beethoven has been a part of my life from the very beginning, and the power of his music inspired and strengthened me in different chapters of my life. When I was commissioned to write a work that paid homage to Beethoven, it probably was the most personal assignment, as this brought me to the beginning of my journey as a musician.
How long did you work on it? What challenges did you encounter?
I worked on the first three movements very quickly. I wrote them in swift succession in the winter of 2020. It was the closing movement that took the majority of time. Beethoven's music is filled with hope, even in the darkest hour, and I needed to feel that hope. That feeling finally came this fall, and I could only then bring the quintet to its conclusion.
What are the Beethoven themes you incorporated in it?
The first movement is a slow-burning passacaglia, based on an 11-note sequence from the finale of Beethoven's Ninth Symphony. The themes of the second movement are original, using only the gestures of a Beethoven-esque minuet. The third movement is a furious scherzo, with themes from Beethoven's "Waldstein" sonata, Second Symphony and the Op.135 string quartet used as hip-hop sampling. The last movement is original, calm and hopefully ethereal.
How early did you discover Liszt's piano arrangements of Beethoven's symphonies?
When I was six years old.
Did Liszt include soloists and a choir in any version of the Ninth Symphony? Performing it with singers seems to be a rare occurrence. How many members of the Mendelssohn Choir will participate?
The Liszt arrangement of the Ninth Symphony has choir and orchestra incorporated in the fourth movement. For my Koerner Hall performance, I will be incorporating Liszt's transcription for the wholly orchestral moments and scaling back the arrangement during the solos and choir moments. This will be my first time ever performing this work. There will be around 27 members of the Toronto Mendelssohn Choir participating.
---
Jan Lisiecki: Now 26, Jan Lisiecki makes his sixth Koerner Hall appearance on December 12 with a rare pairing of Chopin's Études Op.10, Nos. 1 to 12 with 11 of the composer's Nocturnes (all 20 of which appear on Lisiecki's latest Deutsche Grammophon recording). In an Ottawa Chamberfest conversation with Eric Friessen on September 30, he described growing up with the Nocturnes, and the many years it took to plan the double CD – years during which he played the nocturnes as encores to get feedback. "Nocturnes are poems written in the moment," he said. "Each nocturne needs to tell its own unique story." And slowing the tempo – as Lisiecki often does – creates more interior space and contributes to a dreamlike nighttime mood. When I saw the unusual juxtaposition of the Études with the Nocturnes in his upcoming recital, I asked Lisiecki about his programming choices.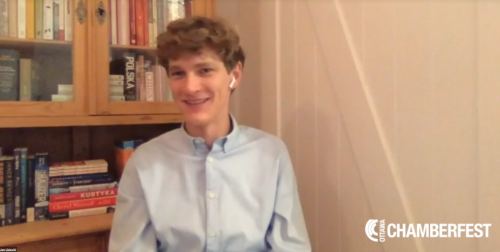 "The concept of putting this program together started very much with an idea, or a wish to include Chopin's Nocturnes in a recital program" he replied. "Now, including purely Chopin's Nocturnes would be very challenging, for the attention of the audience, for the communication with them, for the atmosphere – while putting simply a few, an opus or two would … result in a program that is completely standard, nothing special whatsoever. So, I came up with the idea to match Chopin's Études from Op. 10 with his Nocturnes. They are matched according to key and of course according to atmosphere as well. I believe they form a very nice line from the very beginning to the very end, while also presenting the Nocturnes which, as I said, was my first goal."
I see that you are playing the Op.10 Études in ascending order from 1 to 12. So how did you decide which nocturnes to program and where to place them?
Putting the Op. 10 Études in order from No.1 to No.12 was a very simple choice made purely because the first Étude is a fantastic opening and the last is a fantastic closing, and everything fits very beautifully in between. Since that was sort of a backbone, it didn't make sense to shuffle things up – there was no point in doing so, and the Nocturnes could be fitted in between the Études.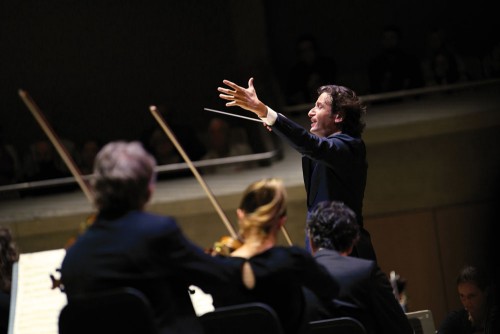 Toronto Symphony Orchestra: Heralding a return to live concertizing in front of an audience, the TSO and their new musical director, Gustavo Gimeno, got together for a surprise livestream event on October 14 for donors and patrons. The program ranged from Joseph Bologne's elegant Symphony in D Major Op.11, No. 2, to Gary Kulesha's arrangement of Nathaniel Dett's melancholy "His Song", to Brahms' Serenade No.1, Op.11, a work foreshadowing the soaring melodies of the symphonic composer we're familiar with. Smooth and balanced, the program was a big step back into orchestral waters – "typical of the different musical perspectives we plan for this season," as Gimeno described it.
Gimeno's long-anticipated in-person debut as TSO music director comes just as audiences are able to return to Roy Thomson Hall for the first time in 18 months, November 10 to 13. Anthony Barfield's Invictus – a 2020 composition that reflects on this unique moment in time and delivers a stirring ode to humanity's capacity for resilience – serves as the season-opening fanfare, followed by Haydn's Overture to L'isola disabitata, then by the Jazz Age spirit and celebratory flourish of Hindemith's Concert Music for Strings and Brass. Schubert's free-flowing melodic gifts are on full display in his Fifth Symphony which rounds out the program.
The TSO's November 17 and 18 concert, also conducted by Gimeno, focuses on the orchestra's strings. An 11th-century poem by Omar Khayyám inspired pop-influenced grooves in the music of Sri Lankan-born Canadian Dinuk Wijeratne; fellow Canadian Kelly-Marie Murphy's Rains of Ash and Embers extols our country's natural wonders. Mahler's heart-rending Adagietto from his Symphony No. 5 and Schoenberg's sensuous Verklärte Nacht (Transfigured Night) are among the most stunningly beautiful works in the classical canon.
The TSO's woodwind, brass and percussion sections take centre stage on November 19 and 20 in a lively program: Joan Tower's Fanfare for the Uncommon Woman, No.1 (in the composer's words, "dedicated to women who take risks and are adventurous"), Dvořák's charming Serenade in D Minor, Steve Reich's mesmerizing Music for Pieces of Wood, and Stravinsky's colourful salute to Debussy, Symphonies of Wind Instruments. The program, which marks Gimeno's final TSO appearance of 2021, closes with the Sinfonietta for Winds and Percussion from one of Canada's most acclaimed 20th-century composers, Oskar Morawetz.
Rounding out the month, Peter Oundjian returns to Roy Thomson Hall for his first concert as TSO conductor emeritus, on November 24, 25, 27 and 28, in a program headed by Beethoven's "Egmont" Overture, Strauss' lovely Serenade in E-flat Major and the radiant music of Florence Price. All of which serve as prologue for Tchaikovsky's uber-Romantic, unforgettable Violin Concerto with Canadian rising star Timothy Chooi, just 27 years old.
Approximately 60% of available capacity will be offered for TSO performances in November at Roy Thomson Hall (roughly 1,550 seats out of 2,600. Proof of COVID vaccination is required; masks must be worn at all times except when eating or drinking.
QuickPicks
NOV 7, 3PM: Trio Arkel (Marie Bérard,violin, Winona Zelenka, cello, and new member Rémi Pelletier, viola) open their new season with Jean Cras' inventive string trio. Montreal pianist Philip Chiu joins them for Schubert's enthralling Fantasia (arranged for piano quartet) and Guillaume Lekeu's Piano Quartet. Lekeu died of typhoid fever at 24 before finishing the work, commissioned by fellow Belgian, noted violinist Eugène Ysaÿe. Vincent d'Indy, who considered his former pupil a genius, added seven bars to complete the piece. The concert, which takes place at Trinity-St. Paul's Centre, will be available on demand for 14 days from November 14.
NOV 9, 8PM: Music Toronto presents pianist Stephen Hough in a varied program that climaxes with a Chopin grouping – a ballade, scherzo and two nocturnes. Hough's playing is always thoughtful and often astonishing, making any Hough recital unmissable.
NOV 18, 8PM: The St. Lawrence String Quartet's affinity for Haydn will be on display in a Jane Mallett Theatre Music Toronto presentation of four of the master's Op.76 string quartets, Nos. 4, 2, 5 and 3. Expect an ebullient performance led by first violinist Geoff Nuttall and an exuberant verbal commentary from him as well.
NOV 20, 7:30PM: Kingston's Isabel Bader Centre for the Performing Arts presents "A Celebration of the Violin" with violinists Jonathan Crow and David Baik and pianist Philip Chiu in works by St. Georges, Ysaÿe, Brahms and Moszkowski.
NOV 21, 7PM: Stratford's INNERchamber Ensemble presents "Love Story – Selected Letters by Clara Schumann and Johannes Brahms". Between movements of Clara Schumann's Piano Trio op. 17 in G Minor and Brahms' PIano Trio op. 87 in C Minor performed by Emily Hamper (piano), Andrew Chung (violin) and Ben Bolt-Martin (cello), Marion Adler and Scott Wentworth read from the two composers' intimate letters.
NOV 25, 1:30PM: For the next concert in the Women's Musical Club of Toronto (WMCT) season, percussionists Beverley Johnston, Aiyun Huang and Russell Hartenberger will roll out a broad range of instruments – from marimba and vibraphone to drums and flower pots – with (literally) lots of bells and whistles from the percussion studio directly behind the Walter Hall stage. Flutist Susan Hoeppner and violinist Marc Djokic join them in a program that includes Bach on marimba, 20th-century classics by Lou Harrison and Astor Piazzolla as well as Eagles, by Russell Hartenberger, a WMCT commission premiere.
Paul Ennis is the managing editor of The WholeNote