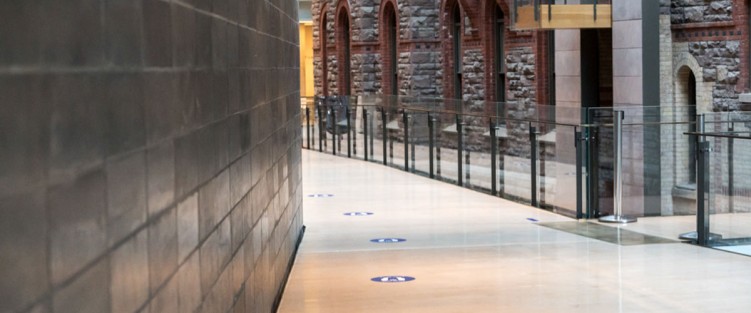 On January 14, the Herculean efforts of The Royal Conservatory to save as much of their extensive 2020/21 concert season as possible suddenly turned Sisyphean when the Ontario government extended and tightened restrictions for everyone in the province. It was a cruel act of whiplash, after the RCM had managed to slow-walk a schedule that included four remarkable mid-December concerts (which I had the good fortune to attend virtually) celebrating Beethoven's 250th birthday.
In a subsequent press release detailing the postponement and rescheduling of all concerts and livestreams until February 11, RCM added that because of the restrictions they were no longer able to have artists or production staff create livestreams. "This is a profoundly disappointing blow to all of us at The Royal Conservatory and to our artists who were so looking forward to performing."
I contacted Mervon Mehta, RCM's executive director, performing arts, to share his perspective with WholeNote readers. He confirmed that everything had changed since January 14. "We cancelled 18 days of concert livestreams, rehearsals and recordings from January 14 to February 11… Our entire 21C Festival has been postponed." Is the RCM lobbying the government, I wanted to know. "Yes," he said. "Us along with many others."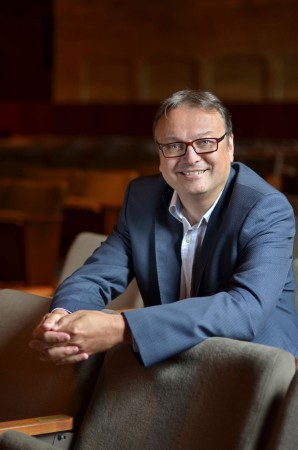 Contextualizing the situation, he said that RCM is acutely aware of the crisis, not only as a venue that has lost its ability to present concerts but also as a school. "Obviously," he said, "the safety of our students and audience is our highest priority. We have spent months pivoting, spent thousands on PPE and plexiglass shields, cancelling [and/or] postponing foreign artists and, since mid-October, presenting concerts of our own and hosting others – such as the TSO, Against the Grain's Messiah/Complex, Opera Atelier's fall opera and our own Beethoven Festival of eight full concerts." Importantly, he points out, a huge amount of work was generated for exclusively Canadian artists.
When government regulations last October required that the RCM's doors be closed to audiences, the Conservatory lobbied to allow rehearsals and livestreams and were granted that privilege. "We have had health inspections and musician union reps drop by," Mehta said, "and all were very impressed with our protocols and preparedness.
"Hundreds of artists and crew – not to mention students – have been in the building" he said, "and we have not had a single COVID case. In fact, concert halls across Ontario have not had a single case as far as I have heard. Why are we now singled out and had our only means of revenue taken away (from us, artists, crews etc)?"
He does not downplay the seriousness of COVID. "We all understand, and we want to do all we can to help Ontario get back to business. But where is the science that led to this recent decision?" In the meantime, the RCM is not just waiting to see what happens when the current restrictions run out; they are advocating and hoping for a reversal to the pre-January 14 regulations.
"It must be a world-class juggling act to keep up with the new protocol," I said. "Yes, it is," Mehta replied. "Now multiply that by ten to get artist schedules, Glenn Gould School schedules, quarantine rules etc all to align."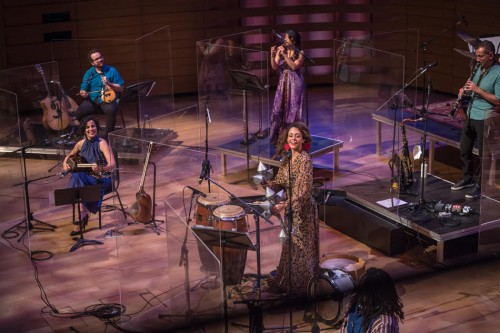 The four December Beethoven concerts mentioned earlier illustrated all that was good about the RCM Koerner Hall experience in these restrictive times. Despite the lack of an audience, there was a feeling of intimacy and the frisson of live performance – I treated each of the concerts as a destination event, watching them being performed for the first time in three consecutive evenings (December 10 to 12) followed by a Sunday matinee (December 13). The changes in repertoire and performers due to travel restrictions ended up – fortunately – enhancing the experience. Violinist James Ehnes led a top-notch coterie of string players in a rare foray into Beethoven's under-performed Quintet for strings, Op.29. With its breathtakingly beautiful opening notes, the second movement's lovely, innocent, aspirational main tune and the jaunty lightness of the brief third movement, by the finale, you could feel the music – its intense building of thematic fragments – vaulting into a new century, even as it glanced back to the 18th.
Pianist Charles Richard-Hamelin joined Ehnes and the strings for the welcome opportunity to hear Chausson's Concerto for Violin, Piano and String Quartet, which Ehnes called "a totally unique unicorn of a piece." Richard-Hamelin carried off the demanding piano part with aplomb while Ehnes' beautiful phrasing showcased the work's melodious content.
The pandemic prevented Ehnes' regular pianist, Andrew Armstrong, from participating in the three-day chronological traversal of Beethoven's ten violin sonatas, setting up Stewart Goodyear as his stellar replacement. Goodyear had less than four weeks to prepare for works he had never played and four days of rehearsal with Ehnes, with whom he had played only once before. It reminded Mervon Mehta – who spoke briefly with Ehnes and Goodyear before each concert – of Goodyear's time studying at the Curtis Institute when Leon Fleisher, his teacher, asked him to learn one of Beethoven's 32 piano sonatas each week over 33 weeks – he was given two weeks for "The Hammerklavier." Minutes before, Goodyear told Mehta that he considers Beethoven to be his spiritual soul brother.
Ehnes and Goodyear did not disappoint. They were totally engaged in the music and its variety of tone and dynamics. It was a musical conversation in a historical context, covering Beethoven's early and middle periods stopping at the precipice of the late period. Musical confluence and conflict were enthusiastically conveyed. Much of their playing felt authoritative, from the optimistic gentility of No.6 to the forcefulness of No.7, the exuberance of No.8 to the sublime "Kreutzer" No.9 and the sunny intimacy of No.10.
Listening to them in such a concentrated way felt almost like being in the hall – a high point of my 2020 concertgoing, shattered a few weeks later by the new protocol of January 14.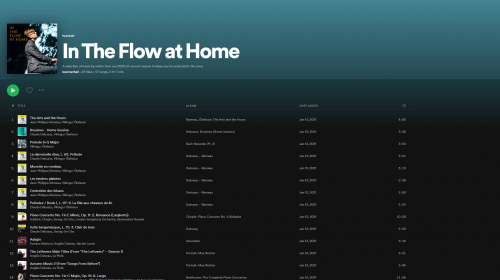 RCM has produced a playlist freely available on Spotify called "In the Flow at Home" a wide-ranging selection from artists originally scheduled to appear in the RCM 2020/2021 season. Included are pianists Vikingur Ólafsson, Seong-Jin Cho, Stewart Goodyear, Joey Alexander, Nicholas Angelich and Marc-André Hamelin; violinists James Ehnes and Angèle Dubeau; and the Gryphon Trio. For further information please see rcmusic.com/concerts.
Toronto Symphony Orchestra
Other local presenters are maintaining their footprints on our collective calendar. The Toronto Symphony Orchestra (tso.ca) has two on demand concerts available in the coming weeks, both recorded before the recent tightening of regulations.
The first of the concerts already "in the can" – available February 12 to March 4 and featuring 17 members of the TSO – is anchored by Beethoven's Septet Op.20, one of his most popular works. Scored for a wholly original combination of instruments – violin, viola, cello, double bass, clarinet, horn and bassoon – Beethoven had high hopes of creating a template for a new chamber music form, but the piece was so well-liked that other composers were too intimidated by its success to compete. Beethoven's Septet is truly one of a kind.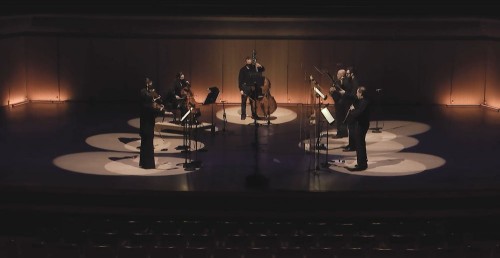 The program also includes the only completed movement from Schubert's String Trio in B-flat Major D471 and Emilie LeBel's woodwind quintet, Haareis auf Morschem Holz (hair ice on rotten wood), arranged à la Ludwig van B, for septet.
Concertmaster Jonathan Crow is both soloist and leader in Vivaldi's The Four Seasons in a concert available March 12 to April 11. Crow will also lead the TSO in two contemporary works – "Coqueteos" from Gabriela Lena Frank's melodic Leyendas: An Andean Walkabout and Sri Lanka-born Canadian composer and lyrical master Dinuk Wijeratne's poetic, JUNO Award-winning "A letter from the After-life" from Two Pop Songs on Antique Poems.
So far so good, but speaking before a January 22 Jonathan Crow livestream concert/webinar for more than a thousand TSO supporters and subscribers, TSO CEO Matthew Loden said that the latest regulations, if left unchanged, will significantly impact on what else they have been planning.
Music Toronto
Music Toronto's free, online, virtual concert series – featuring several artists who were scheduled to appear in their now-cancelled 2020/21 season – continues February 18 at 7:30 (available until 6pm, February 20) with the St. Lawrence String Quartet performing Beethoven string quartets: Op.18, No.4 and Op.74 "Harp." Recorded on January 12, 2021 for the Noe Valley Ministry concert series in California, this concert was adapted by the SLSQ for Music Toronto. On March 16 at 7:30 – one show only – pianist Vadym Kholodenko has prepared a treat for Music Toronto's audience. The winner of the 2013 Cliburn Competition's program (recorded in January 2020 for Jaques Samuel Pianos London) includes Schubert's Sonata in A Major, Op.120 D664, Kaija Saariaho's Ballade, a selection of preludes by Scriabin and Rachmaninoff's Piano Sonata No.2.
Wrapping up the series on April 15 at 7:30 (available until 6pm April 17), the Castalian String Quartet has prepared Haydn's Quartet in C, Op.76 "Emperor" and Brahms' Quartet in A Minor, Op.51 No.2 for Music Toronto. Founded in 2011 and based in London, UK the Castalian was a finalist in the 2016 Banff Competition won by the Rolston String Quartet. Two years later, they were named the winner of the first Merito String Quartet Award/Valentin Erben Prize which includes €20,000 for professional development, along with a further €25,000 towards sound recordings and a commission.
The award came as a complete surprise to the quartet since there was no application process or competition for it; instead, a secret jury assembled a shortlist of five quartets which were then observed in at least two concerts during the course of a year, always without the musicians' knowledge. Award co-founder Erben, well-known as the founding cellist of the eminent Alban Berg Quartet, observed: "The human warmth and aura radiated by these four young people played a key role [in winning the Prize]. They are never just putting on a show – the music is always close to their heart. You can feel their intense passion for playing in a quartet."
Kindred Spirits Orchestra
Finally, COVID-19 regulatory whiplash permitting, on February 27 at 8pm, the Kindred Spirits Orchestra (ksorchestra.ca), under the direction of Kristian Alexander, is planning to present two pillars of Russian modernism: Shostakovich's Cello Concerto No.1, which Alexander describes as "a perfect virtuosic balance of romantic passion, tradition and form," with versatile cellist Amahl Arulanandam, best-known for the duo VC2, making his KSO debut; and Scriabin's Symphony No.2, "a lush and brooding work" according to Alexander.
Subject to regulatory issues resolving themselves, the concert will be livestreamed from the SMSV Cultural Centre in Markham and will include an onstage discussion with Arulanandam and KSO associate conductor, Michael Berec.
Paul Ennis is the managing editor of The WholeNote.