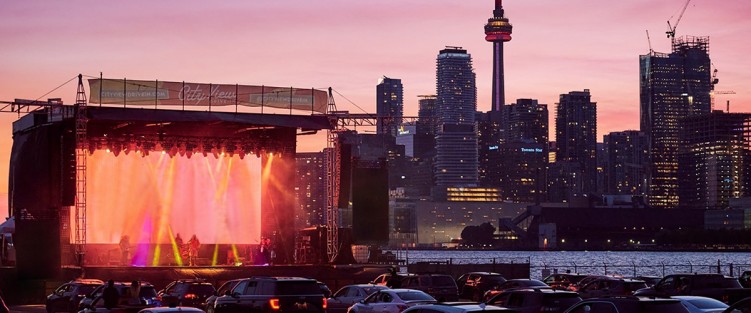 "There's nothing like the sound of 2,000 people applauding," said Matthew Loden, Toronto Symphony Orchestra CEO, on September 23, as he welcomed back TSO new music director, Gustavo Gimeno, and principal flutist, Kelly Zimba, during the TSO's Virtual Opening Night event. A video of Ravel's Daphnis et Chloé Suite No.2, conducted by Gimeno from October 2019, had just finished its online broadcast and Loden was in the process of re-introducing Zimba and Gimeno to viewers for a virtual conversation.
"I find it uncomfortable to watch myself," said the conductor – from his home in Amsterdam – in answer to a question by Loden. "My analytic mind wonders 'Could I have done something different?' – but the music is moving and emotionally powerful… the human being can't stop the emotion… I got goosebumps right away... It's simply wonderful to see the faces of the musicians around me and the audience."
That October 2019 performance of the Ravel Daphnis and Chloé was Gimeno's third time conducting the TSO and Loden asked whether it felt different. Gimeno said that he felt a connection to the orchestra within the first half of the first rehearsal he ever had with them. "With the atmosphere, with the sound and the way of making music, I felt in the right place." And the TSO still feels like his musical family, but now that he's no longer a guest conductor "the analysis goes much further and deeper."
"We were all very excited to work with Gustavo," Zimba said. "The energy that was onstage was really strong and palpable… We really trusted Gustavo's musical vision."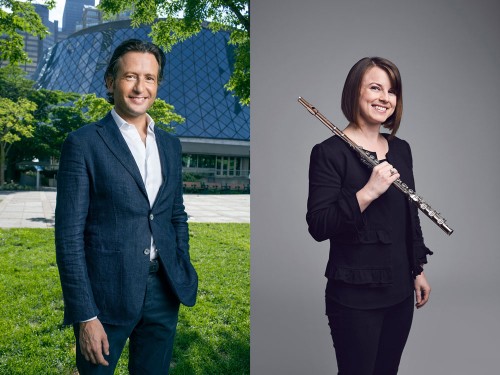 Ever since early July when all concerts in the 2020/21 season were cancelled, we've been wondering how the TSO will be engaging with the public under COVID-19 protocols, and Loden was able to reveal a few things for the coming months at the September 23 event. One he spoke about was four upcoming appearances on select Fridays by TSO musicians in the Walker Court of the AGO (with accompanying pop-ups in other spots within the AGO) – September 25 (concertmaster Jonathan Crow and principal cello Joseph Johnson); October 2 (Ashley Vandiver, viola, and Alastair Eng, cello); October 9 (principal percussion Charles Settle and percussionist Joseph Kelly); and October 16 (TBD). Audiences are welcome to drop in, stand on physically distanced markers and enjoy the program. Limited accessibility seating is available. Free with admission, the performances will happen in the Gallery from 2pm to 4pm. These are not continuous performances and can only be attended by booking a timed-entry ticket for AGO admission. Space is limited.
He also talked about the fact that groups of approximately 20 TSO musicians will play at each of three outdoor concerts at CityView Drive-In, in the Toronto Port Lands. "Kings of Ragtime" kicks off the mini-series October 7 at 7pm with a selection of six Scott Joplin tunes, three by Jelly Roll Morton and two by George Gershwin, plus W.C. Handy's iconic St. Louis Blues. Gordon Gerrard conducts. Next up, concertmaster Jonathan Crow is soloist and leader in Vivaldi's Four Seasons, October 16 at 8pm. And then "First Ladies of Soul," a tribute to legendary voices from Billie Holiday, Ella Fitzgerald and Nina Simone to Aretha Franklin, Whitney Houston and Tina Turner rounds things out October 17 at 8pm, featuring award-winning blues singer Shakura S'Aida and TSO principal education conductor and community ambassador, Daniel Bartholomew-Poyser.
Loden then surprised us with the disclosure that TSO musicians would be collaborating with the cast of Murdoch Mysteries beginning September 24. Don't touch that dial. And finally, he offered a teaser for an upcoming HD concert series – "Gustavo's putting these programs together" which will include masterworks – like Vivaldi's Four Seasons, the Adagietto from Mahler's Symphony No.5, an all-Mozart program, and two Beethoven programs including the "Pastoral" Symphony 6 and Symphony No.7 – intermixed with works by contemporary composers Gabriela Lena Frank, Dinuk Wijeratne, Jörg Widmann and Barbara Croall. Gimeno will conduct the two Beethoven programs himself.
For now, the video of Gimeno's finely calibrated October 2019 Ravel – the TSO so-well balanced, their sound relaxed and transparent – is a reminder of what awaits us in a post-pandemic world.
Twists and turns at RCM: Meanwhile, up the road from a shuttered Roy Thomson Hall, The Royal Conservatory is gamely trying to navigate the various twists and turns in the COVID-19 river while maintaining as full a concert schedule as possible despite the current limit of 50 people in the audience – at their season launch in the spring, they planned for audiences as large as 400.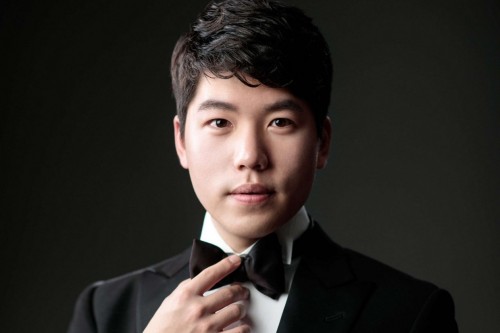 October 2, for example, was to be the first Royal Conservatory Orchestra concert of the season with British harpsichordist/conductor Trevor Pinnock leading the orchestra. With Pinnock unable to travel, Toronto Symphony Orchestra concertmaster and New Orford String Quartet violinist, Jonathan Crow, stepped in, to lead the from the concertmaster's chair in a program which, in addition to Mozart's Haffner Symphony, will feature the new recipient of the Ihnatowycz Piano Prize, Sae Yoon Chon, as the soloist in Beethoven's "Emperor" Concerto. In-venue attendance on October 2 has now been ruled out, and the event as advertised will now be replaced with a free online concert at a date to be announced. Similarly Follies in Concert, a performance and gala event originally scheduled for October 17, has been postponed to October 16, 2021.
On the bright side, Angela Hewitt will be performing J.S. Bach's magnificent Art of the Fugue BWV 1080 in Koerner Hall at 3pm on October 18, with a second performance added that evening at 8pm to accommodate current ticket holders. This concert is now at capacity and a livestream exclusively for ticket holders is currently being offered.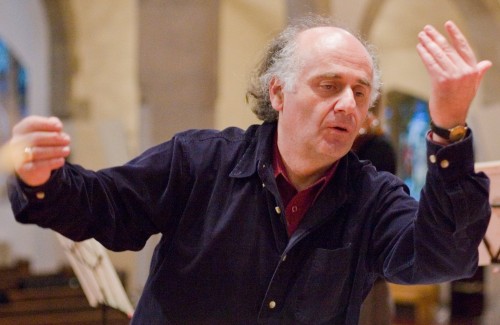 Sinfonia Toronto: Also a positive development for the RCM, Koerner Hall's well-developed livestream capabilities make it an ideal venue for renters hoping to expand their live audience attendance as the season progresses. Sinfonia Toronto and its celebrated music director/founder, Nurhan Arman, for example, have factored Koerner into their plans for three of their seven concerts as they nimbly pivot around the pandemic. At current attendance limits, all seven of their 2020/21 concerts have sold out. (The other four will be at the Glenn Gould Studio.)
They now offer two means of attending virtually. Tickets for watching a livestream of a concert are $18.95; for $15, a visual record of a concert will be available up to four weeks after the concert takes place. On October 25 at 3:30pm in Koerner Hall, Arman conducts his chamber orchestra in Shostakovich's remarkable Chamber Symphony in C Minor Op.110a, Arman's own orchestral version of Beethoven's "Harp" String Quartet No.10, Op.74a and Toronto composer Saman Shahi's (b.1987) poignant When we fall… in which Shahi's fascination for the music of Radiohead is apparent.
The program, which juxtaposes two masterpieces by two towering composers, is a tribute to frontline workers and health-care providers.
"It was difficult to decide how to begin a new season after months of tragic loss of life around the world," Arman said. "But it seemed to be a natural choice to program two great composers like Beethoven and Shostakovich, whose music expresses their humanity with unparalleled power. They were both composers of revolution. They lived in revolutionary times and in their own way they revolutionized the music of their times. I also wanted to include the future by juxtaposing them with a contemporary Toronto composer with a growing oeuvre and reputation. Saman Shahi's When we fall… is also a talented composer's reaction to adversity and anguish."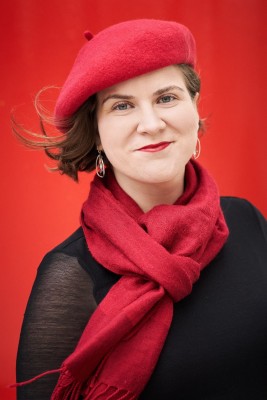 Across the pond:
After a standout recital program in June, London's historic Wigmore Hall is back with an astonishing new autumn series of 100 concerts livestreamed from September 13 to December 22. Over 200 artists are participating, of whom more than two-thirds are UK born or based. Soloists, duos, trios, quartets and larger ensembles will take part, making for a variety of works. Most concerts will be in front of an audience of 56 people representing ten percent of capacity, with the ability to move to 112 seats as the season progresses.
To give you an idea of the scope and quality of the enterprise, the following artists appearing at Wigmore in the next five weeks have performed in Toronto in the recent past at Music Toronto, Koerner Hall, Walter Hall or Roy Thomson Hall: Danny Driver (October 1); Sir András Schiff (October 2); Beatrice Rana (October 8); rising star, Canadian mezzo-soprano Ema Nikolovska (October 10); Ingrid Fliter (October 12); the Schumann Quartet (October 16); Francesco Piemontesi (October 19); Jonathan Plowright (October 22); Pavel Kolesnikov (October 26); Pavel Haas Quartet (October 27); and Paul Lewis (November 2). Reconnect with any or all of them through Wigmore Hall's free livestreaming or archived videos. The many pleasures of the entire, talent-laden lineup are yours to discover at wigmore-hall.co.uk.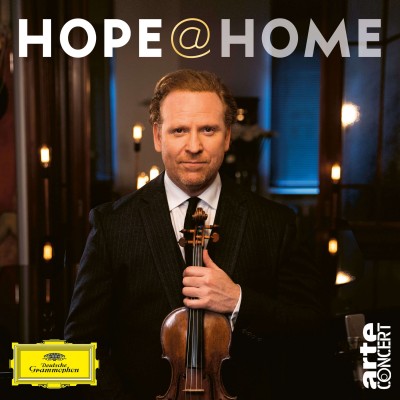 Hope@Home.
Violinist Daniel Hope spent from March 25 to May 3 performing chamber concerts online from his living room in Berlin with guests including pianist Christoph Israel, theatre director Robert Wilson, Matthias Goerne, Simon Rattle and many more. Produced by Franco-German cultural TV channel Arte, you can read more about it in my column in the May/June WholeNote. Hope took the show on the road in the summer – many Hope@Home on Tour concerts can be seen on YouTube – and now Deutsche Grammophon has released Hope@Home the album, a selection of 21 pieces from the series of livestream events which attracted a combined audience of 2.5M viewers. Every track is live, one take only. As Hope says, "There were no patches or editing, no second takes. Sometimes life doesn't allow for second takes. This was my world for six magical and highly unusual weeks." A number of the spring concerts are still available on YouTube.
Paul Ennis is the managing editor of The WholeNote.