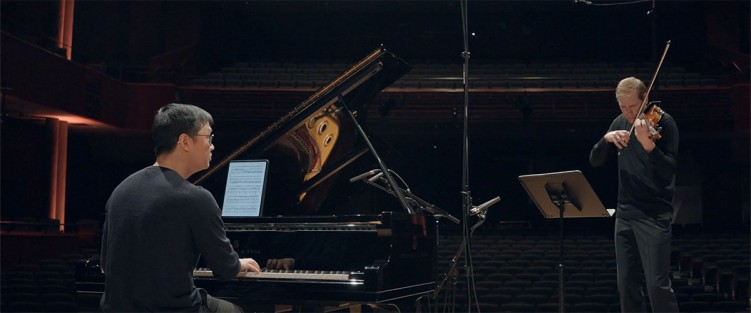 Toronto Summer Music's 16th edition – New Horizons – will be entirely virtual this year, with a combination of free livestreamed and pre-recorded hour-long concerts from July 15 to August 1. "For three weeks in July, New Horizons looks beyond the challenges of the pandemic, and forward to a better future," said TSM artistic director, TSO concertmaster Jonathan Crow. "We celebrate this summer with a wonderful assortment of music from both past and present, showcasing the resilience and creativity of our featured artists."
This year's festival was launched on June 7 over Zoom with Crow performing Reena Esmail's solo violin piece from 2020, When the Violin, while standing at the foot of an empty Walter Hall. Inspired by Hafiz's poem – When the violin can forgive the past, it starts singing… When the violin can forgive every wound caused by others, the heart starts singing – and based on a Hindustani raag, it begins mournfully, expanding into four emotional minutes of mesmerizing beauty. It was a subtle nod to the series of five filmed concerts comprising the complete cycle of Beethoven's ten Sonatas for Piano and Violin that Crow and pianist Philip Chiu will present along with five new compositions. When the Violin is the featured contemporary work in the first of their traversal, July 18, along with the first and fifth sonatas, filmed at Salle Raoul-Jobin in the Palais Montcalm (Quebec City).
Sonatas Nos. 3 & 7, with Kevin Lau's if life were a mirror, will be presented July 19; on July 25, the program consists of Sonatas Nos. 2 & 9 "Kreutzer", with Jessie Montgomery's Peace; Sonatas Nos. 6 & 8, with the world premiere of Alice Hong's for all is not lost, comprise the July 26 recital; and Sonatas Nos. 4 & 10, with the world premiere of Gavin Fraser's like years, like seconds, play August 1. All were filmed at Koerner Hall and, as will be the case with most concerts in the festival, will be free and available to view for a week after their initial performances.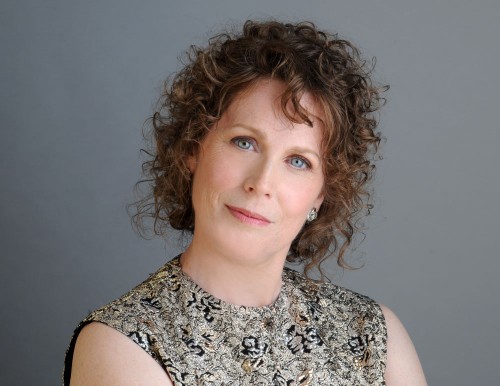 As if to acknowledge how Beethoven's music was upended by the pandemic in the 2020 festival where it was to be the focus, the Bonn vivant looms over several other programs in the 2021 edition. Through Beethoven's Lens, filmed at Koerner Hall and presented July 30, shows the influence of the composer's singular Septet in E-flat Major on works written almost 200 years apart by Franz Schubert and Kelly-Marie Murphy. The world premiere of Murphy's TSM commission, Artifacts from the Auditory World, will be performed by Andrew Wan (violin), Barry Shiffman (viola), Emmanuelle Beaulieu-Bergeron (cello), Michael Chiarello (bass), Miles Jaques (clarinet), Neil Deland (French horn) and Darren Hicks (bassoon). Jaques, Deland, Chiarello and Hicks will also join with the Rosebud Quartet for a performance of Schubert's iconic Octet in F Major.
According to TSM's program note, composers in the Romantic era were often inspired, one way or another, by Beethoven's music. (Brahms, for one, began writing string sextets in part because he felt too intimidated by Beethoven to write more string quartets.) All the pieces in the program, Romantic Inspirations – livestreamed from Walter Hall on July 23 – feature their own tip-of-the-hat to the master. Philip Chiu performs Louise Farrenc's Souvenir de Huguenots before joining with Adrian Fung to play Wagner's Albumblatt "Romance" for cello and piano. Schubert's Auf dem Strom follows, sung by tenor Asitha Tennekoon with Deland and pianist Michael McMahon. And the concert concludes with Brahms' String Sextet No.2 in G Major, Op.36 which Donald Tovey called "the most ethereal of Brahms' larger works." Mayumi Seiler and Crow (violins), Juan-Miguel Hernandez and Rémi Pelletier (violists) and Rachel Mercer and Fung (cellists) perform it. (At the end of the June 7 Zoom launch, Crow took questions from the audience and said that he was looking forward to the Brahms sextet – and particularly playing with violist Hernandez for the first time.)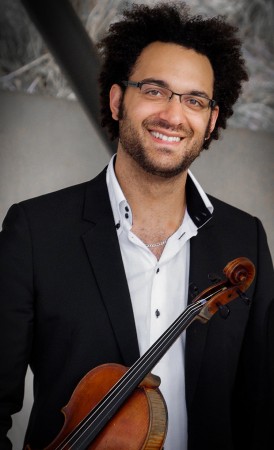 A well-crafted festival program links works, and programs, on several levels, some of which only become apparent once the festival gets rolling and its strong intellectual foundation comes into play. Here's another example: Charles Richard-Hamelin, whose sensitive touch always serves the composer's vision (not the pianist's ego), opens the festival with a livestreamed recital from Koerner Hall on July 15, performing Mozart's Fantasia in C Minor, K475 and Piano Sonata No.14 in C Minor, K457 as well as Preludes by Chopin. (Richard-Hamelin's new Chopin Preludes CD is reviewed in this issue's DISCoveries section.)
Then, the next night, July 16, the justly celebrated Gryphon Trio performs Valentin Silvestrov's hauntingly beautiful Fugitive Visions of Mozart, a world premiere by Toronto-based composer Bruce A. Russell and Beethoven's Piano Trio in D Major, Op.70, No.1 "Ghost". The nickname was supplied by Beethoven's student, Carl Czerny, who was reminded of the ghost of Hamlet's father by the piece's second movement.
Other programs play up the New Horizons theme. On July 28, the New Orford String Quartet's Homage concert (filmed at Koerner Hall) honours the musical influences in our lives as they figure in three in-the-moment works: Samy Moussa's Quartet, Dinuk Wijeratne's A Letter from the Afterlight and Caroline Shaw's Entra'cte. Concluding the concert is Mendelssohn's String Quartet No.2 in A Minor, Op.13 – all about being in love – written when he was 18, in the year Beethoven died.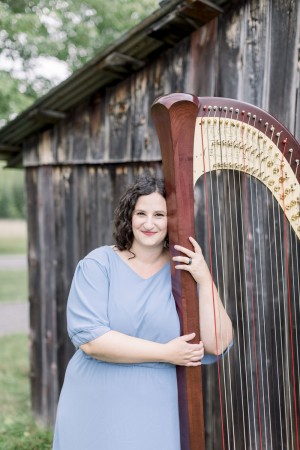 The festival's title concert, dubbed New Horizons – livestreamed from Koerner Hall on July 27 – features three stellar musicians, two of whom (violinist Kerson Leong and cellist Stéphane Tétreault) have ties to Yannick Nézet-Séguin and Orchestre Métropolitain. The third, harpist Angela Schwartzkopf, has already won a Juno Award. Leong performs Ysaÿe's Violin Sonata No.2 for solo violin – he gave us a taste of his dynamism and searing power playing it during the Zoom launch; Schwarzkopf performs Monica Pearce's attach; Leong and Schwartzkopf team up for Saint-Saëns' Fantaisie for Violin and Harp Op. 124; Tétreault performs Saint-Saëns' Le Cygne (The Swan); Leong and Tétreault finish with Ravel's Sonata for Violin and Cello. It's the kind of unusual programming that is second nature for TSM.
Leong, Tétreault and Schwartzkopf then join Boris Brott and his National Academy Orchestra for a concert livestreamed from Koerner Hall on July 29 that showcases two Azrieli Music Prize winners – Kelly-Marie Murphy's En El Escuro Es Todo Uno: a Double Concerto for Cello and Harp and Avner Dorman's Violin Concerto – Bruch's moving Kol Nidrei and Mendelssohn's indelible Violin Concerto in E Minor, Op.64.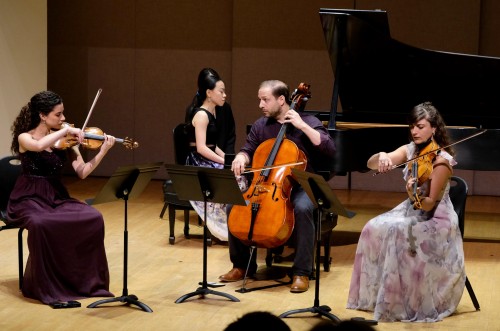 Welcome Academy news
The festival will also feature the return of the TSM Academy for Emerging Artists after a one-year hiatus. The TSM Academy offers exceptionally gifted young chamber musicians and singers ("Fellows"), on the cusp of professional careers, a full scholarship to study and perform with guest artists ("Mentors") during the TSM Festival in a series of reGENERATION concerts on July 17, 24 and 31. Fittingly, it's where more unusual works may often be found.
There are six Art of Song Fellows (four singers and two pianists); the Art of Song Mentors are soprano Adrianne Pieczonka, baritone Russell Braun and pianists Michael McMahon and Steven Philcox. (Pieczonka and Philcox will appear in recital on July 20, livestreamed from Walter Hall.) Among the 12 Chamber Music Institute Fellows are six violinists, three violists and three cellists. Chamber Music Institute Mentors include violinists Andrew Wan, Annalee Patipatanakoon, Jonathan Crow and Mayumi Seiler, violists Barry Shiffman, Juan-Miguel Hernandez, Rémi Pelletier and Sharon Wei, cellists Brian Manker, Rachel Mercer and Roman Borys and pianists Jamie Parker and Philip Chiu.
A highlight: TSM Academy Fellows will celebrate the music of Bach alongside mainstage TSM Festival artists in a concert livestreamed from Trinity-St. Paul's Centre on July 21. Included in this eclectic selection from Bach's works for strings and voices are the Cello Suite No.3 in C Major (performed by Rachel Mercer), the Concerto for Two Violins in D Minor and the Brandenburg Concerto No.3.
Any life on the horizon right now would be a welcome sight.
New Horizons promises much more than that.
TSO
Mid-June brought welcome news on another front. The long-awaited reunion between the Toronto Symphony Orchestra and its patrons is at hand, with a date on November 10, 2021, the first of 30 varied programs running through June of 2022, and overlapping with the start of a year-long celebration of the TSO's 100th season, which will start in the spring of 2022 and extend into the 2022/23 season.
It will be a gradual re-engagement. The first four months of the new season will feature hour-long concerts without intermission, and with musicians performing works that accommodate smaller ensembles on stage in order to maintain physical distancing. Among these, two mid-November programs, conducted by music director Gustavo Gimeno, stand out. The first showcases the orchestra's strings performing works by three leading contemporary composers – Caroline Shaw, Dinuk Wijeratne and Kelly-Marie Murphy – along with immensely popular pieces by Mahler and Schoenberg. Later in the week, the spotlight shines on the TSO's winds, brass and percussion. Symphonic works with a greater number of musicians and longer concerts will commence in the spring, beginning in late March with Jukka-Pekka Saraste conducting Sibelius Symphonies 7 & 5.
Visiting Canadian and international soloists that caught my eye include Timothy Chooi (Tchaikovsky violin concerto), Kerson Leong (Samy Moussa violin concerto), Angela Hewitt (playing and conducting Bach's second keyboard concerto and Mozart's 12th), James Ehnes (Beethoven violin concerto), Jan Lisiecki (Prokofiev's second piano concerto), Barbara Hannigan (the world premiere of Zosha Di Castri's new work for soprano and orchestra) and Daniil Trifonov (Beethoven's Emperor Concerto). Conductor emeritus Peter Oundjian and conductor laureate Sir Andrew Davis add their batons to the celebratory season.
Gimeno is also harnessing the individual forces of the orchestra. In January, concertmaster Jonathan Crow will lead Bach's Brandenburg Concertos and More, featuring principal oboe Sarah Jeffrey, principal trumpet Andrew McCandless, principal bassoon Michael Sweeney, principal cello Joseph Johnson, flutist Leonie Wall and principal flute Kelly Zimba. TSO musicians also performing as soloists in the season include associate principal clarinet Eric Abramovitz and clarinetist Miles Jaques (Mendelssohn Concert Piece No.2), Crow (Beethoven Romance No.2), principal double bass Jeffrey Beecher (Missy Mazzoli Dark with Excessive Bright), principal trombone Gordon Wolfe (Jordan Pal Scylla: Concerto for Trombone and Orchestra) and Zimba (Nielsen Flute Concerto).
Welcome back.
Paul Ennis is the managing editor of The WholeNote.