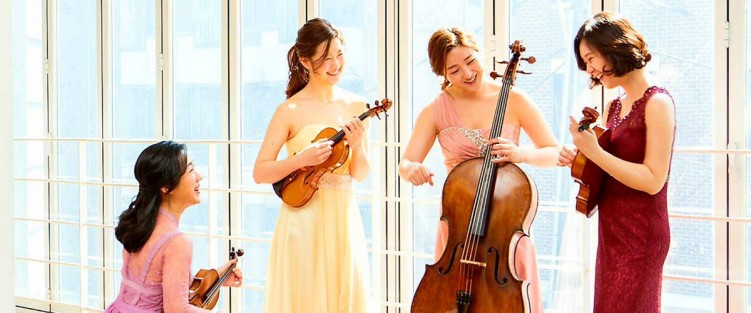 As various musical presenters of all sizes either hunker down for another few months or take a deep breath and take the plunge for a return to live concertizing, it's particularly heartening to see Music Toronto, going into their 50th season, among those diving right in. So I started out by speaking to Music Toronto's artistic producer, Jennifer Taylor, for her take on the new season.
WN: With the Parker Quartet opening the strings section of your season on October 21 and David Jalbert opening the piano portion on October 26, I wonder if you can tell me how you approached building your line-up for this special anniversary. You must have acted during the depths of the pandemic.
JT: We originally planned years 49 and 50 together – 2020/21 and 2021/22 – choosing many artists we considered friends of the house, so much of the planning was done before the pandemic. Then COVID meant we cancelled all of 2021/22. So some artists – such as Stephen Hough, Vanessa Benelli Mossell and the Miró Quartet – we had planned in 2020/21 we asked to move to 2021/22.
We always welcome back the St. Lawrence Quartet and the Gryphon Trio; we also wanted to include the Lafayette and Ensemble Made in Canada. The legendary Juilliard are enjoying a renaissance in the 75th year of the franchise, and the young all-female Korean quartet, the Esmé, fulfil our mandate to always introduce new artists to Toronto. The Parker gave us a bright and energetic opening, and we asked David Jalbert to play the work we commissioned from Kelly-Marie Murphy for our 50th.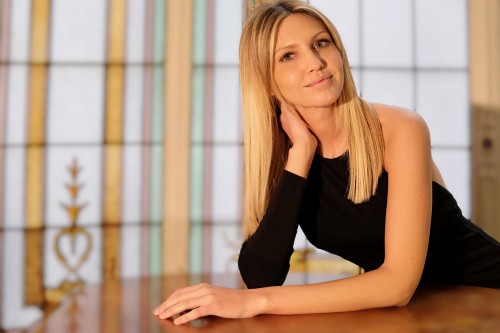 What alchemy produced the wonderful piano concerts? I'm especially pleased that you will be bringing Benjamin Grosvenor back for a fourth time.
We are pleased and proud to present both Stephen Hough and Marc-André Hamelin, giants of the Hyperion label, in one season – thanks in Stephen's case to COVID re-dating. And we have liked Benjamin Grosvenor since we first heard him in 2014; we are delighted he is sharing his rise into the stratosphere with us. David Jalbert is an established Canadian virtuoso whom we have enjoyed hearing, and Vanessa Benellli Mosell is a rising star especially in Europe as recitalist, chamber musician, orchestral soloist and conductor. We like variety in repertoire and interpretation.
How will the current COVID protocols affect your recitals? Will all attendees need to be double vaccinated? Will mask wearing be required?
We have just been informed that we are allowed 50% capacity of the Jane Mallett Theatre, so seating is not as limited as we feared. The St. Lawrence Centre for the Arts is owned by the city and managed by TO Live; we will be following all the public health advice and regulations. Proof of full vaccination will be required (or a valid medical exemption); masking and social distancing will be required; there will be no concession service – and no intermission cookies!
Will there still be an intermission?
Yes (the call of nature…).
How many seats are you permitted to sell?
Absolute max 250, but probably fewer because of seating patterns and distancing.
The Parker Quartet's program includes works by Schubert, Di Castri and Schumann. As well as the Kelly-Marie Murphy world premiere, David Jalbert will perform a selection of Debussy, Ligeti and Prokofiev.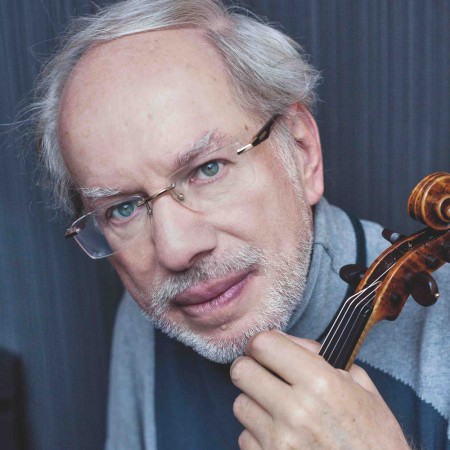 RCM Presents
The first time violinist Gidon Kremer heard Astor Piazzolla play, he was deeply moved.
He was watching a videotape with Manfred Gräter of the West German Radio and Television Network. Gräter was a good friend and the person who introduced Kremer to Piazzolla's music. Whenever Kremer was on tour in Europe, he never missed an opportunity to stop off in Cologne and dig around in Gräter's videotheque, "a treasure trove stored in a dark room." Gräter offered to arrange a meeting with Piazzolla once he realized the excitement Piazzolla's music generated in Kremer but died before the meeting could take place. Kremer wrote the booklet notes – excerpted from his book Obertöne – for his first recording of Piazzolla's music for Nonesuch in 1997. The first time Kremer heard Piazzolla play, on that videotape, and later at a concert in Paris, he felt "enveloped in an atmosphere full of energy – a truly unbelievable force which only a few contemporary composers elicit."
"When I play his music," Kremer wrote, "I try to understand it from within in order to create a unity with the composer… In my view Astor's music represents an enormous playing field in which the most divergent emotions are expressed in highly artistic yet simple ways. Piazzolla was daring, honest and uncomplicated, all at the same time… I believe in [Astor Piazzolla's] music because it evokes a better world through the language of nostalgia. All of that – in one single tango."
On October 31, Gidon Kremer and Kremerata Baltica's Koerner Hall program – from Bach to Piazzolla – will celebrate the 100th anniversary of Astor Piazzolla and 75th birthday of Kremer with a special homage to Glenn Gould.
The Kremer concert is one of more than 90 (including 40 rescheduled from the 2020/21 lineup) in the recently announced 2021/22 season. Keep your ears open for the Dover Quartet's recital on October 24 with Beethoven's Op.18 No.2 and Op.130 quartets bookending Samel Barber's touching setting of Matthew Arnold's poem Dover Beach (sung by baritone Davóne Tines). The Dovers will perform Op.130 (with its ineffable Cavatina) finishing up with the Grosse Fuge. On November 5, the acclaimed Jerusalem Quartet will team up with Pinchas Zukerman and Amanda Forsyth for sextets by Brahms and Dvořák.
Over the next several months look for Jan Lisiecki's sixth Koerner Hall appearance which mixes Chopin's etudes with his nocturnes, juxtaposing them in an unusual way; also the Danish String Quartet; Joshua Bell in recital with Peter Dugan; Joyce DiDonato; and Gautier Capuçon accompanied by Jean Yves Thibaudet.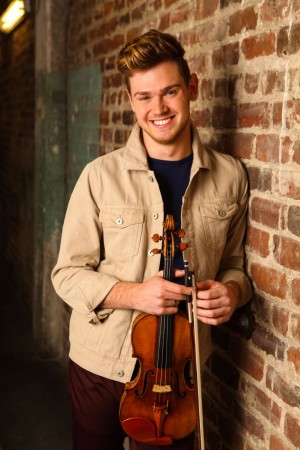 Music in the Afternoon and more chamber music
The venerable Women's Musical Club of Toronto (WMCT) begins their 124th season on September 30 with a recital by violinist Blake Pouliot and pianist Hsin-I Huang. This recital is a delayed celebration of Pouliot's WMCT Career Development Award, a welcome opportunity for the Music in the Afternoon audience to experience the passion, technique and romantic fervor Pouliot brings to his musical approach. The program features music by Bach, Janáček and Prokofiev and is available in-person or as a livestream.
Music at St. Andrew's – at the corner of Simcoe and King – resumes its 45-minute free noontime series on October 1, with Younggun Kim at St. Andrew's Bösendorfer Imperial grand piano. The program includes a Haydn sonata.
INNERchamber Ensemble welcomes autumn on September 19 at Revival House in Stratford. The program features Schumann's Fantasiestücke Op.73 (arr. Aribert Reimann), Ibert's Deux Interludes for flute, viola and harp and works by Paul Raede, Bizet and others, performed by Liesel Deppe, flute; Peter Shackleton, clarinet; Julia Seager Scott, harp; and Judith Davenport, viola. Available in-person or livestream.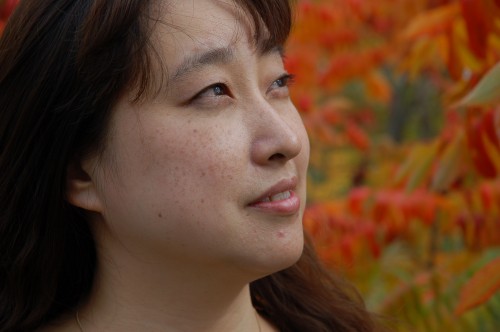 The Sweetwater Music Festival – September 16 to 19 in Owen Sound – features artists from the Rosebud String Quartet to Tamar Ilana & Ventanas; Tom Allen and Patricia O'Callaghan to the sublime violinist Edwin Huizinga (the Festival's artistic director) and pianist Philip Chiu. Available in-person or livestream.
The Kitchener-Waterloo Chamber Music Society (KWCMS) has its fingers crossed for their new season which begins October 2 and 3 with the fifth installment of the Penderecki String Quartet's traversal of Beethoven's complete string quartets – Opp.132 and 130 (including the Grosse Fuge). Current COVID protocols prevent KWCMS from using their usual venue, the Music Room, so they have moved the concerts to First United Church in Waterloo. Montreal-based pianist Tomoko Inui leads a quartet of musical friends in piano quintets by Dvořák (ever popular) and Bartók (a rarely performed curiosity) on October 16. Eminent Canadian pianist Robert Silverman delves into Bach's Well-Tempered Clavier, Book One on November 7.
Sinfonia Toronto
Sinfonia Toronto will kick off its 23rd season with a free Ontario Culture Days concert for both in-person and virtual audiences on October 2 at 3pm in the main lobby of Meridian Hall, 1 Front Street East. "This will be an hour of popular gems, favourite melodies from Mozart to Shostakovich," says music director Nurhan Arman. "It will be an occasion for audiences around the world to access our free livestream … in a casual concert in the spectacular lobby of Meridian Hall." Free registration for the livestream is now available through Eventbrite.
The regular season, featuring guest soloist Igor Pikayzen, begins at the George Weston Recital Hall on October 23. The program opens with Toronto composer Alice Ping Yee Ho's tribute to health workers, Resurrected Angel II, continuing with Bach's Violin Concerto No.2 in E Major, Wieniawski's Faust Fantasy for Violin and Orchestra and concluding with Tchaikovsky's breathtaking Souvenir de Florence.
Community Orchestras
A handful of community orchestras are looking forward to getting back on stage after their concertizing was sharply curtailed by COVID-19. Cathedral Bluffs Symphony Orchestra, a volunteer community orchestra which has been based in Scarborough since 1986, returns to the P.C. Ho Theatre October 2. Pratik Ghandhi conducts Beethoven's Symphony No.6 "Pastorale" and Schumann's Cello Concerto with guest soloist Samantha Yang. Christine Fong picks up the baton on November 6 for Brahms' unjustly underrated Symphony No.3 and Dvořák's In Nature's Realm. Fong and Yang are among the finalists auditioning for the currently vacant conductor's post.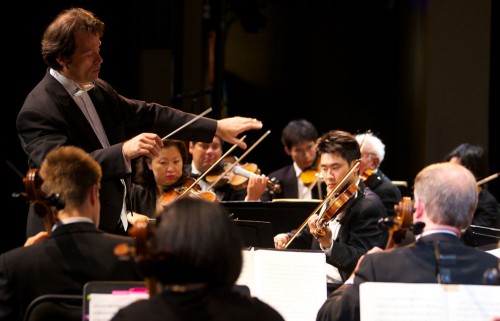 The Kindred Spirits Orchestra is a critically acclaimed, auditioned-based civic orchestra whose new season begins on October 30 in the Richmond Hill Centre for the Performing Arts with music director Kristian Alexander leading the orchestra in Stravinsky's Symphony in Three Movements, Dukas' Fanfare pour précéder La Péri and Prokofiev's Piano Concerto No.4 for the left hand performed by pianist Dong Xu.
Active since 1972, and under the direction of Denis Mastromonaco since 2013, the Mississauga Symphony Orchestra – with a combination of 90+ community musicians and professional section leads – has earned a reputation as the best hybrid orchestra in Canada. They are looking forward to a triumphant return to Hammerson Hall on November 30; complete repertoire will be announced shortly.
Orchestra Toronto, a community orchestra under the musical direction of Michael Newnham, is looking forward to welcoming audiences back to their home stage at the George Weston Recital Hall on October 24 for a program of works by Rossini, Respighi and Mendelssohn (Symphony No.5 "Reformation").
Paul Ennis is the managing editor of The WholeNote.