In any year, April is often the month with the single highest concentration of opera presentations in Toronto and environs – and 2018 is one of those years. In this April alone there are examples from every period of opera from the 17th century to the present. For newcomers or frequent operagoers April offers an unusual opportunity to gain an overview of the entire genre. The following are in chronological order based on the year they premiered.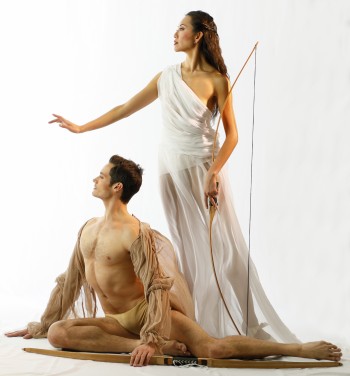 1639/40 – The Return of Ulysses (Il ritorno d'Ulisse in patria) by Claudio Monteverdi. Monteverdi's Ulisse, one of the first great operas in music history, recounts Ulysses' return to his home of Ithaca after 20 years' absence, only to find his wife Penelope besieged by suitors convinced that he must be dead and pressuring her to remarry. Opera Atelier first staged the opera in 2007 and this will be its first remount. Krešimir Špicer, an OA favourite who has sung the title role throughout Europe, will be Ulisse. Mireille Lebel will sing his wife Penelope, Christopher Enns will be his son Telemaco, Laura Pudwell will be the Nurse and Carla Huhtanen, Kevin Skelton, Stephen Hegedus and Meghan Lindsay will sing the deities Fortuna, Jupiter, Neptune and Minerva, respectively. David Fallis conducts the Tafelmusik Baroque Orchestra and Marshall Pynkoski directs. April 19 to 28.
1733 – Orlando (composed 1719) by George Frideric Handel. The COC has been delving more into Handel's operas but has so far not staged this work, which is counted one of the composer's masterpieces. In it the Christian knight Orlando falls in love with the pagan princess Angelica, who is already in love with someone else. Orlando's unrequited love drives him to madness. Opera by Request presents the opera in concert with mezzo Kinga Lizon singing the castrato role of Orlando. Vania Chan sings Angelica and Shannon Halliwell-McDonald sings Medoro, the man she loves. William Shookhoff is the pianist and music director. April 7.
1791 – The Magic Flute by Wolfgang Amadeus Mozart. Those seeking to add Mozart to their April lineup will have to travel to Windsor to see a new, young opera company there perform this classic. The company's name is Abridged Opera and in their mission statement they call themselves "an indie opera company designed to bring a taste of this grand art form to a community that has limited access. They condense classic operatic works without compromising the opera's integrity." The singers have not been determined but the stage director will be Tracey Atin. April 14 and 15.
1813 – The Italian Girl in Algiers (L'Italiana in Algeri) by Gioachino Rossini. Fans of Rossini will also have to travel out of Toronto to see the work of another new, young company, Vera Causa Opera, that has sprung up in the Waterloo region in the past couple of years to provide performance opportunities for emerging artists. The operas are presented staged, costumed and with orchestra. L'Italiana is one of Rossini's best-known comic operas (even though it has not been seen at the COC since 2003). Katerina Utochkina sings Isabella, the Italian girl of the title. Domenico Sanfilippo is the Bey Mustafà, who wants to marry her. David Boan is Lindoro, the young man in love with her, and Kimberley-Rose Pefhany is Elvira, who wants to win back the love of her husband the Bey. Michaela Chiste directs and Dylan Langan conducts. April 6 in Cambridge and April 7 in Waterloo.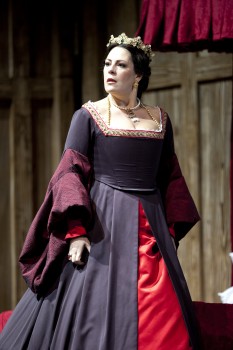 1830 – Anna Bolena by Gaetano Donizetti. With this opera the COC completes Donizetti's so-called Three Queens trilogy of operas about Tudor monarchs, all starring superstar soprano and recent Canadian citizen Sondra Radvanovsky. In 2010 she sang the title role in Maria Stuarda and in 2014 she sang Elisabetta (Queen Elizabeth I) in Roberto Devereux. Now she sings the title role of the doomed Anne Boleyn, which Toronto audiences last heard back in 1984 sung by no less than the great Joan Sutherland. Eric Owens sings the role of Enrico VIII, Keri Alkema is his new love-interest Giovanna Seymour, Bruce Sledge sings Lord Percy and Allyson McHardy is Anna's devoted page Smeton. Corrado Rovaris is again the conductor and Stephen Lawless, as with the previous two Three Queens instalments, is the stage director. April 28 to May 26.
1835 – Lucia di Lammermoor by Gaetano Donizetti. Opera Belcanto of York is also performing Donizetti this month in Richmond Hill. Alicja Wysocka sings the title role, Berg Karazian is Edgardo, David Babayants is Enrico and Henry Irwin is Raimondo. Edward Franko is the stage director and David Varjabed conducts the Opera Belcanto of York Chorus and Orchestra. April 19 and 22.
1843 – Don Pasquale by Gaetano Donizetti. Those seeking Donizetti in a lighter vein should look for Opera by Request's concert performance of one of the composer's best-known comic operas not seen at the COC since 1994. Bass-baritone Mikhail Shemet sings the title role, soprano Grace Quinsey sings Norina, the wife who tries to tame the gruff Pasquale, and tenor Fabian Arciniegas sings Ernesto, the young man who loves Norina. Claire Harris is the music director and pianist. April 21.
1848 – Lohengrin by Richard Wagner. Opera by Request can also help those suffering from Wagner withdrawal. OBR is presenting Lohengrin, a standard repertory work that the COC last staged back in 1983. Lenard Whiting sings the title role of the mysterious knight, Vanessa Lanch is Elsa, goaded into asking a forbidden question, Jillian Yemen is the scheming Ortrud, Andrew Tees is Telramund and Steven Henrikson is King Heinrich. William Shookhoff is the music director and indefatigable pianist. April 13.
1859 – Orphée by Christoph Willibald Gluck as revised by Hector Berlioz. Toronto's enterprising Against the Grain Theatre has collaborated with the Banff Centre for Arts and Creativity, Opera Columbus and New York's Company XIV to create a new version of Orphée et Eurydice, the 1762 opera by Gluck, revised by Berlioz in 1859. Opera Atelier presented Berlioz's version straight in 2015. Against the Grain has different plans. It says, "In 2018, we think this would become an electronic, baroque-burlesque descent into hell. While staying true to the original score ... and honouring the traditions of Baroque opera, this new production pushes the boundaries of operatic presentation through an orchestra that mixes acoustic and electric instruments, features captivating choreography from burlesque dancers, aerial artistry and a global virtual chorus." The global virtual chorus is made up of videos from 100 people who answered AtG's request by singing their choral parts in the score which were then electronically mixed.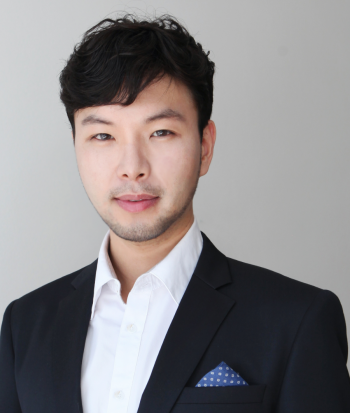 Korean countertenor Siman Chung sings the title role, Canadian soprano Mireille Asselin is his love Eurydice and American aerialist and soprano Marcy Richardson portrays Amour. Topher Mokrzewski conducts an ensemble of 11 musicians, including electric guitar and synthesizer, and Joel Ivany directs. As a side note, the artistic director of co-producer Opera Columbus is none other than Opera Atelier favourite Peggy Kriha Dye, who sang Eurydice for OA in 2015. April 26 to 28.
1864 – La Belle Hélène by Jacques Offenbach. Toronto Operetta Theatre concludes its 2017/18 season with the company premiere of Offenbach's famous satirical Trojan War operetta. The COC last presented the work in 1983. Beste Kalender sings the title role, Gregory Finney is her aged husband Menelaus, Adam Fisher is her young Trojan lover Paris and Stuart Graham is Agamemnon, who thinks Helen's abduction is a just cause for war. Peter Tiefenbach conducts and Guillermo Silva-Marin directs. April 27 to 29.
1904 – Madama Butterfly by Giacomo Puccini. The fourth Opera by Request concert presentation this month is a staple of standard repertory. Deena Nicklefork sings Cio-Cio San, Will Ford is the faithless Pinkerton, Keith O'Brien is the American consul Sharpless and Madison Arsenault is Cio-Cio San's faithful servant Suzuki. William Shookhoff is the pianist and music director. April 27.
2009 – The Nightingale and Other Short Fables including Le Rossignol (1914) by Igor Stravinsky and Renard (composed 1916; premiere 1922) by Igor Stravinsky. The COC concludes its 2017/18 season with a revival of Robert Lepage's unique take on two short operas by Stravinsky mixed with the composer's settings of Russian folksongs. The production that premiered to huge acclaim in 2009 is most notable for placing the orchestra and chorus on stage and filling the pit with water for Vietnamese water puppets and other effects. The cast and conductor are completely different from those in 2009. This time Jane Archibald will sing the Nightingale, Owen McCausland will be the Fisherman, Christian Van Horn will be the Emperor and Johannes Debus will conduct. April 13 to May 19.
2018 – The Overcoat by James Rolfe. The first half of April will allow audiences to see the most recent Canadian opera to be fully staged in Toronto. This opera is an attempt to convert the wildly popular wordless 1997 physical theatre piece by Morris Panych and Wendy Gorling into an opera. The original piece told the 1842 story by Nikolai Gogol through movement to selections of music by Shostakovich. It told of Akaky Akakievich Bashmachkin, a government clerk who becomes obsessed with the notion that he must have a new overcoat to secure a promotion.
While the look of the opera will be the same as the theatre piece, Panych, who is also the stage director, has had to write a libretto. This has been set by James Rolfe, one of Canada's most successful and prolific opera composers. In the 13-member cast, Geoffrey Sirett will sing Akaky, Peter McGillivray will be both the Tailor and the Head of Akaky's Department and Andrea Ludwig will be Akaky's Landlady. Leslie Dala conducts this co-production of Tapestry Opera, Vancouver Opera and Canadian Stage. March 29 to April 14.
2018 – Opera Peep Show. For a sampling of all sorts of opera, four indie opera companies have banded together to create a pay-as-you-go show at the Campbell House Museum. Four rooms of the 1822 downtown mansion are devoted to each company. Liederwölfe presents an assortment of some of the most famous scenes in opera. Essential Opera presents favourites from its past seasons. re:Naissance presents three dramatic scenes combining texts from Shakespeare with music by John Dowland and his contemporaries. And Urbanvessel presents the interactive performance Boots about a young woman's relationship with her footwear. April 28 to 30.
From all of these offerings this April, new operagoers can acquire a wide background in the genre, while seasoned operagoers can easily construct their own festival.
Christopher Hoile is a Toronto-based writer on opera and theatre. He can be contacted at opera@thewholenote.com.