The most important operatic event of the current season happens right at its beginning. It is the Canadian Opera Company's presentation of the world premiere of Hadrian composed by singer-songwriter Rufus Wainwright to a libretto by multi-award-winning playwright Daniel MacIvor. Hadrian is important as the first COC commission for the main stage since The Golden Ass in 1999 composed by Randolph Peters to a libretto by Robertson Davies.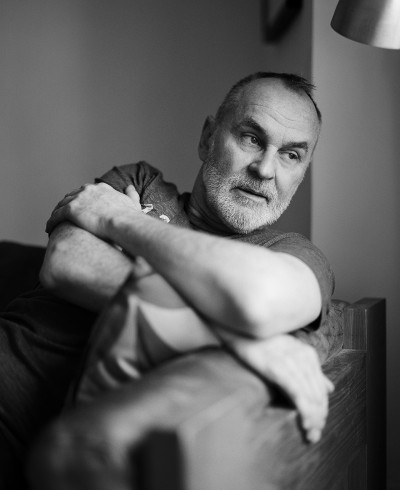 Hadrian stars renowned baritone Thomas Hampson making his COC debut in the title role, equally renowned soprano Karita Mattila as Plotina also making her COC debut and tenor Isaiah Bell as Hadrian's lover Antinous, last seen in Toronto earlier this year as Eurimaco in Opera Atelier's production of Monteverdi's Il ritorno d'Ulisse in patria. Hadrian opens October 13 and runs to October 27; it is directed by Peter Hinton and conducted by Johannes Debus.
The plot involves the Roman Emperor Hadrian (reigned 117-138 AD), whom historian Edward Gibbon counted among the "five good emperors" of Rome, despite Hadrian's habit of having his opponents executed and despite his bloody suppression of the Third Jewish Revolt (132-136). Hadrian was married for political reasons to his predecessor Trajan's grand-niece Sabina, likely at Trajan's wife Plotina's behest, and spent more than half of his reign travelling about the empire.
In Bithynia he met the youth Antinous, who became the love of his life. Antinous accompanied Hadrian on the rest of his travels for the next six years until Antinous' mysterious death by drowning in the Nile in 130 at the age of about 20. Hadrian's grief was so great he spent the rest of his life memorializing Antinous. He had the city Antinopolis built near where the youth died; he deified him, inaugurated games to honour him and established a religious cult to worship him which spread and continued for centuries after Hadrian's death. The cult was condemned by some pagans of Hadrian's time and by the early Christian Fathers. Historians, especially in the 19th century, suppressed mention of Hadrian and Antinous' amorous relationship and it was not brought fully to the general public's attention until the publication of French author Marguerite Yourcenar's celebrated novel Mémoires d'Hadrien in 1951.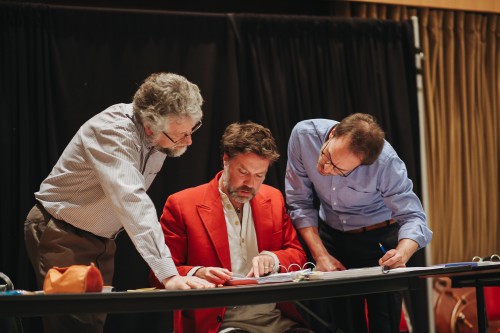 In September just as rehearsals for Hadrian were starting, I spoke to Daniel MacIvor about the genesis and development of writing the opera. (Wainwright, in fact, had begun working on an opera about Hadrian after reading Yourcenar's novel long before he wrote his first produced opera, Prima Donna, that played in Toronto as part of the Luminato Festival in 2010.)
When asked how he became involved with Hadrian, MacIvor replied, "They [at the COC] were looking for someone to come on board with this; Atom Egoyan is a friend of mine and he recommended me to Alexander [Neef] who got in touch with me. Initially, I said no because I didn't know anything about Hadrian or Antinous, and I knew very little about opera. But Alexander suggested that I look at the material about Hadrian and Antinous and as soon as I started to read about them I was floored that I had never heard of them because it seemed so incredibly important. How could I, as a gay man, never have known about it? So I became extremely interested in it. The story deals with grief which is an important theme of mine, so then I took a meeting with Rufus and we determined that we could work together."
Though Wainwright was inspired by Yourcenar's novel, MacIvor felt the story needed a different perspective: "We did talk about Yourcenar's book, but I rejected reading it because I prefer not to read fiction when I'm writing fiction. Besides that, from what I had read about the novel and from what Rufus said, it seemed that the novel positioned Antinous as more an object of love, whereas I was very interested at looking at what it was that kept the couple together for six years, a relationship ended only by Antinous' untimely death. I felt the story needed to be about a relationship that was physical, spiritual, intellectual and emotional – that they were equals in the relationship and that that equality was frowned upon by people of the time."
(MacIvor is correct. Though sexual relationships between older men and younger men were accepted in Ancient Rome, it was expected that the older man would be dominant in all aspects of the relationship.)
As it turned out, the late playwright Linda Griffith made an important contribution: "So when I was debating doing the job I went to visit Linda Griffiths and when she learned of the topic she gave me her copy of Hadrian and the Triumph of Rome (2009) by historian Anthony Everitt that she had just finished reading and that became my source book. One of the things Everitt talks about are the various theories of Antinous' demise. Did he sacrifice himself in an effort to improve Hadrian's health, was it an accident or was he murdered? Everitt offered a potential for drama there so I grabbed it. Treachery and duplicitousness are richly operatic. And then there's also the question of Judea and Hadrian's relationship to Jewry which is also historically known and I also created drama around that."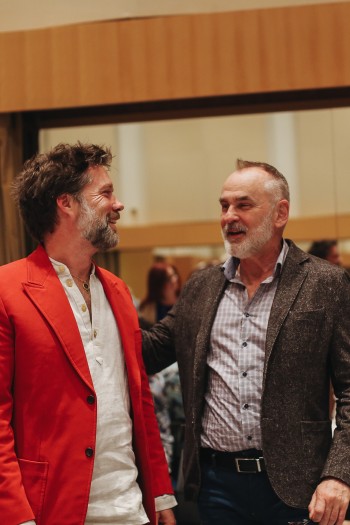 MacIvor knew from the start what style of opera Wainwright intended and that affected how he approached the libretto: "I knew from the beginning that we were writing opera in the grand tradition – that I would be writing recits and arias and duets and I just went for it. I wanted the language to be formal, not casual as in [Benjamin Britten's] Peter Grimes or in [John Adams's] The Death of Klinghoffer.
"I think that one of the things that drew Alexander to me in the first place was that if you look at my plays there's a lot of white space on the page, so I think that might have been an early indication that I might be able to write a scene by using a minimum of words. And I love the challenge of that. It takes longer to sing a line than speak it and then there is the option that those words can be repeated over and over again."
MacIvor discussed the negotiations involved in collaboration: "I think structurally we landed well on the first draft, and then shifted quite a lot after that about where an aria lands or where a trio appears. Rufus and I met many times and it was a question of throwing axes and hammers with both of us feeling very passionate about the story. Opera is probably Rufus' first musical love so he is deeply invested in it. He would speak in references to other operas for what he wanted and I would reject going there because I didn't want to be influenced by other works. So we ended up bringing in a dramaturge, Cori Ellison, who works at Juilliard, to help bridge the very different ways we work in and I think now we are both very pleased with where we've landed.
"If Rufus said 'we really need to have an aria here in this scene,' then I would move things around and adjust what I needed to adjust. And there are adjustments in tone where a character needs to show their weakness here or their strength there, and he'd ask me to do that. There was lots of music he had written before I came on – like how he wanted to begin Act 3 which is just after the intermission and I made space for that. There is also an aria that he adapted from a pop song of his that he elevated and wanted included, so the libretto I presented four years ago has changed considerably. Yet, the four-act structure, where the main arias occur and what the story basically is, have not really changed radically."
When asked how much of the opera he considers his, MacIvor replied: "The idea that Hadrian has the chance to relive two nights again with Antinous was something that I brought to the story. But Rufus agreed with it and the fact that he did agree also makes it his don't you think? If you look at my other work you see that I'm obsessed with certain kinds of structures and themes and looking at the libretto you will see it's all there, like You Are Here (2001), A Beautiful View (2006), Here Lies Henry (1995). There so much of the work that I've done about a person being forced to perform their life again, I think an audience who knows my work will see that in the opera."
MacIvor has been strongly inspired by how important the story is: "Peter Hinton talks about this story really beautifully in saying that this is one of a trio of great love affairs upon which empires rose and fell. He talks about Dido and Aeneas, Antony and Cleopatra and Hadrian and Antinous. It's all about Rome but it seems to feel weirdly relevant somehow. I think that the story of Hadrian and Antinous is an important one and I think that in giving it attention that something is served. There was a kind of homophobia surrounding it in that prevented people being able to address their story. And that fuels my passion to get this story out."
ON OPERA QUICK PICKS
SEP 30 TO NOV 3, VARIOUS TIMES: Eugene Onegin, Four Seasons Centre. This the COC's first production of Tchaikovsky's great opera since 2008. This time it will be staged in the acclaimed production Robert Carsen created for the Metropolitan Opera. Gordon Bintner sings Onegin, Joyce El-Khoury is Tatyana, Joseph Kaiser is Lensky and Johannes Debus conducts.
OCT 13 TO 27, VARIOUS TIMES: Hadrian, Four Seasons Centre. This the COC's first commission for the main stage since The Golden Ass in 1999. Composer Rufus Wainwright and librettist Daniel MacIvor bring to the stage one of history's great gay love stories – that of the Roman Emperor Hadrian and the youth Antinous. The production stars the renowned Thomas Hampson as Hadrian and Karita Mattila, both making their COC debuts, with Isaiah Bell as Antinous. Peter Hinton directed and Johannes Debus conducts.
OCT 25 TO NOV 3, VARIOUS TIMES: Actéon & Pygmalion, Elgin Theatre. This is the first time Opera Atelier has presented Marc-Antoine Charpentier's Actéon (1683) and Jean-Philippe Rameau's Pygmalion (1748) as a double bill – two operas based on Ovid's Metamorphoses. Colin Ainsworth stars as both title characters with Mireille Asselin and Allyson McHardy. The production travels later to Chicago and Versailles.
Christopher Hoile is a Toronto-based writer on opera and theatre. He can be contacted at opera@thewholenote.com.