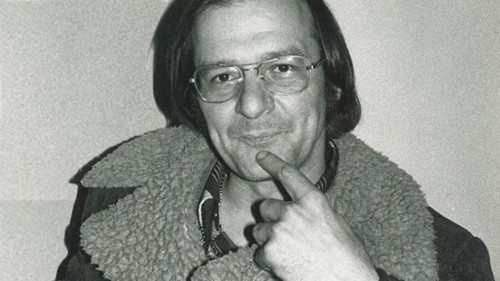 Claude Vivier's opera Kopernikus was commissioned in 1978 by the University of Montreal's Music Faculty. Supported by the Canada Council, Vivier received a fee of $7,000 (approximately $22,000 in 2019 dollars), which allowed him to focus entirely on composition. Finished in May 1979, Vivier dedicated Kopernikus to "my maître and friend," Gilles Tremblay. Kopernikus was premiered a year later, on May 8, 1980 at the Théâtre du Monument National in Montreal.
Since its premiere Kopernikus has travelled extensively, making it the most restaged Canadian opera in Canadian history with over 55 performances. Ranking in second place is the opera Louis Riel (1967), with under 30 performances. However, whereas Louis Riel was performed only once outside of Canada, Kopernikus, mostly unknown at home, is highly celebrated in Europe with almost yearly performances. Canadian restagings have been sporadic: Montreal in 1986 by friends of Vivier via the Événements du neuf; Vancouver in 1990 via the Vancouver New Music Society; the large-scale tour de force of Thom Sokoloski and Autumn Leaf Performance that led to performances in several European and Canadian cities in 2000 and 2001; and the most recent iteration, a 2017 Banff Centre production coming to Toronto in April via Against the Grain Theatre.
"No one is a prophet in their own land" is a not unfamiliar expression in Canadian arts and, considering Vivier's profound relationship with religion and all things mystical, the expression is fitting; however, it is not much of an explanation for why Kopernikus is seldomly restaged here. In my search for answers I turned to the many Canadian articles and reviews about Kopernikus in the press over the past 20 years. Although producers and directors praise Kopernikus as a genius work of art, both the critics and the public generally express discontent over three recurring themes: the genre (the opera is not really an opera), the plot (there is no plot to follow, so how do you stage nothingness?), and its incomprehensible language (the opera is in French, German, and Vivier's own invented language).
Thinking back to my own experience with Kopernikus at the Toronto premiere in June 2001, I wish I had been better prepared to receive Vivier's work. When the performance ended, I was mesmerized, my head filled with complex sounds, syllables and meanings that took weeks to process. I also remember vividly the complete disconnect between various members of the audience; at the end of the performance the man sitting next to me was sleeping, but the one directly in front of me was on his feet madly clapping and hailing bravos at the performers. Since I have this wonderful opportunity to write about Kopernikus before the next set of performances, I hope I can not only help bridge that disconnect but also acknowledge and normalize the uneasiness that can come from it.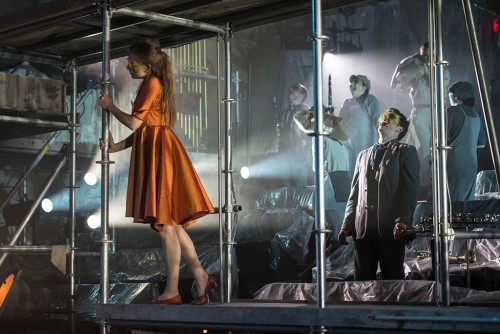 Pushing the boundaries
Although Vivier himself declared Kopernikus an opera, both seasoned critics and the public alike seem more comfortable with labelling it musical theatre (there are no arias) or oratorio (the theme is religious and the staging is minimal). Vivier, however, was insistent in calling this work an opera. In remarks prepared for the 1979 premiere, quoted here from Bob Gilmore's 2014 book, Claude Vivier: A Composer's Life, Vivier defends his categorization when he states that "opera, as a form of expression of the soul and of human history, cannot die. The human being will always need to represent his/her fantasies, dreams, fears, and hopes."In a later interview, with Angèle Dagenais in Le Devoir, March 3, 1980, when asked why he wrote an opera, a genre that is sometimes considered passé, he responded that "l'opéra permet la représentation d'états excessifs, et d'une dimension fantaisiste inconnue du théâtre."Clearly, Vivier did not conceive Kopernikus as either a work of musical theatre or as an oratorio.
Vivier does push the boundaries of the operatic genre but not, as some believe, as a rejection of the old masters. Vivier was an avowed fan of Mozart; Agni, the main character in Kopernikus, undertakes a journey not unlike the main characters in Mozart's Die Zauberflöte. This expansion of boundaries is simply a composer evolving into his own mature style, finding new ways to disrupt expectations, and creating new roles and sounds for melody. In fact, and this could be the topic of an entirely different article, the style of melodic writing that draws breath in Kopernikus ultimately serves as a stepping stone for several of Vivier's later works.
In scanning reviews, it also became apparent to me that part of Vivier's contextualization of Kopernikus in the score of the opera was misunderstood in translation. Vivier wrote: "Il n'y a pas à proprement parler d'histoire, mais une suite de scènes..." The first part, "il n'y a pas à proprement parler d'histoire" has been translated, interpreted, and served to the public as "there is no actual story," which is a mistranslation. 'À proprement dit' or 'à proprement parler' is one of those very common, and confusing, francophone expressions. Add a negative in front of it and a language barrier is erected. As a native Francophone, however, I understand that Vivier is saying that Kopernikus is not a story in the traditional sense, rather than that there is no narrative. Granted, Vivier's opera is devoid of villains or external conflict and this, perhaps, adds to the confusion. However, Agni, the central figure in Kopernikus undergoes a series of initiations that ultimately lead her to reach her final and purest spirit state, her dematerialization. The story is inherent in the series of scenes, in her ritualistic journey, where she encounters historical and mythical beings (her mother, Lewis Carroll, Mozart, the Queen of the Night, Tristan, Isolde and Copernicus) who accompany her from one world to the next.
Admittedly, the bare staging that typically accompanies Kopernikus can also be taken as a lack of narrative direction. It is, however, very much in line with Agni's journey towards the purest of spiritual forms. Vivier explicitly left behind paragraphs of texts explaining each scene of the opera so that creative staging decisions could be left to the directors. Perhaps an unusual choice, but an explanation can be found in Vivier's own words, again quoted from Gilmore's book, when he states that he loves many operas of the standard repertory but "I rarely go see them because I usually don't like the staging."
Although Vivier kept out of staging decisions, he very much injected traces of himself throughout the staging of Kopernikus: the opera is scored for seven singers and seven instrumentalists (the number seven makes several appearances in other works and Vivier's birthday is April 14); and in iconography Agni, the Hindu God of fire, is represented by a ram (Vivier's astrological sign is Aries, a fire sign).
Fascinated with languages (he could speak at least five fluently), Vivier is perhaps the only composer to use an invented language throughout his entire compositional career, beginning with his first vocal work, Ojikawa (1968), and ending with his last, Glaubst du an die Unsterblichkeit der Seele (1983). In Kopernikus, as in all of his previous works, his invented language is not a series of aleatoric nonsensical syllables, but rather a combination of automatic writing and the use of grammelot (coined by Commedia dell'arte players, grammelot refers to sounds, such as onomatopoeias, used to convey the sense of speech). Vivier's invented language also seems to function as a code for Agni who most often speaks in the invented language to other characters but speaks French when expressing her inner thoughts.
Kopernikus also shows early indications of spectralism, a musical practice where compositional decisions are often based on visual representations (spectrograms) of mathematical analysis of harmonic series. Vivier's spectralism of the late 1970s is an exploration of sounds as living objects and what he calls colours in both the sounds and textures he creates. Vivier's linguistic skills, combined with his strong predilection for vocal writing and his early foray into spectralism, elevate the opera to a stunning work of art where simple lines of music are turned into extraordinary meaningful moments that surpass any semantic value.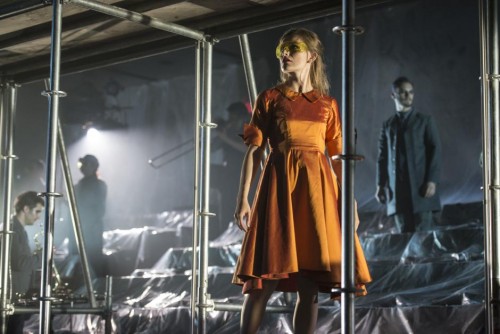 Looking ahead
In one of his last letters, Vivier wrote to Montreal conductor Philippe Dourguin and laid out his outline for a second opera. His "opéra fleuve" on the explorer Marco Polo was to consist of seven parts and use previously composed materials. Conductor Reinbert de Leeuw (Asko/Schoenberg Ensemble) and director Pierre Audi (Nederlandse Opera) reconstituted Vivier's opera in the 1990s. Because their version was different than what Vivier originally lays out in his letter, the opera was renamed Opéra-fleuve en deux parties, with Kopernikus as part one and Rêves d'un Marco Polo as part two. Part two ends with Vivier's final composition, the very much discussed Glaubst du an die Unsterblichkeit der Seele (Do you believe in the soul's immortality). In 2000, as part of the Holland Festival, Vivier's Opéra-fleuve en deux parties received eight performances in Amsterdam, marking the world premiere of Rêves d'un Marco Polo. The production was subsequently revived, also in Amsterdam, in 2004, recorded by the Asko/Schoenberg Ensemble and released on DVD in 2006. Perhaps, we too, can soon have a premiere of Vivier's Opéra-fleuve en deux parties and discover Rêves d'un Marco Polo.
Until then, we have Against the Grain Theatre's Kopernikus to look forward to. Since the company's past productions have audaciously reinterpreted operas of the classical repertoire, it seems a natural fit for AtG to move towards shaking things up in the unexplored world of Canadian opera (there are over 300 Canadian operas to choose from!). In the company's press release, stage director Joel Ivany proclaims Kopernikus as "Canada's greatest opera ever written" and promises an "an epic journey of fire, life, death and ultimately, hope." His passion for the opera, and the stellar team that surrounds the production, does indeed give much to hope for: hope that Kopernikus receives the recognition it deserves and hope for a leading opera collective to guide us in towards a new era of (re)discovering our own Canadian works.
Kopernikus is not only a work of great vision and originality, it is also the legacy of a deeply spiritual and intellectual man. From life to death and timeless mystical spaces, the opera transports its listeners on a journey without the usual grounding semantic references. What then, is a listener to do? As Paula Citron reminds us, in her 2001 article on Kopernikus for Opera Canada, Vivier said it best on opening night in 1979: "... Let things go and just listen to the sound."
Against the Grain Theatre presents Claude Vivier's Kopernikus on April 4 to 6 and April 11 to 13 at Theatre Passe Muraille Mainspace.
Sophie Bisson is a PhD student in musicology at York University and an opera singer who is passionate about Canadian repertoire. Her doctoral research focuses on Canadian opera.