In february, the winter season of the Canadian Opera Company ended. In April its spring season begins, as does Opera Atelier's. In between, opera-lovers need not despair because Toronto also boasts a host of smaller companies offering unusual fare. (If there has been any downside to the COC's move to the Four Season's Centre, it has been the elimination of the separate opera productions that the COC Ensemble Studio used to produce in venues like the Imperial Oil Opera Theatre and the Enwave Theatre. The repertoire alternated between the baroque and the modern and gave Toronto audiences the chance to sample the wide range of chamber operas intended for more intimate spaces. While it is great experience for the COC Ensemble Studio members to take over roles in an opera in the Four Seasons Centre, they do miss out on the chance to be reviewed in their own productions and Toronto misses out on more varied operatic offerings.)
The various opera schools around Ontario help fill this gap. In December last year, the University of Toronto Faculty of Music's Opera Division staged the Poulenc double bill of La Voix humaine (1959) and Les Mamelles de Tirésias (1947), and this January it presented a new opera about Toronto's own larger-than-life mayor. From March 8 to 10 it returns to more conventional fare with Mozart's Così fan tutte. Performances take place at the U of T's MacMillan Theatre. See www.music.utoronto.ca/programs/opera.htm for more information.
On March 21 and 23, the Glenn Gould School Opera presents La Calisto (1651) by Francesco Cavalli (1602–76), which was a big hit when the COC Ensemble Studio presented it back in 1996. Cavalli wrote for the smaller forces necessitated by the smaller public opera houses of Venice where he worked. La Calisto premiered in a house seating only 400. Of his 41 operas, only 27 are extant and provide the key examples of mid-17th-century Venetian opera, which, unlike the later opera seria, took a decidedly satiric view of the amorous escapades of gods and mortals. Here, Jove and Mercury plot to deflower Calisto, a follower of Diana, while Pan tries to draw Diana away from her lover, Endymion. It is a thoroughly delightful work and will surely whet opera-goers' desire for more Cavalli in future. Brent Krysa directs, Adam Burnette conducts and Michael Gianfrancesco designs the sets and costumes. Performances take place at Koerner Hall. See www.rcmusic.ca for details.
Venturing farther afield, Laurier Opera at Wilfrid Laurier University in Waterloo is offering quite an innovative Canadian double bill. From March 2 to 4 it will present Gisela in Her Bathtub (1991) and City Workers in Love (1992), both composed by Vancouver-based Neil Weisensel to libretti by Michael Cavanagh, better known to the opera world as an opera director. The first one-act opera focuses on the bathing Gisela, who is reading a novel that suddenly comes to life around her. The second opera takes place on a typical Canadian construction site and exposes the foibles and fortunes of the city workers. Both works have been expanded and revised for this production. You can hear three excerpts from City Workers in Love on Weisensel's website, www.neilmusic.com. Rob Herriot directs and Leslie De'Ath conducts a chamber ensemble. Performances take place at Theatre Auditorium on the WLU campus. See the WLU website for details.
While opera schools do their share in keeping the operatic offerings in Toronto and environs diverse, so do the various companies that present opera in concert. The most established of these, Opera in Concert, has provided this service since 1974. Coming up on March 4 is the Canadian premiere of Giuseppe Verdi's first opera Oberto (1839). The opera is a fictionalized account of the life of Cunizza da Romano (born c.1198), who appears in the Third Sphere of Dante's Paradiso. Here in his first opera, Verdi is already exploring in Oberto and Leonora the dynamics of the father-daughter relationship that threads through all his work. Giles Tomkins sings Oberto, Joni Henson is Leonora, Michele Bogdanowicz is Cuniza and Romulo Delgado is Riccardo, Cuniza's fiancé who seduces Leonora. Alison d'Amato is the music director and pianist and Robert Cooper prepares the Opera in Concert Chorus. Visit www.operainconcert.com for more.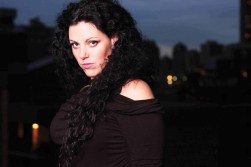 Meanwhile, Opera by Request celebrates its fifth anniversary on March 10 with a gala presentation of Verdi's Don Carlo. For those who saw the COC's production of Verdi's French version of the Don Carlos story in 2007, this will be an easy way to compare it to Verdi's later Italian version. OBR is unusual in that the cast comes together to choose the repertoire, not the company directorate. Yet, for this special celebration, OBR's artistic director, pianist William Shookhoff, says he has departed from the mandate and has personally chosen the production and cast, which consists of "people who have contributed in a special way over the past five years." He notes, "With the fifth anniversary comes the 50th production (not performance). And, by the time the fifth anniversary occurs, we will have engaged 150 singers, many of whom I did not know five years ago, and some of whom I only met through their colleagues who invited them to participate." Paul Williams sings the title role, Michelle Minke is Elisabetta, Steven Henrikson is Rodrigo, Monica Zerbe is Eboli, Robert Milne is Philip and Larry Tozer is the Grand Inquisitor. The performance takes place at the College Street United Church. Visit www.operabyrequest.ca for more information.
Christopher Hoile is a Toronto-based writer on opera and theatre. He can be contacted at opera@thewholenote.com.