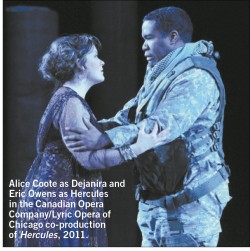 On january 23 Canadian Opera Company General Director Alexander Neef announced his 2013/14 season. Neef has assembled a particularly starry line-up of singers and directors, but what is immediately striking about this season, the COC's 64th, is that three of the seven operas have never been presented by the COC before. This is only the fourth time since 1990 (1991/92, 2008/09 and 2011/12 were the others) that this has happened. Having their COC premieres, back to back in spring 2014, will be Handel's Hercules, Donizetti's Roberto Devereux andMassenet's Don Quichotte. Adding spice to the season is that Hercules is also one of three COC-commissioned new productions.
The 2013/14 season opens, in fact, with one of these new productions: Puccini's La Bohème. The opera was last seen here in 2009 and this will be its 15th appearance making it the COC's most often staged opera. The new production, opening October 9, will be directed by Canadian-born British director John Caird, who directed Verdi's Don Carlos for the company in 2007, and is probably most famous for the original production of Les Misérables, which has been running in London since 1985. Italian conductor Carlo Rizzi leads the COC Orchestra and Chorus. Alternating in the role of Mimì are Italian soprano Grazia Doronzio and Canadian soprano Joyce El-Khoury. The role of Rodolfo, Mimì's lover, is shared by young tenors, Mexican David Lomelí (Rigoletto, 2011) and Romanian Teodor Ilincăi.
Alternating with La Bohème will be a production of Benjamin Britten's Peter Grimes, celebrating the centenary of the composer's birth, and starring Ben Heppner in the title role. Last at the COC in 2003, this Grimes will be the company's third. Australian director Neil Armfield, who directed Ariadne auf Naxos here in 2011, A Midsummer Night's Dream in 2009 and Billy Budd in 2001, directs, and COC Music Director Johannes Debus makes his Britten debut. Three COC Ensemble Studio alumni appear — soprano Ileana Montalbetti, tenor Roger Honeywell, and baritone Peter Barrett. Alan Held, last year's Gianni Schicchi, sings Captain Balstrode.
The winter season opens on January 18, 2014, with Mozart's Così fan tutte running in repertory with Verdi's Un ballo in maschera. Così will be a new COC production by Canadian film director Atom Egoyan, his third production for the COC (Salome, 1996 and Die Walküre, 2004). Debus conducts. Cast as the sisters are two Canadians — soprano Layla Claire in her COC debut as Fiordiligi and mezzo-soprano Wallis Giunta returning for a second season in a row, this time as Dorabella. The sisters' two suitors are American tenor Paul Appleby (Ferrando) and COC Ensemble graduate bass-baritone Robert Gleadow (Guglielmo). Beloved Canadian soprano Tracy Dahl returns to the COC stage after a 19-year absence in the role of the wily servant Despina. Famed baritone Thomas Allen makes his COC debut as Don Alfonso.
For Un ballo in maschera Canadian soprano Adrianne Pieczonka and Greek-American tenor Dimitri Pittas make their role debuts as lovers Amelia and Riccardo. British baritone Roland Wood is Renato, Amelia's husband; acclaimed Canadian mezzo-soprano Marie-Nicole Lemieux is the fortune teller Ulrica; and rising Ensemble Studio graduate, soprano Simone Osborne, is Oscar the page.
A question that always arises with Ballo is where it will be set — in 18th-century Stockholm, as Verdi intended, where King Gustav III was assassinated in 1792, or in Boston during the British colonial period, where censors forced him to move the action because of its incendiary plot. The directing duo Jossi Wieler and Sergio Morabito stir the pot again, by locating this production from the Berlin Staatsoper in the American South of the 1960s with its resonances of Kennedy-era tensions and assassinations.
Spring 2014 brings the three premieres. First up on April 5 is Handel's Hercules (1745) in a new co-production with Lyric Opera of Chicago directed by the renowned Peter Sellars. Sellars' production which moves the action from mythological Greece to the present day won universal acclaim when it premiered in Chicago in 2011. The COC presentation will use the Chicago cast, and what a cast. American bass-baritone Eric Owens makes his COC debut as Hercules; British mezzo-soprano Alice Coote is Hercules's wife Dejanira; American countertenor David Daniels returns to the COC as Hercules' trusted aide, Lichas; American tenor Richard Croft returns as Hercules' son, Hyllus; and British soprano Lucy Crowe makes her COC debut as Iole, a princess Hercules has taken captive. Conducting is Baroque specialist and COC favourite Harry Bicket. In 2012 Tafelmusik presented a staged concert version of Hercules directed by Opera Atelier's Marshall Pynkoski. Anyone who saw it will know that it is a powerful drama told in glorious music.
Beginning April 25, 2014, is a real rarity, Donizetti's Roberto Devereux (1837). This opera, along with Maria Stuarda (1835) and Anna Bolena (1830), comprises what is sometimes called Donizetti's "Three Queens" trilogy. It was first presented as a trilogy in 1972, with Beverly Sills as the slighted British monarch in each production. From 2007 to 2010 Dallas Opera mounted all three directed by Stephen Lawless and using a set inspired by Shakespeare's Globe Theatre. The COC's Maria Stuarda was part of the Dallas Opera series and so is this Roberto Devereux. Is there an Anna Bolena in the wings?
American soprano Sondra Radvanovsky, our Aida in 2010, makes her role debut as the central character Elisabetta, in love with the courtier Devereux. Making his COC and role debut as Devereux is Italian lyric tenor Giuseppe Filianoti. Also making role debuts are COC favourites, Canadian baritone Russell Braun and mezzo-soprano Allyson McHardy as the Duke and Duchess of Nottingham. Italian conductor Corrado Rovaris makes his COC debut.
The final presentation of the 2013/14 season is another rarity, Don Quichotte (1910), one of the last operas by French composer Jules Massenet (1842–1912). The last time the COC presented an opera by Massenet was Werther in 1992. Don Quichotte has become a showcase work for great basses with Samuel Ramey, José van Dam and John Relyea recently essaying the role. Italian Ferruccio Furlanetto makes his COC debut in the title role of the iconic idealistic dreamer. Metropolitan Opera star, Russian mezzo-soprano Ekaterina Gubanova, makes her COC debut as Quichotte's beloved Dulcinée. American baritone Quinn Kelsey, acclaimed here for his Rigoletto in 2011, returns to makes his role debut as Don Quichotte's realistic sidekick, Sancho Panza. American Linda Brovsky, who helmed this production at the Seattle Opera, makes her COC debut as director. Johannes Debus conducts. Many see this opera not only as Massenet's loving study of Cervantes' hero but as the composer's farewell to the age of romanticism that had inspired him throughout his life and that he saw fading with the dawn of the 20th century. The opera runs May 9 to 24, 2014. Visit coc.ca to inquire about subscriptions. 
Christopher Hoile is a Toronto-based writer on opera and theatre. He can be contacted at opera@thewholenote.com.