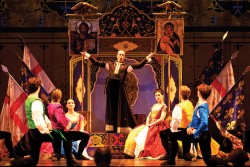 As this column has frequently noted, April has developed into the most opera-heavy month of the year. This year, because of an early Easter, many companies like Opera Kitchener and Opera York staged their season finales in March. Yet, even so, April still presents quite a heady concentration of opera. Opera Hamilton, for instance, presents Verdi's Il Trovatore starring Richard Margison April 14, 17, 19 and 21. Toronto Operetta Theatre closes its season with a medley of Gilbert and Sullivan tunes called Topsy-Turvydom from April 27 to 29 replacing the previously announced H.M.S. Pinafore. Opera Belcanto presents Puccini's Tosca at the Richmond Hill Centre for the Performing Arts on April 5 and 7. And Opera by Request has two favourite operas in concert — Mozart's The Marriage of Figaro on April 20 and Don Pasquale on April 25 — both at the College Street United Church.
What is surprising this month is that the larger opera companies are offering works seldom or never seen in Toronto. Even Opera in Concert, which specializes in rarely-heard operas, outdoes itself this month with Die Freunde von Salamanka (The Friends of Salamanca) by Franz Schubert (1797–1828), surely one of the most obscure pieces they've ever presented. Schubert, who died at age 31, composed nine symphonies, innumerable chamber and piano pieces and over 600 Lieder, still managed to complete nine operas. Die Freunde von Salamanka was written in 1815, but, like many of his operas was not staged during his lifetime. It had to wait until 1928, the 100th anniversary of his death, for its premiere.
Freunde is a comic opera in the form of a Singspiel (like The Magic Flute) where spoken dialogue connects the arias. Three friends — Alonso, Diego and Fidelio — all try to help the Countess Olivia to break off her engagement to the foolish Count Tormes, whom she has never met. Shannon Mercer sings Olivia, James McLean is Alonso and Michael Ciufo is Diego. Kevin Mallon conducts the Toronto Chamber Orchestra. The opera is sung in German with surtitles in English. For tickets, see www.stlc.com.
While the role of Opera in Concert is regularly to fill in gaps in our operatic experience, this month the Canadian Opera Company takes on a similar task. From April 10 to May 14 it presents The Tales of Hoffmann (1881) by Jacques Offenbach and from April 26 to May 25 it presents the Canadian premiere of A Florentine Tragedy (1917) by Alexander Zemlinsky coupled with Puccini's comic one-act opera Gianni Schicchi (1918). With Hoffmann, COC general director Alexander Neef has clearly studied the production history of the company, and has seen that certain aspects of the repertory were neglected under his great predecessor Richard Bradshaw. For example, it was no secret that Bradshaw was not a fan of operetta. So when the COC performs Die Fledermaus beginning October 4 this year, it will be the first operetta the company has staged since The Merry Widow in 1987. Die Fledermaus was once one of the company's most popular works. Its previous COC staging in 1986 was the seventh since the COC was formed. Bradshaw also did not care much for 19th-century French opera and programmed only Berlioz's Béatrice et Bénédict, Bizet's Carmen and Verdi's French version of Don Carlos during his tenure as general director. In the case of the upcoming Hoffmann, it will be the first time the COC has staged that work since 1988.
It's a strange fact that many successful operetta composers have felt the compulsion to prove themselves by writing a full-scale opera. Arthur Sullivan was obsessed with his Victorian duty as composer and produced the noble failure Ivanhoe (1891). Even Franz Lehár longed to see one of his works on the stage of the Vienna State Opera and was pleased when the company produced Giuditta in 1934. Though the work, unlike Ivanhoe, is still performed, the consensus at the time was that it was too grand to be an operetta yet too light to be an opera. Jacques Offenbach (1819–80) then, is the only major operetta composer (he wrote over 100 of them!) to have achieved the goal, with Hoffman, of also writing a grand opera. Offenbach died four months before the opera premiered which has meant that the work had been presented in widely varying versions ever since.
The most common scenario has three acts with a prologue and epilogue. In the Prologue, we meet the German writer E.T.A. Hoffmann (1776–1822) himself, his muse who appears as his best friend Nicklausse, his unobtainable love Stella and his nemesis Councillor Lindorf. In the three ensuing acts, Hoffmann recounts one of his great loves, each based on one of Hoffmann's fantastic tales (which would later influence those of Edgar Allen Poe among many others). In Act 1 Hoffmann falls in love with Olympia, who, unknown to him, is an automaton created by the mad scientist Coppélius. Act 2 focusses on Hoffmann's second love, Antonia, who is doomed to die if she sings for too long. The evil Dr. Miracle, however, encourages Antonia to do just that in the guise of a cure. In Act 3, Hoffmann falls in love with the mysterious Giulietta, who is only seducing the writer under orders from the nefarious Captain Dapertutto, who wants her to steal his reflection.
Offenbach intended that the four soprano roles be sung by the same soprano and the four villains be sung by the same bass-baritone. While the second requirement has become standard, the first is considered a daunting tour de force. In the COC production, borrowed from De Vlaamse Opera, John Relyea will sing all four villains. The four sopranos, however, will be sung by separate artists — Ambur Braid as Stella, Andriana Churchman as Olympia, Erin Wall as Antonia and Keri Alkema as Giuletta. Russell Thomas will sing Hoffmann and Lauren Segal will sing Nicklausse. On May 3 and 8, David Pomeroy substitutes for Thomas.
The COC's second spring offering breaks new ground. Not only will the Florentine/Schicchi double bill represent the first professional production of a Zemlinsky opera in Canada, but it will also be the first time these two works have been presented as a double bill in North America. (The Wuppertaler Musiktheater presented the same pairing in 2010.) When Neef announced the 2011/12 season last year, he said that this was a combination he had always wanted to stage. There are valid reasons to combine the two. While one is a tragedy and the other a comedy, both take place in Florence and both were written during the same period and premiered within two years of each other, thus affording many fascinating points of comparison and contrast. Gianni Schicchi is one part of a triple bill by Puccini entitled Il trittico (The Triptych) that premiered at the Metropolitan Opera in New York in 1918. The triptych begins with the melodrama Il tabaro (The Cloak), continues with the sentimental story of Suor Angelica and concludes with Schicchi. The COC has never presented Il trittico as Puccini intended and has instead combined each of the one-acters with other operas — Il tabaro with Pagliacci in 1975 and with Cavalleria rusticana in 2001, Suor Angelica with Pagliacci in 1991 and Schicchi with Pagliacci in 1996.
Florentine composer Alexander Zemlinsky (1871–1942) was a pupil of Anton Bruckner and teacher of Arnold Schoenberg who became Zemlinsky's brother-in-law when he married Zemlinsky's sister. Zemlinsky conducted the premiere of Schoenberg's Erwartung in 1924. Zemlinsky was one of the many artists who fled Central Europe with the rise of fascism and whose works, condemned by the Nazis as "degenerate music," have only been rediscovered in the last two decades. In Europe Eine florentinische Tragödie is usually paired with another Zemlinsky one-acter, Der Zwerg (The Dwarf) from 1922. The two make a sensible double-bill since both are based on lesser-known plays by Oscar Wilde. By coincidence, it happens that Isabel Bayrakdarian is singing the soprano roles in this very double-bill at the Liceu in Barcelona in April, leading one to wonder if Alexander Neef has plans to stage Der Zwerg coupled with another part of Il trittico.
The new production will be directed by famed soprano-turned-director Catherine Malfitano. The conceit behind the production is that the same palazzo, designed by Wilson Chin, will serve as the site of the events in both operas — events in the 16th century for Zemlinsky and in the 14th century for Puccini. In Zemlinsky's opera, Bianca, the wife of the merchant Simone, is having an affair with Guido Bardi. Given the title we know that it will not end happily. Malfitano links Zemlinsky's opera to Puccini by having two of its singers appear in the second opera. In the Zemlinsky, Alan Held sings Simone, Gun-Brit Barkmin is Bianca and Michael König is Guido. In the second work, Held sings the title role while Barkmin sings the minor role of Nella, the wife of Gherardo (sung by Adam Luther), cousin to the dying Buoso Donato, whom Schicchi is impersonating. The primary female role is that of Lauretta (sung by Simone Osborne), who sings the most famous aria of the piece "O mio babbino caro." The last time the COC presented the work an over-enthusiastic audience interrupted the short aria at least five times, mistakenly thinking at every pause that it was over. If you are in doubt, just wait until the conductor, Andrew Davis, puts down his baton. Then you will know for sure that the lovely aria has ended. For tickets and more information, visit www.coc.ca.
Turning towards rarities of the Baroque, in 2012 only three cities in the world will see a production of Jean-Baptiste Lully's Armide (1686) — Toronto from April 14 to 21, Versailles from May 11 to 13 and Cooperstown, New York (i.e. Glimmerglass Opera) from July 21 to August 23. As one may have guessed, it is Opera Atelier's production, first seen here in 2005, that has been invited by the other two opera houses.
The topic of the love between the Christian knight Renauld and the Muslim princess Armide against the backdrop of the Crusades has only become more reverent over time. Colin Ainsworth returns to sing Renault, Peggy Kriha Dye is Armide and they join João Fernandes, Aaron Ferguson, Vasil Garvanliev, Carla Huhtanen and Olivier Laquerre, among others, and the full corps of the artists of Atelier Ballet. David Fallis conducts the Tafelmusik Baroque Orchestra and Chamber Choir, Marshall Pynkoski directs and Jeannette Lajeunesse Zingg choreographs. Opera Atelier claims that the partnership with Glimmerglass has allowed it to add major design elements to make Armide "the most sumptuous production in OA history." That is quite a statement coming from a company already renowned for its sumptuous productions. For more information, visit www.operaatelier.com.
All in all, April again lives up to its reputation as Toronto's most exciting month for opera.
Christopher Hoile is a Toronto-based writer on opera and theatre. He can be contacted at opera@thewholenote.com.