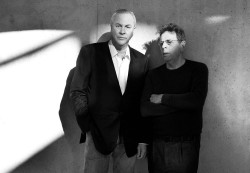 The operatic highlight of the year arrives this June as part of Luminato. It's the Canadian premiere of Philip Glass' iconoclastic 1976 opera Einstein on the Beach in its first new production in 20 years. The New York-based organization Pomegranate Arts premiered the new production in Montpellier, France, with the express purpose of touring it to places where it had never before been seen. As a seminal creation that redefined what opera is, it is the one work this year that no lover of modern opera can afford to miss.
Einstein on the Beach resulted from the collaboration of composer Philip Glass, director Robert Wilson and choreographer Lucinda Childs. The notion was to create a plotless, image-driven, multimedia exploration of the world-changing ideas of one great man. The title itself combines the name of the subject with the title of Nevil Shute's 1957 novel On the Beach, about the end of life on earth due to a nuclear holocaust.
Einstein on the Beach breaks all of the rules of conventional opera, including the relationship among the work's creators. Robert Wilson did not write a traditional libretto but rather created a series of storyboards suggesting structure and designs that inspired Glass' music. Non-narrative in form, the work uses the development of powerful recurrent images as its main storytelling device in juxtaposition with abstract dance sequences created by Lucinda Childs.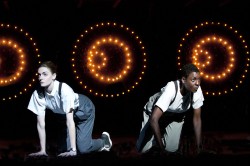 Einstein on the Beach is structured in four acts connected by five danced "knee plays." The four acts of the opera –Train, Trial 1 & 2 and Field/Spaceship — refer to Einstein's theories of relativity and his hypothesis of unified field theory, with the "Trials" focussed on the misuse of science as implied in the second half of the title. Instead of a traditional orchestral arrangement, Glass composed the work for his own amplified ensemble consisting of three reed players — flute (doubling piccolo and bass clarinet), soprano saxophone (doubling flute), tenor saxophone (doubling alto saxophone); solo violin (played by the non-singing character Einstein on stage) and two synthesizers/electronic organs. The cast requires two females, one adult male and one male child in speaking roles with a 16-member chorus with one male and female soloist. Because of its nearly five-hour length, there are no traditional intervals. Instead, the audience is invited to enter and exit at liberty during the performance.
Einstein on the Beach was Glass' first opera and the first collaboration between Glass and Wilson. For the new production, they are working with a number of their long-time collaborators, including Lucinda Childs, who will serve as choreographer, as she did for the original production and for the revivals in 1984 and 1992. All of these artists are now in their 70s, with this production the cornerstone of Glass' 75th birthday year.
Speaking of the new production, Glass has said, "For Bob and me, the 2012-13 revival of Einstein on the Beach will be a most significant event, since in all likelihood, this will be the last time that we will be together and able to work on the piece. For audiences, few of whom have experienced Einstein apart from audio recordings, this tour will be a chance finally to see this seminal work.
"In this production, my composition will remain consistent with the 1976 original. The technology of theatre staging and lighting has improved to such an extent that it will be interesting to see how Bob uses these innovations to realize his original vision."
Wilson has said, "Philip and I have been always been surprised by the impact that the opera had and has. I am particularly excited about this revival, as we are planning to re-envision Einstein with a new generation of performers, some of whom were not even born when Einstein had its world premiere. Aside from New York, Einstein on the Beach has never been seen in any of the cities currently on our tour, and I am hoping that other cities might still be added. I am very curious to see how, after nearly 40 years, it will be received by a 21st century audience."
Einstein on the Beach is the first of what later came known as Philip Glass "portrait operas," each centred on a man who changed the world not through force but through the force of his ideas. Einstein was followed by Satyagraha (1980) about Mahatma Gandhi and Akhnaten (1984) about the Egyptian pharaoh (14th century BC) who was the first man in recorded history to promote monotheism. In all, Glass has written 13 full-scale operas and five chamber operas, of which only one has ever been seen in Toronto — La Belle et la Bête (1995), one of his trilogy of Jean Cocteau film operas.
Glass' musical style has been called "minimalist," a term he dislikes, preferring to call it "music with repetitive structures." Notable features include a prominent steady pulse, consonance (rather than dissonance) and repetition leading to the gradual additive transformation of musical phrases. Glass' early works like Einstein feature near constant arpeggiation of each note of the melodic line. As Glass explains it, "My main approach throughout has been to link harmonic structure directly to rhythmic structure, using the latter as a base. In doing so, easily perceptible 'root movement' (chords or 'changes') was chosen in order that the clarity of this relationship could be easily heard. Melodic material is for the most part a function, or result, of the harmony." Once a minority style in the 1960s, then still dominated by serialism, it has now become the most popular experimental style in classical music as represented by such different composers as Steve Reich, John Adams, Michael Torke, Michael Nyman, and the so-called spiritual minimalists Henryk Górecki, Arvo Pärt, Sofia Gubaidulina and John Tavener. For more information and tickets visit www.luminato.com.
Christopher Hoile is a Toronto-based writer on opera and theatre. He can be contacted at opera@thewholenote.com.