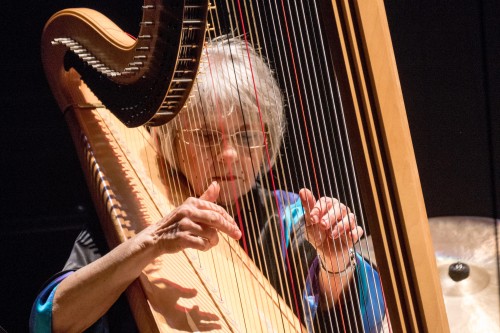 A harp can sing: this we've learned from Judy Loman and her extraordinary career. The now-retired principal harp with the TSO has several harp-centric world premieres to her name by the composers like R. Murray Schafer, Kelly-Marie Murphy, Glenn Buhr and John Weinzweig, and has often accompanied voice in art song recital, notably on records with Lois Marshall in Folk Songs from the British Isles, Eleanor James in Schafer's Tanzlied and Monica Whicher in Lullabies and Carols for Christmas. On April 14, she will be reuniting with Whicher in song and trying something entirely different: a selection of Mahler and Strauss arranged by Loman for the harp.
There's going to be much else on the program, ranging from the Elizabethan era to Britten and spanning multiple countries, but the Mahler and Strauss songs re-tailored for the harp are the most exciting challenge, explains the 82-year-old harp virtuoso when I meet her at her midtown west-end home. I take a peek at the program that they are preparing, and much of the Strauss set is one lavish melancholy hit after another. The languid, soft "Ruhe, meine Seele" (Rest, My Soul) opens the set, followed by the bright melancholy of "Allerseelen" (All Souls' Day) and sombre "Morgen!" (Tomorrow). Then, a change of mood for the finale. The playful "Heimliche Aufforderung" (The Lover's Pledge) and the altogether brighter and vast "Zueignung" (Devotion) complete the Strauss set.
The upbeat "Frühlingsmorgen" (Spring Morning) with its fluttery ornaments opens the Mahler set, which proceeds to the deceptively simple and short, but devastating in effect, "Phantasie" and finishes with the highly dramatic song of farewell "Nicht wiedersehen!" from the cycle Des Knaben Wunderhorn.
That, in addition to the Ravel and Britten sets, three Italian songs from the Baroque and classical periods, and the Elizabethan-era sequence that includes the gloriously melismatic "Chloris Sigh'd" and a song attributed to Anne Boleyn. The harp will also sing on its own in a nocturne by Marcel Tournier (d. 1951).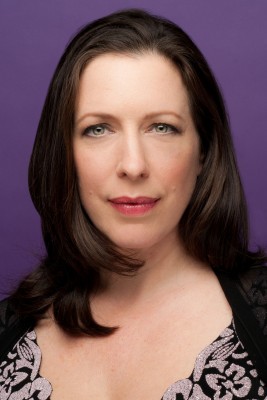 The two women have decided to name this Mazzoleni Songmasters program at the RCM simply Monica & Judy. They've known each other for a long time, says Loman; they originally met through a common acquaintance who was a member of a group advocating for better care of autistic children that Loman, parent of a now-adult son on the autism spectrum, used to belong to. Some of the paintings on the living room wall behind me, she later tells me, are her son's.
The harp naturally occupies a prominent spot in her living room. On the coffee table, a monograph on the work of the visual and media artist and Guggenheim Fellow, Penelope Umbrico, Loman's oldest daughter, who was born in the US, shortly before the young Curtis Institute of Music alumni Loman and her husband, trumpeter Joseph Umbrico, moved to Canada for good. The small family moved to Toronto in 1957 so Umbrico could take up the principal trumpet position with the TSO, and as luck would have it, two years later the orchestra needed a principal harpist. When she joined the TSO, Loman was by no means the only woman, she tells me; while some of the internationally prominent orchestras to this day struggle with the issue of too few women in the ranks, she wasn't an oddity in the TSO of the 1960s. Though she did help set a positive precedent that eventually changed a particular bit of orchestral culture that will sound unusual to us today. "Well, a funny story. If a female player got pregnant," Loman says, "she was expected to stop playing in the orchestra as soon as the pregnancy was beginning to show. But what happened with me is that I stayed for as long as I could comfortably embrace the instrument, because there weren't many harpists that the TSO could hire while I'm away on maternity leave for months. So I played through pregnancy, and after that, other women in the orchestra could too."
What is her theory; why is the harp now an almost exclusively female instrument? "I wonder as well … Perhaps a lot of girls do as I did – see a beautiful harp at the music school and decide, wow, this is the instrument for me." Loman's parents both had great affinity for music – her father was a gifted jazz pianist, her mother had keen interest in dance – but neither ended up going the professional route. When they went to register their five-year-old for piano lessons, the child spotted a small golden harp on the premises and decided there and then that was the instrument for her. (Piano came much later in life.) Orchestral brass, on the other hand, remains largely a male purview. "My husband too used to be a little chauvinistic on that topic," says Loman mischievously, "but he changed his mind later in life, once women brass players started coming through the ranks in greater numbers."
The couple raised three daughters and a son and remained together until Umbrico's death in 2007. Both Loman and Umbrico frequently played pieces by living Canadian composers, and over the decades Loman built up a remarkable recorded legacy in harp repertoire with the emphasis on the 20th century. The first harp concerto written specifically for her was the 1967 Concerto for Harp and Chamber Orchestra by John Weinzweig, a piece which she now describes as "perhaps a little dry." (Readers of CanLit and chroniclers of Canadian literary modernism will have noticed the recent and well-deserved surge of interest in the novels of Helen Weinzweig, the composer's wife, due in large part to the NYRB Classics reissue of Basic Black with Pearls in 2018). Loman's encounter with Murray Schafer was more fortuitous. She approached him after the TSO performed a piece by Schafer inside U of T's Convocation Hall and suggested he consider creating something for the harp. "I mentioned to him that I've been talking with Toru Takemitsu about a possible harp piece for which the harpist would wear bracelets with bells, and I think this was what fired up his imagination," remembers Loman. Soon after, Schafer dropped by her house with the score for The Crown of Ariadne, the now legendary six-movement segment of Schafer's opera cycle Patria, which he set for the harp with an assortment of percussive instruments and prepared tape. Loman premiered it, recorded it, won a JUNO for it and most recently awed in it in an all-Schafer Soundstream production appropriately called Odditorium. In the darkened Crow's Theatre, Loman alone on stage performed Ariadne Awakens and the dances. When I tell her that her performance created a religious experience for this atheist, she laughs and offers a more-down-to-earth comment: "It's a very difficult piece, and I sometimes make the odd mistake, but I was so well prepared for that, I don't think I made any during that run."
Following Ariadne, Schafer went on to compose six other works for the harp, all of which were finally gathered on the same disc in 2016, Ariadne's Legacy. Loman plays in five of the seven in addition to The Crown of Ariadne (1979), the 1986 Theseus for harp and string quartet, the 1987 Harp Concerto with the TSO under Andrew Davis, the 1997 Wild Bird with Jacques Israelievitch on violin and the 2004 Tanzlied with Schafer's wife, mezzo Eleanor James.
Even with such a career behind her, the national treasure that is Judy Loman is not anywhere near the end of her bucket list. Her hearing is not 100 percent today but when did a little reduced hearing ever prevent great musicians from doing anything? "I'm 82 and not sure how long I'll be able to play, so I'm busy getting into pieces that I haven't yet done and really want to do," she says.
More religious experiences brought to us by Loman at the harp to look forward to then.
ART OF SONG QUICK PICKS
APR 5 AND 6, 8PM: Confluence Concerts presents an all-Purcell program at Heliconian Hall, "Tis Nature's Voice: Henry Purcell Reimagined." Larry Beckwith, Anna Atkinson, Andrew Downing, Patricia O'Callaghan, Drew Jurecka and Suba Sankaran, among others. $20-$30, with the pre-concert chat on each night starting at 7:15pm.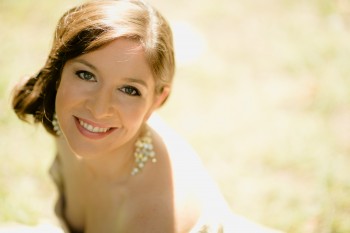 APR 14, 3PM: The new edition of the Off-Centre Music Salon (which takes place not at all in a salon but at Trinity-St Paul's Centre on Bloor West) presents "To the Letter: An Epistolary Celebration," a showcase of composers who have been known for their prolific and skillful letter writing. Soprano Allison Angelo, mezzo Andrea Ludwig, tenor Ernesto Ramirez, baritone Giles Tomkins and Kathryn Tremills at the piano appear in a program of Chopin, Brahms, Debussy and Mozart. Tickets not cheap at $40-$50, though there are deep discounts for young adults.
MAY 1, 6:30PM: Tongue in Cheek Productions' latest is titled "Democracy in Action" and I'm told will involve "integrated online polls available to the audience throughout the concert". My guess is as good as yours. Pianist Trevor Chartrand will accompany a solid lineup: mezzos Krisztina Szabó and Julie Nesrallah; sopranos Natalya Gennadi and Teiya Kasahara; tenors Asitha Tennekoon and Romulo Delgado; baritones Alexander Hajek and Stephen Hegedus. Lula Lounge, $35 ($25 arts workers); seating is a mix of dinner tables and theatre seating.
Finally some folk and pop content in the picks this month. Gordon Lightfoot is touring Ontario in April, including, among others, Richmond Hill (APR 3), Barrie (APR 8), St Catharines (APR 11 AND 12) and Mississauga (APR 15 AND 16). Ticket prices vary.
And on APR 27, 7:30PM: Music at Metropolitan presents" L'Aigle noir: The Music of Barbara," the songs of the late French singer-songwriter in a cabaret-style tribute by Charles Davidson (singer-actor) and Jesse Corrigan (accordion). Metropolitan United Church, 56 Queen St. E. $20.
Lydia Perović is an arts journalist in Toronto. Send her your art-of-song news to artofsong@thewholenote.com.