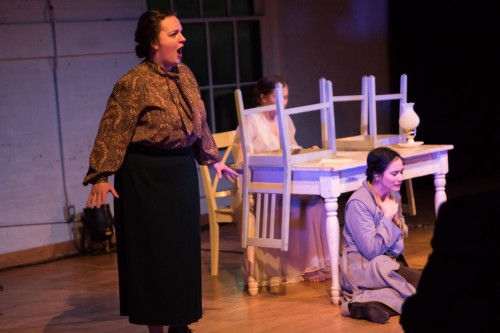 When the budding stage director Anna Theodosakis received the Vancouver Opera Guild's career development grant, instead of spending it on summer schools or workshops, she decided to use it as the seed money for the creation of a new art song collective. She and her co-founder, pianist Hyejin Kwon, decided to call it Muse 9 Productions: because they would be multidisciplinary and welcoming of all the Muses, and because they wanted to create more opportunities for female creators and performers.
Their first project gives a taste of what's to come: a dancer, an actor and a singer each performs an aspect of Virginia Woolf's personality in a staging of Dominick Argento's 1974 song cycle From the Diary of Virginia Woolf which was originally written for the British mezzo Janet Baker. Two piano pieces by a Woolf contemporary, American composer Amy Beach, round up the musical material. The show premiered in April this year at the Ernest Balmer Studio, and will be remounted and rethought for the natural lights of the Richard Bradshaw Amphitheatre at the Four Seasons Centre on November 13.
For the next year, Theodosakis promises an equally multidisciplinary project, but can't say much until February, when they are due to hear back from the granting juries looking at their proposal. "It's important for us to pay the artists, and next year we're hoping to be able to pay the Equity minimum," she says. Sometime in November, the company will post the official Call for Submission but, says Theodosakis, they are being continuously pitched by other artists on a weekly basis. "Hyejin and I are much inspired by our colleagues from other disciplines, and we really want to open the doors up for a wide range of projects." Projects should be art-song based; everything else is up for grabs.
Virginia Woolf's writing desk and chair from the premiere will return for the RBA performance, as will the same cast of three: English mezzo Victoria Marshall, dancer Renee Killough and actress Keshia Palm. To the diaries in Argento's songs, spoken word excerpts were added from Woolf's novels and letters. "All of them sing a little bit, act a little bit and dance a little bit," says Theodosakis. "The actress is Woolf's public persona, the novelist that we all know. The singer is her more private, family persona – which we can find in letters. And the dancer stands for her innermost turmoil and depression, but also romance, and her love for Vita [Sackville-West]."
Of the cast trio, it was the dancer, Renee Killough, who was the biggest Woolf fan from the get-go and the originator of the project. Before they joined forces, Theodosakis was familiar with Woolf but hadn't read her very much. "And now I've read everything and all of her letters. I couldn't leave anything unread." All three women came out of the project with a renewed love of Woolf. Her diary entries set to music by Argento will each have their own musical theme. "There is a through-line, and it's very evocative material throughout. In a song about war you're pretty much hearing shrapnel and bombs."
When we talked, Theodosakis was directing the Glenn Gould School's fall operas: Paul Hindemith's Back and Forth and Bohuslav Martinů's Tears of the Knife, which the School's ensemble presents on November 2 and 3 at Mazzoleni Hall. Before the end of this year she'll also be directing the COC's opera for young audiences WOW Factor: A Cinderella Story, Joel Ivany and Stéphane Mayer's adaptation of Rossini's La Cenerentola for kids. It's set in a middle-school talent competition.
Ivany is among her favourite stage directors, together with Paul Curran, Tim Albery (whom she's assisted in COC's Arabella) and her U of T mentor, Michael Albano. And internationally? "Definitely Claus Guth. I was a young singer at Mozarteum in Salzburg when I went to the Salzburg Festival to see The Marriage of Figaro that he directed. I've never been a huge fan of The Marriage – I know this is minority view! – but in Guth's production it's treated like a tragedy, and at the end more weight is given to what was actually happening to these poor people. The Marriage is not a happy opera."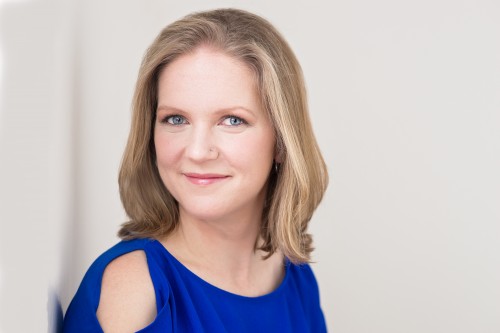 HAMILTON
Hamilton's first art song concert series announced itself on the Internet last month with a simple but elegant website: The Linden Project. Its founders are soprano Julie Ludwig (whom you may remember as a sparkling Adele in Opera 5's Die Fledermaus) and baritone Jeremy Ludwig (whom you might have noticed in Tongue in Cheek Productions' 24-baritone/bass Winterreise and Opera 5's The Boatswain's Mate). To set it all off on November 3 at St. Cuthbert's Presbyterian is a concert billed, appropriately enough, as The Song Sampler. "Wondering what we're all about? Get a flavour of what we mean by art song. We're dedicated to the core of this repertoire, but also not afraid to do something different," reads the refreshingly straightforward promo copy for the concert. The program is another praiseworthy move, available well in advance and downloadable. It shows a selection spanning Italian and English Baroque, fin de siècle French and Austrians, 20th-century Brits and post-1970s sophisticated pop classics.
"We love art song, and we'd like to introduce Hamiltonians to some of the music that we find so meaningful," writes back Julie Ludwig when I email the couple to learn more about their plans for the series. "To our knowledge, The Linden Project is the first of its kind in Hamilton. There are other concert series, of course, but none that are dedicated exclusively to song repertoire. Hamilton is an eclectic city: several choirs, lots of musical theatre, the Hamilton Philharmonic Orchestra, and a very active rock and folk scene. We want to bring together both kinds of audiences: those who already enjoy classical music, and those who might not be familiar with it but are open to trying something new."
The idea for a song concert series came to the Ludwigs soon after they moved to Hamilton in 2014. Each had given song recitals there and "It was the response to those recitals that encouraged us to start The Linden Project. We both love art song – how much room there is for expression and how closely the music is linked to the poetry – and we saw how the audiences at our recitals appreciated the music, much of which had been unfamiliar."
They're starting off with just two recitals in the pilot season, both of which will be sung by them. "We definitely intend to involve other singers in the future," writes Julie in reply to my question about their programming plans. "Each program will be centred around a theme and will include a mix of standard and more obscure rep. As much as possible, we intend to include music by living Canadian composers. Without giving too much away, we have a few ideas kicking around for future recitals, such as commissioning new works, commissioning illustrations for our projections, incorporating theatrical elements." The venues will change with each new concert. "We intend to select venues that are appropriate for the repertoire on each program. Churches and small concert halls are very practical, of course, but we also want to bring our concerts to other Hamilton locations."
The inaugural do, The Song Sampler at St. Cuthbert's Presbyterian, "is a kind of a survey of the genre, with a couple selections that lie on the periphery of what some might consider art song," she writes. "We'll include projections of condensed translations paired with one or two images to help convey the gist of what each song is about, so the audience is better able to watch the performance instead of having to read everything in the program. We also intend to speak a little about the songs in order to help the audience enter more deeply into them, but our goal is to be approachable, not lecture."
ART OF SONG QUICK PICKS
NOV 4, 2PM: 13A Robina Ave, Toronto. "Art Song in House Masterclass." Bass-baritone Daniel Lichti, associate professor emeritus, Faculty of Music at Wilfrid Laurier University, opens up his voice coaching practice – and his living room – to the public in this part-salon, part-masterclass. This one is for the song nerds. Soprano Sinead White and baritone Adam Kuiack with pianist Narmina Efendiyeva, and Lichti in the coach chair. $20, proceeds go to singers and the pianist.
NOV 11, 2PM: Mazzoleni Concert Hall at the Royal Conservatory of Music, Toronto. "L'invitation au voyage." A song recital with soprano Joyce El-Khoury and mezzo-soprano Beste Kalender. Some well-trodden repertoire (Duparc, Debussy) and some seldom-heard. The program promises "Levantine songs." Turkish composers, Middle-Eastern composers? Or Middle-Eastern motifs in the works of Western composers? Tickets start at $30.
NOV 13, 8PM: Gallery 345, Toronto. "For or from" – Kelly Zimba, flute (TSO's principal flute), Stacie Dunlop, soprano. All new music: Kate Soper (Only the Words Themselves Mean What They Say), Leslie Uyeda (Stations of Angels), Braxton Blake (Three Songs on poems by Marianne Moore), James O'Callaghan (For or from), and two world premieres, by David Jaeger and HaRebraIN ensemble, a.k.a. Anh Phung and Alan Mackie. $20/General, $10/Arts Worker/Student
NOV 17, 7:30PM: St. Thomas's Church, 383 Huron St., Toronto. "The legacies of François Couperin and Claude Debussy." Larry Beckwith, violinist, tenor and artistic director emeritus of Toronto Masque Theatre, and radio presenter Tom Allen host an interactive celebration of the two French composers. No more details about the program, but the teaser is intriguing. Part of the diverse year-round series Confluence, programmed by Beckwith.
NOV 24, 8PM: Koerner Hall, Toronto. "From Bel Canto to Verismo." Show One Productions presents Sondra Radvanovsky in recital, with Anthony Manoli, piano. An all-Italian language program: songs from Caccini, Gluck, Rossini, Puccini and arias by Verdi ("Romanza" from Il Corsaro, and the sleepwalking scene from Macbeth), Puccini's Manon Lescaut and Donizetti's Roberto Devereux.
Lydia Perović is an arts journalist in Toronto. Send her your art-of-song news to artofsong@thewholenote.com.