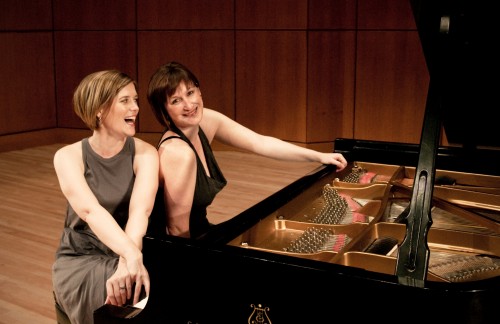 Competitions are not unusual in classical music. Every few months, young voices and pianists are competing somewhere in the world – in standard repertoire by composers from the past. No new songs get commissioned especially for the Queen Elisabeth Competition in Belgium, or the BBC Cardiff Singer of the World, or the Operalia. For new works by living artists one goes to poetry slams and literary death matches, where poets and novelists turn their writing into a performance and the audience, to a greater or lesser degree inebriated, decides the winner. We can go to competitions in old music – and watch them civilly and in silence – or competitions in new writing, spoken without music, where a certain degree of audience responsiveness and noise is in fact encouraged.
Those were the choices, that is, until spring 2017 and the inaugural songSLAM concert before a standing-room-only crowd in New York City. It's when soprano Martha Guth and pianist Erika Switzer decided to give a spin to this new and (fair to say) populist format for presenting new art song creations. The two musicians, while pursuing independent careers, have, in their spare time, also been running Sparks & Wiry Cries, an organization and online magazine dedicated to the "preservation and the advancement of art song." The new-song-competition format became popular almost overnight: after the NYC songSLAM, two new cities, Minneapolis and Ann Arbor, immediately wanted their own. There will be seven songSLAMs in three countries this season, says Guth via email from NYC when I get in touch with her to ask about the upcoming Toronto slam.
Scheduled for January 16 at the more formal Walter Hall at the University of Toronto, the Toronto songSLAM will otherwise remain true to the established slam practices: drinks (cocktails will be served 30 minutes before the 7pm start time, says Guth), all songs by living composers, and performers from all career levels – students, young professionals and established musicians from Toronto and Montreal. She could not confirm the final list of participants, as the 12 accepted composer-performer teams and five alternates were still being notified at the time of the interview, but at least two young singers have already shared on Twitter their excitement ahead of the concert – sopranos Sara Schabas and Danika Lorèn (who will be singing her own songs accompanied by Darren Creech on the piano).
"We created the songSLAM in order to get audiences excited and invested in the creation of new music," says Guth, "and to build a sense of collaboration and interaction between composers and performers in each city where events are held. This social event has so far exceeded all of our expectations everywhere it has happened. The audiences have been incredibly enthusiastic, and the musicians taking part have told us that even if they didn't place in the competition, they loved taking part because of the community-building aspects. For us too, it is an amazing way to hear up-and-coming talent." Ever on the lookout for new and exciting art songs, the pair have commissioned new music from some of their favourites from the slams, some of which will be performed in the 2019 songSLAM festival in NYC.
To put together song slams in different cities, partnership with a local organization is key. For the Toronto event, Sparks & Wiry Cries partnered with Women on the Verge, aka the sopranos Elizabeth McDonald, Emily Martin and Kathryn Tremills, the performing trio on a mission to tell the stories of women's lives through song. The University of Toronto's Voice Studies Program is the second Toronto partner that made the slam possible. After the Canadian edition, slams in Chicago, Denver and Ljubljana (Slovenia) are in the works, the latter scheduled to be televised on Slovenian TV.
Toronto-based tenor Jonathan Russell MacArthur and pianist Darren Creech took part in the first slam in NYC last year. The two musicians met while working on a production workshop with FAWN Chamber Creative, and "definitely clicked, being two queer boys who live in Toronto," says MacArthur in an email when I ask about the experience. "There was always something to talk about." When he heard of the competition and proposed a collaboration to Creech, the young pianist didn't need much persuading. They agreed to do a piece by Wally Gunn, MacArthur's Aussie friend who lived in the NYC borough of Queens. "Wally wanted to tell a story of Captain Moonlite – a gay Australian bushranger and outlaw – so he wrote that piece for us." Once in NYC, they stayed with Gunn and rehearsed in Brooklyn. Their performance now lives on YouTube. "We had a great time."
But first, December. The year is not over yet.
Just the other day I received an email from Happenstance's clarinetist Brad Cherwin describing their next concert … or shall I call it experiment. As soprano Adanya Dunn is out and about travelling and auditioning, Happenstance will this time present themselves as a duo, "Alice" Nahre Sol (piano and composition) and Cherwin himself. On December 11 at Gallery 345, free admission, they will present PAPER, an exploration of that mundane yet essential material through music and visual art.
How is that going to work? "Expect a 30-minute performance piece, incorporating all new music by Alice and improvisations by both of us, alongside projections and painting. It's going to be our first attempt at wrestling with the concert form. We're pushing ourselves out of the standard recital paradigm." The visuals will not be narrative but abstract, to match the music, he says. They won't be incidental but fundamentally connected to the sound. In other words, we have to come and see what they have concocted. (To check out some of Cherwin's art – he does all the visuals for the Happenstance programs – head over to Instagram, his account is public.) Meanwhile this fall, Nahre Sol has started a fellowship at the RCM in partnership with the 21C Music Festival, and Happenstance has received some TAC funding for the new season. The 2019 concerts will be announced on December 11, and the odd detail remains to be worked out, but Cherwin can confirm North American premieres of works by Wolfgang Rihm and Pascal Dusapin for soprano, clarinet and piano, as well as a world premiere of a new trio by Nahre Sol.
Meanwhile, across town, in the Amsterdam Bicycle Club on the Esplanade, Against the Grain Theatre, known for messing with traditional operatic repertoire to great effect, will launch its record label and its first release on December 7. Ayre, Osvaldo Golijov's 2004 song cycle for soprano and chamber ensemble that uses Sephardic, Arabic, Hebrew and Sardinian folk material, has been recorded in a live concert by the AtG's founding member, Lebanese-Canadian soprano Miriam Khalil. Songs from the disc will be performed at the launch, which will be an art song recital that keeps all the informality of an AtG Opera Pub. And did I mention cocktails, which seem to be the recurring theme of this end-of-year column?
A few song-themed tips for the gifting season
For the new music eccentric in your life, consider the recently released CD of songs by Andrew Staniland to the poetry of Robin Richardson, Go By Contraries. SongSLAM's Martha Guth and baritone Tyler Duncan lend their voices, with Erika Switzer at the piano. For the early music jester, get Sallazzo Ensemble's debut album Parle qui veut: Moralizing Songs of the Middle Ages (Linn Records). And for those few people in your life who still read books (not a huge number of us are still kicking about), look for Robert Harris' Song of a Nation, on the eventful life of the composer of Canada's national anthem, Calixa Lavallée.
ART OF SONG QUICK PICKS
DEC 22 AND 23, 8PM: Heliconian Hall. The Istituto Italiano di Cultura di Toronto presents the Vesuvius Ensemble's "Christmas in Southern Italy." Francesco Pellegrino and the lads of Vesuvius see the year off with their traditional December concert of secular Southern Italian songs around Christmas themes. Pellegrino, Marco Cera and Lucas Harris are joined by Romina di Gasbarro at the guest vocals and Tommaso Sollazzo on the bagpipes. Knowing Vesuvius, I expect some high quality arrangements of Italian pop songs as well – at least in the encores.
JAN 26 AND 27, 7:30PM: Trinity College Chapel, U of T. Cor Unum Ensemble and Sub Rosa Ensemble bring to the fore the little-known works by women composers from the 16th and 17th centuries.
JAN 27, 2PM: The Royal Conservatory of Music. Mazzoleni Songmasters Series: "Winter Words." Mezzo Lucia Cervoni and tenor Michael Colvin sing Britten, Mahler and assorted other music around the broad theme of winter.
FEB 3, 7:30PM: Vocalis: The Song Narrative Project, curated by Stephen Philcox and Laura Tucker. The Extension Room, 30 Eastern Ave. Meet University of Toronto Faculty of Music's outstanding master's and doctoral students in concert. Free admission.
What stood out for you this year? Send me your highlights to artofsong@thewholenote.com. Wishing you a merry and song-filled end of the year.
Lydia Perović is an arts journalist in Toronto. Send her your art-of-song news to artofsong@thewholenote.com.