Antiquity is a foreign country: they love and desire differently there. Or do they really, asks Amanda Hale in her libretto for the lesbian-themed opera composed by Kye Marshall which is about to have its premiere, June 5, onstage at Buddies in Bad Times Theatre. Pomegranate is structured as a tale of two couples in two different time periods, though the text is open to interpretation – it could be the tale of one couple imagining their historical antecedents, or the story of obstacles to same-sex love which never disappear entirely even in liberal societies. The first couple is in Pompeii in 79 AD, before the Vesuvius eruption. In the second act, we are in a downtown lesbian bar in 1980s Toronto.
"I had been to Pompeii in the early 2000s and my inspiration for Pomegranate was the frescoes that I saw in the Villa of Mysteries there," says Hale. To this day archaeologists are not sure what the frescoes depict, but it's presumed to be some kind of a Dionysian ritual that involved women. "The images stayed with me so I formed a story for myself about two young girls falling in love. They're teenage girls, they're innocent, and the setting is sort of a Roman girls boarding school." Worship of Isis was one of the unofficial religious traditions practised in Rome of the time, so Hale introduced a temple of Isis, as a refuge for the girls, and a temple priestess to the story.
Hale, a novelist and a poet, initially wrote a poem cycle about two young Pompeii women. Cellist and composer, Kye Marshall, set the poems to music, and the tale was told as a song cycle, at the Heliconian Club in 2014. "The audience responded so strongly to it that we decided to make an opera," says Hale. It would take six years of work, grant writing, collaborator hunting, creating contacts in the opera world, two workshops, producer changes and cast changes until Pomegranate the opera was ready to premiere. "I first contacted Michael Mori from Tapestry who was always very supportive (and who is directing the June 5 to 9 run). He put me in touch with Marjorie Chan, who became my dramaturge. She helped me enormously. She coached me in the arts of the libretto."
Mount Vesuvius has an eerie presence in the first act and its own changing soundscape. The catastrophic event brewing in the background, says Hale, is another parallel with our time. "We all have our little plans and machinations and arguments but we are facing climate-related disasters all over the world."
In the libretto, which Hale shared with me, there are hints of a female-only utopia in the temple scenes and perhaps in the lesbian bar in the second act, but the idea is complicated. Would an all-women religion or a political party or a living setup be, in her view, a functioning social utopia of the Call the Midwife type, or a dystopia where women merge too much and ignore interpersonal boundaries, in the vein of Grey Gardens? "In my ardent feminist days in the 1980s when I was much younger, feminism was a real vehicle for my political education. I was quite a lesbian separatist and I had a lot of those utopian ideas but I have aged and mellowed," says Hale. "I didn't see it in those terms but there is a lot of conflict in the libretto. Another character, Julia, is almost in love with the priestess but she becomes jealous of Cassia, one of the principals. That, and the fear of being crucified as an escaped slave, leads her to betray everybody. In the second act there's a big fight between the two women on whether one of them should finally come out to her conservative family who've come from a war-torn part of the world. Her mother is the one who betrays her and it's often the women who betray their daughters, unfortunately. If you, for example, look at the clitoridectomy and infibulation today, it's the mothers who take the daughters to have it done." As well, the priestess of the women-centred temple is, it turns out, the sister of the Roman soldier pursuing one of the women. "I think it's a fairly realistic view of how it might have been."
The parallels between the past and today do not end there. Pompeii was a multicultural port city with people of all backgrounds living there and passing through; half the population of Toronto is foreign-born. Politics on the small and large scale was presumably as present in Pompeii's citizens' lives as it is for Torontonians today. Hale herself is foreign-born – British – and moved to Canada in 1968. She lived in Montreal through the 1970s and the War Measures Act and Bill 101, but describes herself now as "quite politically naïve at that time." Her politically active life started in Toronto, where she moved in the 1980s and got involved with Nightwood Theatre, wrote for the feminist paper Broadside and founded Red Tree, a visual arts company, with Lynn Hutchinson. Today she divides her time between Hornby Island, BC and Toronto. Before returning to writing in the late 1990s, with her first novel published by Raincoast Books, Hale earned her living as a painter and sculptor in BC.
She still travels to England to visit family. "It was a good thing, leaving England, because when you leave a place, you can see it." Her family's story has been far from ordinary: Hale's father was a supporter of Oswald Mosley's British Union of Fascists during the Second World War, and died by suicide some years after the war. "That legacy has hung over me all my life," says Hale, who has written about it in her latest novel, Mad Hatter (Guernica, Toronto), to be launched in September. "I feel absolutely liberated for having told that story. It's been a great shame and humiliation so it was good for me to leave England and be able to see all that. But it's taken my lifetime to process it."
Hale's own politics are at the opposite end of the spectrum to her father's. She often travels to Cuba and has developed a lot of connections, personal and professional, over the last 15 years. "I went there first to paint a mural with Lynn Hutchinson in solidarity with the revolution and we made a connection with a gallery in Havana and did an installation there on colonialism and sugar, then another one about surveillance, which Cubans really understand." Latin America was always of great interest. "I've had a lot of connections with Guatemala, Nicaragua, El Salvador, Chile. A big change I saw here in Toronto in the 1980s was the refugees coming from those countries who'd experienced American interference, people who enriched Toronto tremendously during the 1970s and 1980s. There were Greeks coming here after the Junta and people emigrating to Canada after the Iranian Revolution. On Hornby Island we have an Iranian man who's taken refuge there, who is a wonderful potter."
While she would define herself as bisexual today (and is no fan of labels), Hale's view on the importance of lesbian presence in culture hasn't changed. "It's still fairly new to see it – and women's experience in general–- and some of the terrible things that happen to us and some of the great things that should be celebrated. I think it enriches the culture generally, and for men as well. It's not being against men: it's filling out a picture that has been half blank a long time."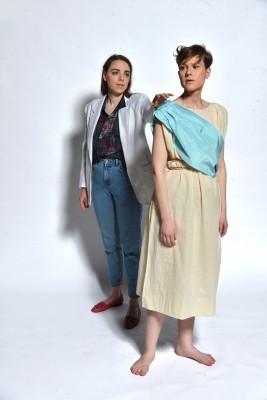 ART OF SONG QUICK PICKS
JUN 4, 7PM: Icelandic Canadian Club of Toronto presents Hanna Dóra Sturludóttir, mezzo & Snorri Sigfús Birgisson, piano; atTimothy Eaton Memorial Church, Toronto.
JUN 8, 4PM: Lisa Di Maria, soprano, and Adolfo De Santis, piano; at St. Thomas's Anglican Church, Toronto. Barber, Fauré, Puccini.
JUN 10, 12:15PM: Music Mondays presents Heine's Buch der Lieder. James McLean, tenor, and William Aide, piano; at the Church of the Holy Trinity, Toronto .
JUN 19 TO 22, 7PM AND JUN 23, 2PM: Soundstreams, Luminato, & Pinkhouse Productions present Hell's Fury, The Hollywood Songbook. Music by Hanns Eisler, staging and concept by Tim Albery with design by Michael Levine. Russell Braun, baritone, and Serouj Kradjian, piano. Harbourfront Centre Theatre, Toronto.
JUN 27, 8PM: Muse 9 Productions/Village Opera present "Bon Appétit! A Musical Tasting Menu." Lee Hoiby: Bon Appétit!; Danika Lorèn: The Secret Lives of Vegetables; Peter Tiefenbach: Chansons de mon placard. Katy Clark, soprano, Victoria Borg, mezzo. Hyejin Kwon is the music director, staging by Anna Theodosakis. Merchants of Green Coffee, Toronto..
JUL 11, 7:30PM: Toronto Summer Music opening night: "Beyond Borders." R. Strauss: Vier letze Lieder; Ravel: Cinq mélodies populaires grecques; Sarasate, Mozart, Chopin and more. Adrianne Pieczonka, soprano, Jon Kimura Parker, piano, Kerson Leong, violin, and Steven Philcox, piano, with the New Orford String Quartet and Tom Allen hosting. Koerner Hall.
JUL 16, 7:30PM: Toronto Summer Music presents "Griffey & Jones in Recital." Anthony Dean Griffey, tenor, and Warren Jones, piano. Music by Bridge, Griffes, Barber, Finzi, Laitman, Niles and Ives. Walter Hall, U of T.
Lydia Perović is an arts journalist in Toronto. Send her your art-of-song news to artofsong@thewholenote.com.