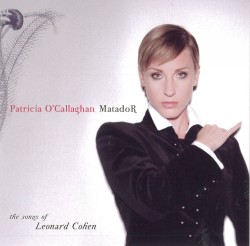 MatadoR - The Songs of Leonard Cohen
Patricia O'Callaghan
Marquis 81417
I was delighted when I got the nod from the DISCoveries editor to go ahead and review Patricia O'Callaghan's newest album, MatadoR – The Songs of Leonard Cohen. Not only have I marvelled at O'Callaghan's immense talent over the years, but I had the pleasure of attending her thrilling performance titled "Patricia O'Callaghan Sings Leonard Cohen" at last year's Global Cabaret Festival. And I was very curious to see how it all would translate to disc.
Generally, it's next to impossible to recreate the intimacy, immediacy, spontaneity and energy of a live performance on CD. I was utterly transfixed, watching and listening to O'Callaghan on stage. I was less so, listening to the recording; but the more I listened, the more I was drawn in. O'Callaghan's voice (she trained as a soprano at the University of Toronto) is as rich, pliable and luminous as ever, interpreting Cohen's songs with tremendous tenderness and a mature, worldly sensitivity and insight. Yes, the soprano nails Cohen!
It doesn't hurt, either, that she has members of the Gryphon Trio backing her up on several tracks, as well as the fine jazz pianist, David Restivo; their collective work on Alexandra Leaving is particularly beautiful. And bassist Andrew Downing's gorgeous arrangements are outstanding on If It Be Your Will and Anthem. But, for me, the jewel is O'Callaghan's take on Dance Me to the End of Love. Translated into Spanish, it's pure joy and downright sexy.
O'Callaghan co-produced MatadoR. She can be very proud of this project.
Concert Note: Patricia O'Callaghan is featured in Masques of Love – a cabaret presentation by Toronto Masque Theatre, February 3 and 4.