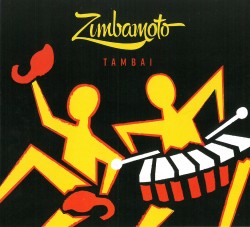 Tambai
Zimbamoto
Independent (zimbamoto.com)
Tony Montague, music journalist for the Georgia Straight and ROOTS, wrote, "Zimbamoto is the most exciting band playing African music to emerge on the West Coast for too many years." Based on the evidence on Tambai, I have to agree.
Led by lead singer, mbira, and marimba player Kurai Mubaiwa, his band Zimbamoto's sound and energy firmly rooted in the exhilarating traditional and contemporary melodies and rhythms of Zimbabwe and surrounds. Having played the mbira since childhood in his native Zimbabwe, Mubaiwa has in the last 20 years established himself as a leading mbira/marimba musician and teacher. He has toured internationally with musicians like Cesária Évora, Chiwoniso Maraire and Vusi Mahlasela. His group Zimbamoto sings in Shona and plays with an Afrobeat sensibility. The band's drive is firmly anchored by Curtis Andrews' deeply West African informed and tonally-inflected drum kit playing. Vancouver guitarist Mark Campbell, bassist Greg Valou and percussionist/singer Navaro Franco round out this adept band.
The lyrics of this exhilarating ten-song album explore Mubaiwa's experiences growing up in Zimbabwe. I love the moments when a song switches to cut time, as on the outstanding track Asila Mali. Other beautiful musical moments of note: harmonically textured and contrapuntal vocal response choruses, striking reggae moments, and every time a countermelody or response chorus confidently strides across the prevailing 6/8 feel.
Mubaiwa chose a Shona word for "dance" for the title of Zimbamoto's debut album and I for one can't stop moving to this infectious and well-crafted music.