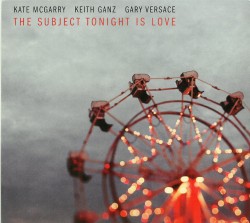 The Subject Tonight is Love
Kate McGarry; Keith Ganz; Gary Versace
Binxtown Records (katemcgarry.com)
With their debut trio recording, vocalist/composer Kate McGarry, guitarist/bassist Keith Ganz and pianist/accordionist Gary Versace have realized a project that has been in preparation for more than a decade. Friendship, love and creativity propel this ensemble. McGarry and Ganz are life partners, and Versace has been a close friend and musical collaborator to both. The trio act as producers/arrangers here, exploring the many facets of love with both original and venerable material, perfectly synthesized through McGarry's uniquely cinematic musical perspective.
The CD opens with the title track, which features a brief poem from the 14th-century Persian poet and mystic Hafiz, underscoring McGarry's belief that "love is the sub-stratum of all things." The music for the brief, stark, spacey piece was actually improvised over the theme of Ganz' arrangement of the standard Rodgers and Hart classic, My Funny Valentine (which is gorgeously rendered in full on the CD by McGarry).
A delightful inclusion is Sammy Fain's Secret Love, positioned here as the polar opposite of the familiar Doris Day version – capturing an innocence and purity of first love, and featuring a sumptuous and agile guitar solo as well as seamless transitions from straight ahead, to a lilting bossa and back again. Equally wonderful is the trio's take on the rarely performed Benny Golson/Kenny Durham tune Fair Weather. McGarry's effortless, pitch-perfect and thoroughly gorgeous voice belongs in the rarified company of Julie London and Irene Kral. The ideal bookend to this skillfully crafted, uplifting CD is the Lennon and McCartney hit, All You Need is Love – delivered with a fresh, second-line feel.