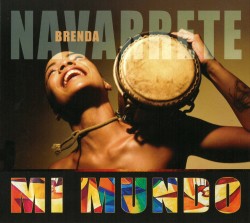 Mi Mundo
Brenda Navarrete
Alma Records ACD92972 (almarecords.com)
The auspicious opening salvo from classically trained, Cuban-born vocalist, composer and percussionist Brenda Navarrete is a scintillating, sweeping journey into Afro-Cuban music and mysticism (inseparable in Afro-Cuban culture). The fine CD was produced by first-call bassist Peter Cardinali (founder of Toronto's Alma Records) and expertly recorded in Havana, Cuba by noted, multiple award-winning engineer, John "Beetle" Bailey. Navarrete's stellar lineup includes Horacio "El Negro" Hernandez, Rodney Barreto and Jose Carlos on drums; Roberto Carcasses, Rolando Luna and Leonardo Ledesman on piano; Alain Pérez on bass; Adonis Panter on quinto and Eduardo Sandoval on trombone.
Navarrete first garnered international attention as a vocalist in the red-hot, global Cuban sensation Interactivo. As well as creating and performing the CD's complex vocals, Navarrete also composed the majority of the material, and performs masterfully on bata and congas (for which she describes her training as more of a "street classroom"). Every track is a gem, but of particular luminescence is Baba Elegguá, on which ancient vocal call and response and intricate percussion invoke the world's first music – enhanced by multi-layered, perfect vocals, this song generates a trancelike state, which is also imbued with generational reverence.
Also wonderful are Rumbero Como Yo, a fantastic, elemental web of Rhumba rhythms, targeting a place of awareness that is both deeply sensual and spiritual, and the enchanting Drume Negrita, which features exquisite harmonica work from Josué Borges Maresma. Navarette (who listened and absorbed everything from Ella to Billie) also gives us her take on Cachita by Rafael Hernández Marin, a joyous celebration of classic Cuban musical form, in the tradition of the immortal Celia Cruz.