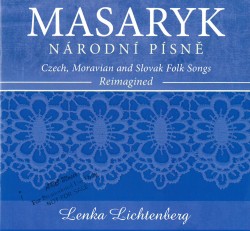 Masaryk – Národni Pisnē: Czech, Moravian and Slovak Folk Songs Reimagined
Lenka Lichtenberg
ARC Music EUCD2751 (lenkalichtenberg.com)
Is there a new wave of interest in Czech folk music among Canadian-based musicians? Two recent albums suggest so. In the last issue of The WholeNote I reviewed The Book of Transfigurations, an album of Moravian songs originally transcribed by Julia Ulehla's Czech musicologist great-grandfather, reimaged by the group Dálava. Casting the folk music net geographically wider, in Masaryk: Národní Písně, Czech-born Toronto-based singer-songwriter Lenka Lichtenberg presents an album of Slovak, Czech and Moravian songs. She enriches them with her 21st-century world music aesthetic.
Drawing on the important songbook Národní Písně (Songs of the Nation) by Czech musician and diplomat Jan Masaryk (1886-1948), Lichtenberg and Czech musician Tomas Reindl have fashioned imaginative arrangements of 14 songs. European folk instruments such as the cimbalom, kantele and bagpipes join standard orchestral instruments in their elaborate charts, firmly placing these songs in a European context. Interestingly, Reindl's gentle tabla playing on several songs and the didgeridoo on another serve to shift those songs' focus slightly from the Czech lands, rendering them more universal. The album was recorded in studios in the Czech Republic and in Toronto, further underscoring its internationality.
The award-winning Lichtenberg's unaffected vocals soar over the acoustic instrumentals, often overdubbing herself with characteristic regional harmonies. Like Ulehla, Lichtenberg has a family relationship to these songs: she grew up singing some of them.
The entire album, obviously a product of great care and love, rewards multiple listens.