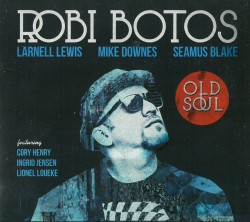 Old Soul
Robi Botos; Larnell Lewis; Mike Downes; Seamus Blake
A440 Entertainment (robibotos.com)
This new release by Robi Botos, a multi-instrumentalist, composer and two-time JUNO Award winner, is personal and frank, an ode to life experiences. In his liner notes Botos explains the inspiration behind each song – a tribute to his hometown of Budapest and a childhood musician friend, a journey from Europe to North America, a favourite standard and a salutation to a tune by Prince. Recorded in one day, off the floor, this album truly keeps up with a centuries-old tradition of joyful music-making.
Although a mixed bag of styles (jazz, funk, Motown, gospel, Romani folk), each tune is very much played in Botos' style – groovy, grand, upfront and authentic. Musicians on this record are exceptional and the esprit de corps is compelling. Robi Botos plays several instruments, including a lesser-known harpejji (electrical stringed instrument), but it is the magnetism of his piano solos that is the most captivating. Out of five original tunes, Budapest has the most nostalgic feel and Old Soul brings forth many of the musical traditions that influenced Botos in his career. Praise, a musical poem on being grateful, has the most mesmerizing piano motif that grabs you from the beginning and doesn't let go. The album concludes with a tribute to Prince. Calhoun Square is a funky, full-bodied piece, with wild solos and rhythms.
Skillfully crafted, emotionally intelligent, this record is distinguished by its heartfelt tunes and first-rate musicianship.