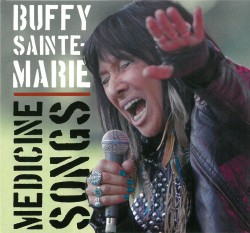 Medicine Songs
Buffy Sainte-Marie
True North Records TN0681 (truenorthrecords.com)
Buffy Sainte-Marie is an iconic, award-winning, Indigenous Canadian composer, vocalist and national treasure as well as a lifelong social activist. For the past 50 years she has written and performed her unique songs of forward motion, insight and healing as "medicine" to the people – all people. Sainte-Marie describes this new recording, as "a collection of frontline songs about unity and resistance – some brand new and some classics – and I want to put them to work." This is the fifth collaboration between talented musician Chris Birkett and Sainte-Marie. They act as co-producers here, and Birkett has deftly recorded and mixed the 13 dynamic tracks.
The stirring opener, You Got to Run is co-written by Sainte-Marie and Tanya Tagaq and features fine vocals and a relentless arrangement defined by a perfect balance between acoustic and digital instruments, propelled by skilled keyboard, bass and drum programming by Jon Levine, Max Kennedy Roach on drums and Justin Abedin on guitar – and The War Racket is an infectious/rap-tious and rhythmic contemporary protest song that sadly is still as pertinent now as it was 30 years ago.
Standouts include the energizing Carry it On, and the charming, guitar-centric folk song Little Wheel Spin and Spin. Of special note is the final track on the CD, Alabama 3's Power in the Blood – a wall of sound, embracing rock modalities and driving home the futility and horror of war. Sainte-Marie's vocal instrument is as dynamic and powerful as ever, but now resounds with an even warmer tone of life experience, bringing a new musical palette to her perpetually relevant work.