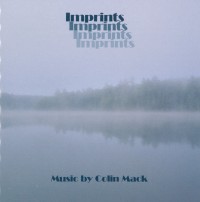 Imprints - Music by Colin Mack
Various Artists
CanSona Arts Media CAM 09001 (www.cansona.com)
This 25 year retrospective disc presents profiles of Ottawa composer Colin Mack in chamber music, songs and solo piano pieces. Mack has a confident ear, writes sensitively and idiomatically for instruments and voice, and creates arresting moments. Performances are distinguished throughout.
The atonal Starry Night for piano is particularly successful. Beautiful handling of the instrument's resources seems to evoke not only stars but supernovas, constellations, and more mysterious astronomical phenomena. The 12-part structure derived from the signs of the zodiac is reflected in a variety of contrasting sections, clearly delineated in the convincing performance by Shoshana Telner.
The modest Piano Trio: In Memoriam Dimitri Shostakovich is an apt tribute. Only settings of Gwendolyn MacEwen poems in Shadow-Maker disappoint, despite their moving performance by soprano Doreen Taylor-Claxton. For example Dark Pines is more than a nature poem. It turns an iconic Canadian image upside down, suggesting hidden depths, dark and dangerous. Here Mack's conventional tonal language feels too timid for MacEwen's mystical depth and ironic bite.
But Winterseen for flute, percussion, and piano, ably performed by Robert Cram, John Wong, and Claudia Cashin-Mack, makes a fine conclusion to the disc. Evocative vibraphone writing begins a transformation: from winter to spring. Jazz-accented gestures move us forward, then magical resonances of an electronically-enhanced flute. An exciting ostinato-based conclusion enacts the bursting forth of spring's new life. I hope that this disc will bring to listeners' notice a composer definitely worth hearing.