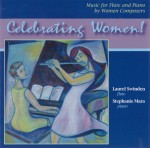 Celebrating Women! Music for Flute
and Piano by Women Composers
Laurel Swinden; Stephanie Mara
Independent LBSCD2012
www.laurelswinden.com
The flute and piano duo has never had such a powerful and memorable moment as in this collection of music by women composers from past and present. Flutist Laurel Swinden has a sweet and distinct tone which, when combined with pianist Stephanie Mara's full piano colour, creates a truly beautiful sound. The two musicians are remarkably tight and in sync as an ensemble. In sections of matching rhythms and harmonies, I thought I was hearing a third new instrument in the mix!
The more classical genre works are represented by Mel Bonis, Anna Bon di Venezia, Cécile Chaminade and Lili Boulanger. Though perhaps not household names, each composer's work stands the test of time. Swinden and Mara perform them with elegance.
However the musicians really shine in the more contemporary works. Heather Schmidt's Chiaroscuro is filled with mysterious harmonies and tension-filled rhythms. A technically challenging work, it is also the highlight. The duo creates a sense of sweeping moods in their performance. In contrast, Cecilia McDowall's Piper's Dream has both instruments emulate the sound of the pipes and draws on traditional folk music for its melodies and ambience. Swindon's lengthy held notes are breathtaking in colour and duration. Anne Boyd's minimalistic Bali Moods, Jean Coulthard's Where the Trade Winds Blow and Katherine Hoover's witty Two for Two complete the collection.
The production quality is clear, capturing even the most subtle of Swinden's and Mara's distinct musical nuances and technical abilities.