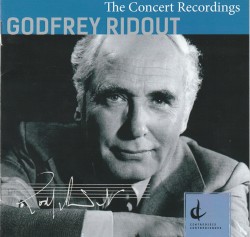 Godfrey Ridout – The Concert Recordings
Various Artists
Centrediscs CMCCD 28220 (cmccanada.org/shop/cmccd-28220)
Godfrey Ridout (1918-1984) was "an old-school gentleman," conservative in deportment, attire (three-piece suits) and compositional style. I knew him also to be very accessible, forthright and warm-hearted – just like his music! This welcome CD presents concert performances from 1975-1993, drawn from the CBC archives.
Cantiones Mysticae No.2 – The Ascension (1962) is set to a sixth-century hymn sung in English by sunny-voiced soprano Janet Smith, Brian Law conducting Ottawa's Thirteen Strings. As the text proclaims, it opens "with a merry noise and… the sound of the trumpet" (played by Stuart Douglas Sturdevant). One line in the serene second section – "Rescue, recall into life those who are rushing to death" – was, wrote Ridout, his son critically ill during its composition, "a cri de coeur… that really struck home."
The darkly dramatic Two Etudes for string orchestra (1946) comprise the sepulchral No.1 (Andante con malinconia) and the chugging freight train of No.2, briefly stalled by a misterioso passage. Mario Bernardi conducts the CBC Vancouver Orchestra. Violinist Victor Martin, pianist George Brough and the Chamber Players of Toronto perform Ridout's period-jostling Concerto Grosso (1974), the jaunty neo-Baroque Allegro and sprightly Vivace straddling the extended Mahlerian Adagio. Commissioned to honour the U.S. Bicentennial, the melodic, extroverted George III His Lament – Variations on a Well-known Tune (1975) finds "avowed monarchist" Ridout playfully employing a theme from "the losing side." Simon Streatfeild conducts the Winnipeg Symphony Orchestra.
Gratifying listening for all who remember Godfrey Ridout – and all who don't!