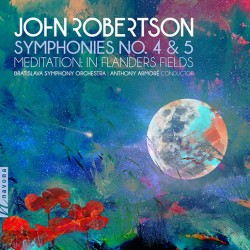 John Robertson – Symphonies 4 & 5 Meditation: In Flanders Fields
Bratislava Symphony Orchestra; Anthony Armore
Navona Records nv6325 (navonarecords.com/catalog/nv6325)
Anachronism is no sin nor is theft a crime when it comes to making art, not if they are accomplished with subtlety or humour. My favourite 20th-century tomb raider was Alfred Schnittke, who suffered modernity's loss of innocence, together with nostalgia for past forms. The suffering served as impetus for his most tragic and comic utterances. Which brings me to New Zealand/Canadian composer John Robertson, and his Symphonies 4 and 5.
This music seems happily, painlessly anachronistic, full of bright orchestral effects and warm, tonal harmonies. The second movement of Symphony No.4 is a Sicilienne, a gently progressing dance in 12/8 metre, wherein an oboe laments sweetly over ghostly strings and celesta. The familiar character in the opening of the same work's first movement recalls so much the wind writing of Carl Nielsen. For a brief moment one hears Shostakovich call out a trill from his own Fourth Symphony at the opening of the third movement. Coincidence? Homage, perhaps, although the body of the theme sounds more like Holst: a jocular, folksong-march.
The Fifth Symphony revisits Shostakovich, Prokofiev and Samuel Barber as well. Included with the symphonies is a threnody: Meditation: In Flanders' Fields. Leaving my thoughts on the poem out of this, I'll say the music accompanying the recited text is fitting, including the requisite bugle call. Take up a quarrel with me on this if you must.
Robertson is a capable composer, and not, apparently, a suffering genius à la Schnittke. The works are substantive and also pleasurable to hear, which is a refreshing anachronism in and of itself.