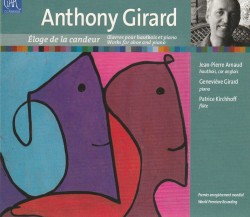 Anthony Girard – Éloge de la candeur
Jean-Pierre Arnaud; Geneviève Girard; Patrice Kirchhoff
CiAR CC 004 (ciar.e-monsite.com)
Released as a part of the "Albert-Roussel International Festival" collection, Éloge de la candeur by Anthony Girard is an offering of his works for oboe. The title piece for oboe and piano is a floating dreamscape of colours and emotions. With the use of ascending lines and the high register of the oboe, this piece uses a range of colours that seem to be influenced by the modern French school. Very close in affect to the Sonate pour hautbois et piano by Dutilleux, Éloge de la candeur paints an inspiring scene of serenity and purity in a dreamlike atmosphere.
Apothéose de la mélancolie uses the darker timbre of the English horn, as well as its often neglected higher range, to paint the haunting, melancholic mood. Girard has the English horn and piano in a dialogue of tonal colours and expression. Epilogue en trio for flute, oboe and piano is a stark contrast to the previous works. There is an energetic playfulness throughout, exploring different textures of articulation, voicing and range of all three instruments. Onze pièces brèves for oboe and piano are 11 quick movements showing the technical possibilities of the instrument. Most lasting no more than 30 seconds, these short pieces are energetic and dissonant compared to Girard's other writing for the oboe.
Overall, this collection of works by Girard is an inspiring addition to the oboist's repertoire. This album was beautifully interpreted by Jean-Pierre Arnaud, former English horn soloist of the Paris Opera Orchestra, as well as pianist Geneviève Girard and flutist of the National Orchestra of France, Patrice Kirchhoff.