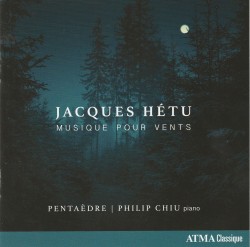 Jacques Hétu – Musique pour vents
Pentaèdre; Philip Chiu
ATMA ACD2 2792 (atmaclassique.com/en)
Jacques Hétu (1938-2010) was among the leading Canadian classical composers and music educators of his generation, spending his academic career at several Montreal-area universities.
Hétu composed primarily for established forces including piano, string quartet, orchestral winds, symphony orchestra and opera in a style he once described as "incorporating neo-classical forms and neo-romantic effects in a musical language using 20th-century techniques." His post-Alban Bergian idiom made him one of the most frequently performed Canadian composers during his career.
Commemorating the tenth anniversary of Hétu's death, this album presents the Pentaèdre wind ensemble and pianist Philip Chiu in a program reflecting the composer's keen and abiding interest in both wind instruments and the piano. The brilliant Quebec-based Pentaèdre currently comprising Ariane Brisson (flute), Élise Poulin (oboe), Martin Carpentier (clarinet), Louis-Philippe Marsolais (horn) and Mathieu Lussier (bassoon) takes centre stage on the album.
Hétu's Wind Quintet and compositions for solo winds and piano invite us to discover afresh his idiosyncratic and imaginative modernist musical universe. The works draw out the best qualities of each woodwind instrument, at the same time stretching their technical, colouristic, expressive and ensemble capabilities. This music demands a high level of musicianship and Pentaèdre delivers.
The 12-minute 1967 Quintet is a standout. Mixing serial, modal and tonal languages, it's skillfully scored, effectively showcasing each instrument and subgrouping. No wonder this dramatic work has become a favourite among Canadian wind quintets.