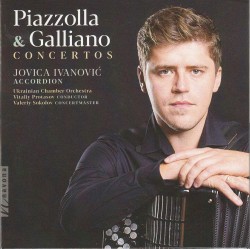 Piazzolla & Galliano – Concertos
Jovica Ivanović; Ukrainian Chamber Orchestra; Vitaliy Prostasov
Navona Records nv6317 (navonarecords.com/catalog/nv6317)
Serbian-Austrian classical accordionist Jovica Ivanović and his colleagues, concertmaster/violinist Valeriy Sokolov and the Ukrainian Chamber Orchestra under conductor Vitaliy Protasov, shine in their collaborative performances of concertos by prominent composers Astor Piazzolla and Richard Galliano. Each three-movement, fast/slow/fast, thoughtful, detailed concerto illuminates Ivanović's talents and the tight ensemble playing of all the musicians.
Piazzolla's Aconcagua, a concerto for bandoneón, percussion and string orchestra, was a favourite of Piazzolla himself and it encompasses his characteristic rhythmical tango nuevo melodies and orchestral sonorities. The bandoneón part translates well onto accordion as Ivanović's intuitive musical performance is highlighted by his detached notes, florid ornamentations and clear fast runs. The orchestral balance is perfect, especially during the ringing, low-pitched string-bass accompaniments.
French composer/accordionist Galliano's Opale Concerto for accordion and string orchestra is a mix of French, American and Balkan styles. The first movement is slightly more atonal, with such accordion specialities as bellows shakes, accented chords and wide-pitched lines alternating with string solos. The slower second movement starts with a lyrical solo, until the orchestral entry creates a "merry-go-round" reminiscent soundscape. The faster third movement builds excitement with conversational shorter accented melodies until the final ascending accordion glissando ends it with a decisive bang.
Ivanović is a superb accordionist, well-matched to the string players' collective musicianship. Their interpretations make the Piazzolla and Galliano compositions resonate with permanent eloquence.