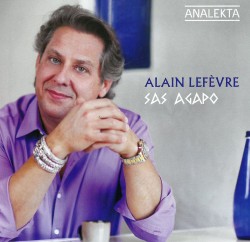 Sas Agapo
Alain Lefèvre
Analekta AN 2 9297
Review
The following is an excerpt from Keyed In (December 2016) which can be read in its entirety here.
Alain Lefèvre is one of Quebec's best-selling recording artists. A recent stay in Greece was the inspiration behind his newest CD Sas Agapo (Analekta AN 2 9297). Lefèvre is widely known for his creative and improvisational gift as well as his formidable keyboard technique. Combined, they ensure that his performances are highly engaging and entertaining. Sas Agapo is a collection of programmatic expressions for the piano – a musical album of Aegean experiences.
Lefèvre's inspirations are both visual and emotional. Something as simple as watching an elderly couple enjoying a seaside picnic becomes the creative kernel for Promenade à Kavouri. The piece is melancholic yet light and drifts between numerous short episodes punctuated by beautifully placed dissonances.
The opening track Sas Agapo is highly stylized to reflect the modal nature of traditional Greek music. Its charged rhythms are instantly captivating and Lefèvre's repeated keyboard runs are part of the electrifying experience of listening to this piece.
Romance, personal loss and the general future of humanity are some of the other musings that take shape in this recording. Its conclusion is the wonderfully colourful and impish character piece Grand Carnival in which Lefèvre shows off some of his most impressive skills as composer and performer.
Concert note: On January 21 Alain Lefèvre is featured in André Mathieu's Rhapsody romantique as part of the Toronto Symphony Orchestra's "Canadian Legacy" concert at Roy Thomson Hall.