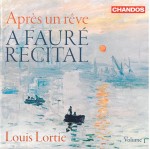 Louis Lortie
has added
another recording
to his list of more than 30 on the Chandos label. In
Après un rêve: A Fauré Recital, Volume 1 (Chandos CHAN 10919)
Lortie programs works from different periods in Fauré's life. In the first volume of what will be a series, Lortie offers some of the early works that have easy and familiar appeal. He plays his own transcription of
Pavane Op.50
, originally for chorus and orchestra. It's a clever treatment with the piano doing remarkably well at being a pizzicato string section at the same time as being a choir.
He also includes a couple of nocturnes, barcarolles and the nostalgic Après un rêve Op.7 No.1 using Percy Grainger's 1939 arrangement. Fauré's Suite from Pelléas et Mélisande Op.80 brings the recital to the threshold of the 20th century. Its opening Prélude is exquisite as is Sicilienne. In both these sections as well as the closing La mort de Mélisande, Lortie astonishes with a frequent bell-like touch.
Similarly he captures the modern flavour of the Nine Préludes Op.103 (1910) by emphasizing the angular rhythms and chordal patterns of the three very fast Préludes. The balance of the set is true to Fauré's slightly wistful and lifelong melancholic nature. Lortie knows his composer's voice and uses it as beautifully as ever.
Review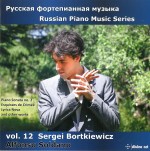 Divine Art's growing Russian Piano Music Series has a new addition in Russian Piano Music Vol.12 – Sergei Bortkiewicz (dda 25142). It features Italian pianist Alfonso Soldano playing the music of Bortkiewicz (1877-1952), who produced a substantial body of works, both large and small scale. The majority was for piano but he also wrote for violin, cello and piano trio. He opposed modernism and evolved his musical language using the vocabulary of the late 19th century. He demonstrated unwavering adherence to melody, harmony and structure. His piano writing reveals an affinity for Chopin and Liszt, yet there are occasional, if brief, references to 20th-century harmonies and resolutions of popular nature.
Pianist Alfonso Soldano takes on this music for what it plainly is, a form that refused to budge with the changing currents of its time. What emerges is not an apology for the music but an argument for its credibility. Soldano argues from the keyboard, that Bortkiewicz had a voice of his own, that subtly reshaped the familiar late Romantic sound. Bortkiewicz placed great importance on how his inner voices moved to create a richness of colour too often lost to virtuosic imperatives.
While this is evident in the short pieces on this disc, the Sonata No.2 in C-sharp Minor Op.60 is where the composer truly shows his respect for structure, applying his unique subtleties to show us that the late Romantics may have given up too soon.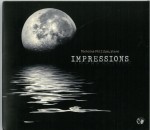 Nicholas Phillips is an energetic promoter of new music, specifically piano works of the last decade by American composers. He finds new works that have already been recorded and contributes to their longevity by giving them a second recording, hence, Impressions (Blue Griffin Records BGR409). The one exception, Keyboard of the Winds (2015) is by composer Stacey Garrop. She builds an impressive sonic picture of a Colorado mountain range using massive chordal patterns and angular melodies to evoke the jagged rock formations. Equally angular is Jonathan Pieslak's Shards (2008). Phillips embraces the duality of this work shifting adeptly between its spikey opening and the quieter, extended moments of repose.
Carter Pann's White Moon Over Water (2011) draws inspiration from nocturnal kayaking on a wide river in Maine. Its central section depicting the expanse of starry sky is breathtaking with Phillips deeply in his element.
Hommage à Trois (2005) by Mark Olivieri is a brilliant collection of three stylistic tributes to composers particularly meaningful to him. The tributes to Aaron Copland and James Brown, especially, are beautifully crafted and immediately evoke their dedicatee's memories.
This recording's most effective work is Pann's She Steals Me, a short Appalachian style waltz that lingers harmonically on many passing notes and unresolved progressions. The effect is profoundly touching and Phillips does a masterful job in leveraging its emotional potential.
Originally recorded in 1978 and released in 1980, Edvard Grieg – Slåtter Op.72, Stimmungen Op.73 (Somm Recordings SOMMCD 0154) is a reissue that offers a glimpse of a remarkably gifted English musician in his early 40s. John McCabe (1939-2015) was a prolific composer and performer. His wife recounts McCabe's abiding affection for the piano works of Grieg, Slåtter (Norwegian Peasant Dances) Op.72 in particular. Numerous searches in the late 1970s for the published score proved fruitless until he one day came upon a worn copy in an obscure secondhand book shop. It proved sufficient for the recording project with RCA.
Stimmungen (Moods) Op.73 and Slåtter were Grieg's final two works for solo piano. The latter is a collection of folk tunes and dances originally heard as regional fiddle melodies passed down through generations. Grieg first published these compositions along with their original fiddle scoring. McCabe's playing captures Grieg's rhythmically raw elements and gives the dances a characteristic fiddle drone while bringing forward the very brief melodic ideas of the folk material. There's a very wide range of expression in McCabe's playing. Stimmungen, especially, demonstrates his ability to probe the moody and introspective side of the composer's writing. Folk Tune from Valders is an exquisite example of just how much mysticism McCabe can evoke at the keyboard. Studie (Hommage à Chopin) is also remarkable for its stylistic references so unerringly discerned and conveyed.
Review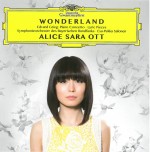 Grieg's mystical introspection is also pursued in a new recording by Alice Sara Ott, Wonderland – Grieg Piano Concerto; Lyric Pieces (Deutsche Grammophon 479 4631). By the time Ott made this recording, she'd had the Grieg Concerto in A Minor Op.16 in her repertoire for ten years. That's enough time to come to own the music and weave its threads into the fabric of her own artistic being.
Her personal stamp on this work shapes it in unique ways. Phrasings are often quite unusual and the pace of the work is slower than often heard. She very deliberately lets us know that she is exploring something of natural mysticism. She calls it Grieg's "wonderland."
The orchestra too, under Essa-Pekka Salonen, is in full agreement with this approach. Nothing, absolutely nothing is hurried in this performance. Only the final movement is near the traditional tempo. The effect of this on the concerto is to take an already monumental piece to an even grander scale.
Ott's quest for Grieg the mystic continues through her playing of selections from the Lyric Pieces and Peer Gynt where Notturno and Solveig's Song, respectively, reflect this most poignantly. There's plenty of raw folk energy as well though; March of the Trolls (Lyric Pieces Book V, Op.54) and In the Hall of the Mountain King (Peer Gynt Suite No.1) leave no doubt about the dark side of Nordic myths.
Review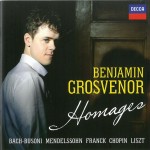 This new recording Homages: Bach-Busoni; Mendelssohn; Franck; Chopin; Liszt (Decca 483 0255) by Benjamin Grosvenor is youthful, powerful and profoundly exciting. At age 24 Grosvenor seems already to have conquered everything. Completely unhindered by technical challenges, he probes the alternating quiet and explosive episodes of Romantic works that look to the past for inspiration. Busoni's arrangement of Bach's Chaconne from BWV1004 is titanic yet floats soul searchingly through its many still moments. He plays Mendelssohn's Fugue: Allegro con fuoco from Op.35 No.5 at an impossible speed with unbelievable clarity. Chopin's Barcarolle in F-sharp Major Op.60 is voiced so superbly that it often sounds like two separate pianos. With selections from Liszt's Années de pèlerinage, Grosvenor reaches the pinnacle of his Homages to conclude an astonishing program that sets the heart racing.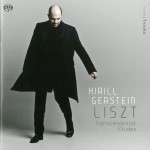 Pianist Kirill Gerstein is as eloquent in interview as he is at the keyboard. The notes in Liszt – Transcendental Études (Myrios Classics MYR01) are insightful answers to questions about the transcendental nature of these études. Gerstein argues that their extreme difficulty leads to a heightened technique that transcends the traditional requirements of playing the instrument. He then describes Liszt's intention that this transcendence go beyond the physical and technical.
Likening the performance of the cycle to the disciplined movement of Tai Chi, Gerstein describes his own experience in overcoming the technical challenges of these pieces. For him, it was as if he combined the discipline and exertion of a martial art with meditation to find that the transcending experience lay not just in the music but in the actual execution.
This becomes very clear as the performance reveals his virtuosic ease with the most difficult passages of Feux follets, Ricordanza and Wilde Jagd. And when Liszt's moments of resolution or repose occur, Gerstein is so obviously playing from someplace deeply and internally transcendent that his assertions about the experience become remarkably credible. It's a beautifully performed set of the Études and equally well recorded.
Review
Deeper quests for meaning are becoming less rare among performers of all ages. In Johann Sebastian Bach – French Suites (Deutsche Grammophon 479 6565) Murray Perahia titles his notes "A Personal Devotion" and describes his lifelong love of Bach ignited by a performance of the St. Matthew Passion under Pablo Casals in the early 1960s. What moved the young Perahia was the humanity of Casal's approach. It rejected the strict mechanical conventions of the time and channelled the composer's voice through more modern sensibilities.
Perahia himself was greatly discouraged by the preference for the harpsichord and rejection of the piano as a legitimate instrument for Bach's keyboard music. After two years of harpsichord study, he decided to return to his first keyboard love and bring to it some of the harpsichord technique he'd acquired. This hybridization has produced a style of Baroque piano playing that has all the lightness of the period instruments but brings to it the emotional palette of our present day.
Perahia's playing is consequently a product of considerable forethought. His application of the whole range of the piano's expressive capability is carefully measured. He pedals very lightly, articulates immaculately and communicates superbly.
Review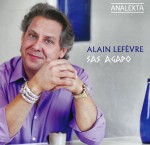 Alain Lefèvre is one of Quebec's best-selling recording artists. A recent stay in Greece was the inspiration behind his newest CD Sas Agapo (Analekta AN 2 9297). Lefèvre is widely known for his creative and improvisational gift as well as his formidable keyboard technique. Combined, they ensure that his performances are highly engaging and entertaining. Sas Agapo is a collection of programmatic expressions for the piano – a musical album of Aegean experiences.
Lefèvre's inspirations are both visual and emotional. Something as simple as watching an elderly couple enjoying a seaside picnic becomes the creative kernel for Promenade à Kavouri. The piece is melancholic yet light and drifts between numerous short episodes punctuated by beautifully placed dissonances.
The opening track Sas Agapo is highly stylized to reflect the modal nature of traditional Greek music. Its charged rhythms are instantly captivating and Lefèvre's repeated keyboard runs are part of the electrifying experience of listening to this piece.
Romance, personal loss and the general future of humanity are some of the other musings that take shape in this recording. Its conclusion is the wonderfully colourful and impish character piece Grand Carnival in which Lefèvre shows off some of his most impressive skills as composer and performer.
Concert note: On January 21 Alain Lefèvre is featured in André Mathieu's Rhapsody romantique as part of the Toronto Symphony Orchestra's "Canadian Legacy" concert at Roy Thomson Hall.
Review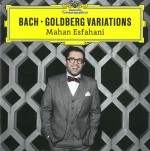 The Goldberg Variations are most often heard performed on piano, and we've come to assume that new recordings of the work will, naturally, be played that way. So, while harpsichord performances have narrower appeal, it's a delight to encounter one so completely engaging and satisfying as in Bach – Goldberg Variations, Mahan Esfahani (Deutsche Grammophon 479 5929). Here's a performance with enough zest and colour to rival your favourite piano version.
Esfahani achieves this several ways. He plays with a clean and agile technique. He is tastefully impressive with his elaborate ornamentations. His phrasings benefit from tempo relaxation at critical points in the melodic line. And perhaps most of all, he's just not in a rush to get to the end. Esfahani loves to explore the inner voices of these variations, challenging enough on a harpsichord, but skillfully managed with clever use of changing registrations between the instrument's two keyboards.
The recording appears to be made with large parts of the work (possibly all of it) played direct to recording without stopping for more than a second or two between variations to change keyboard stops (sounds). Performers who do this argue for the impact of the interpretive continuity this creates. Efahani's performance bears this out once again.
A fascinating feature of this recording lies in a brief note from the harpsichord technician who describes his tuning approach and explains his choices for sweeter major thirds in the keys of G and D, the home for most of the variations.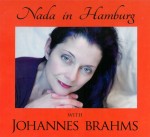 Before playing Nada in Hamburg – Johannes Brahms (MEII Enterprises 261 43930) one has to accept Nada Loutfi's stylistic premise that the young Brahms played very much lighter pianos while in Hamburg. This would require a distinct departure from conventional approaches. Accents would be shorter, there would be more staccato and a great deal less use of the sustain pedal. Loutfi argues that modern interpretations overload and misrepresent the sound Brahms imagined at the time of these compositions.
As if to underscore her point, she programs two pieces for the left hand, where performers generally tend to pedal more generously in order to bridge the gaps the single hand is to required leap. The Bach Chaconne for the Violin, (Étude No.5) and the Étude for piano for the left hand after Franz Schubert (Étude No.6) both require a moment for the ear to adjust but quickly establish a credibility based on Loutfi's sensitive and intelligent phrasings. The Schubert, especially, becomes an extraordinarily beautiful technical display.
From Brahms' Eleven Chorales for Organ Op.122, Loutfi plays No.s2, 4 and 8. The organ score is for manuals alone and the parts so intricately woven that it's often impossible to solo the chorale over the surrounding accompaniment. Nevertheless Loutfi does a wonderful job using the piano's dynamic advantage to achieve this very feat.
The Sonata Op.1 No.1 in C Major takes on a very different feel from most other performances. Loutfi's light detached style quickly becomes the norm and draws more attention to other aspects of her interpretation. Most noteworthy is her very introspective and raptured playing of the second movement, Andante.
This is quite an unusual disc that intelligently challenges some of our conventional ideas about how Brahms should be played.