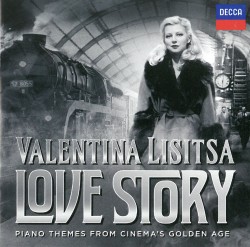 Love Story, Piano Themes from Cinema's Golden Age
Valentina Lisitsa
Decca 4789454
Review
The following is an excerpt from Keyed In (October 2016) which can be read in its entirety here.
Film music is a reliable audience pleaser for orchestras, and people never seem to tire of the great themes that slumber in the soundtracks of so many half-forgotten films. Since its early role as accompaniment to films, the piano has receded into more of a concerto relationship with orchestral film music. Still, many a good theme falls to the keyboard, and Love Story, Piano Themes from Cinema's Golden Age (Decca 4789454) collects some of film's most beautiful music for this instrumental combination.
The screen seems to require composers to write in a way that gives immediate access to emotion and drama. Valentina Lisitsa, whose controversial public stance on the turmoil in Ukraine compelled the Toronto Symphony to cancel her 2015 concerts, appears on this disc as the pianist. Her performance of these screen works with the BBC Concert Orchestra is superb. She brings all the requisite concert technique and expression to the service of the score. It's all intensely Romantic and very lush, graphic music. You can almost smell the popcorn.
There's a surprisingly conservative Classic/Romantic tradition to these scores. Richard Adinsell's Warsaw Concerto is the best example of this. Hubert Bath's Cornish Rhapsody from Love Story (1944) sounds remarkably like Rachmaninoff, while Nino Rota reveals his own voice in The Legend of Glass Mountain (1949). A delightfully unusual track is Dave Grusin's New Hampshire Hornpipe from On Golden Pond (1981). Here Lisitsa, without orchestra, creates the convincing atmosphere of an early New England folk dance.
The title music from the 1985 TV series Pride and Prejudice, with its period feel, is an artful work by composer Carl Davis. Lisitsa takes her solo moments in this as though they were short solos in Mozart piano concertos. Pure delight.