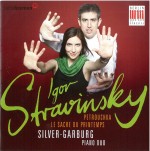 Using the piano as an orchestral percussion section, often brutally, is a requisite for performing Stravinsky's
The Rite of Spring
.
Sivan Silver
and
Gil Garburg
are unrestrained in conveying the savagery of the ballet's storyline in their recording
Igor Stravinsky – Petrouchka, Le Sacre du printemps (Berlin Classics 0300588BC)
. Stravinsky wrote this duet version of
The Rite of Spring
at the same time as the orchestral score. Curiously, the piano version was published a week before the stormy Paris premiere in May 1913, while the orchestral score remained unpublished for another eight years.
The Silver-Garburg duo performs wonderfully throughout this work always using the well-placed quieter moments of repose as contrast against the wilder passages. They understand it completely and play with a commitment to making an emotional impact no less powerful than the larger orchestral score.
Petrouchka also exists as a piano duet by Stravinsky. He finished it just as he began The Rite of Spring in 1911. The duo performs it beautifully. They play with exceptional unity and control especially through the long mystical pauses and speed changes of Petrouchka's Room. Their crisp, energetic staccatos make Russian Dance a track worth hearing more than once. The disc's closing track, The Mummers is a brilliant display of speed and technique, and a terrific ending to this recording of two of Stravinsky's most admired compositions.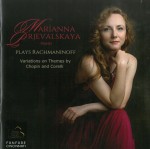 Shortly after winning the 2013 Cincinnati World Piano Competition, Marianna Prjevalskaya recorded Marianna Prjevalskaya plays Rachmaninoff, Variations on Themes by Chopin and Corelli (Fanfare Cincinnati FC-008). The works are big and sit 30 years apart in Rachmaninoff's oeuvre. The earlier set of variations on the theme of Chopin's Prelude in C Minor Op.28 dates from 1902. Prjevalskaya plays these 22 pieces capturing all the references to Chopin's language as well as the early hints of Rachmaninoff's growing penchant for large-scale orchestral statements, even if only from a keyboard. There's a lot of emotional variety in this set, with retrospective glances at the Baroque and Classical. But Prjevalskaya ensures that we never lose sight of the essential Russian-ness of the composition. The concluding variation, Maestoso, embodies this in its larger-than-life declaration of Chopin's idea as towering chords of Russian pianism.
Variations on a Theme of Corelli Op.42 shows us a different composer. Prjevalskaya knows this, and plays with a focus on Rachmaninoff's more modern vocabulary. She uses his rhythmically irregular figures and unexpected harmonic shifts to present the mature composer writing his last solo piano work. Her approach is less academic than the earlier set and far more a full concert piece that asks to be considered as a whole. It's for this reason that we hear more clearly the Rachmaninoff of the piano concertos, his melodic voice and rich harmonic palette. Imagine hearing the premiere performed by the composer in Montreal in 1931.
Review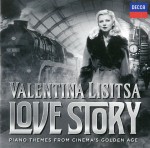 Film music is a reliable audience pleaser for orchestras, and people never seem to tire of the great themes that slumber in the soundtracks of so many half-forgotten films. Since its early role as accompaniment to films, the piano has receded into more of a concerto relationship with orchestral film music. Still, many a good theme falls to the keyboard, and Love Story, Piano Themes from Cinema's Golden Age (Decca 4789454) collects some of film's most beautiful music for this instrumental combination.
The screen seems to require composers to write in a way that gives immediate access to emotion and drama. Valentina Lisitsa, whose controversial public stance on the turmoil in Ukraine compelled the Toronto Symphony to cancel her 2015 concerts, appears on this disc as the pianist. Her performance of these screen works with the BBC Concert Orchestra is superb. She brings all the requisite concert technique and expression to the service of the score. It's all intensely Romantic and very lush, graphic music. You can almost smell the popcorn.
There's a surprisingly conservative Classic/Romantic tradition to these scores. Richard Adinsell's Warsaw Concerto is the best example of this. Hubert Bath's Cornish Rhapsody from Love Story (1944) sounds remarkably like Rachmaninoff, while Nino Rota reveals his own voice in The Legend of Glass Mountain (1949). A delightfully unusual track is Dave Grusin's New Hampshire Hornpipe from On Golden Pond (1981). Here Lisitsa, without orchestra, creates the convincing atmosphere of an early New England folk dance.
The title music from the 1985 TV series Pride and Prejudice, with its period feel, is an artful work by composer Carl Davis. Lisitsa takes her solo moments in this as though they were short solos in Mozart piano concertos. Pure delight.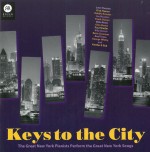 This unusual recording Keys to the City – The Great New York Pianists Perform the Great New York Songs (Roven Records RR99999) is a celebration of the Big Apple's music by its own musicians. As an added treat, the liner notes have the pianists writing about each other. Glen Roven writes about Dick Hyman, Hyman about Frank Owens, Billy Stritch about Paul Shaffer and so on. It's a wonderful gathering of performers who admire each other's contribution to the New York keyboard scene.
A few highlights from the playlist include Axel Tosca playing Take the "A" Train with a strong Latin feel that works surprisingly well, Dick Hyman playing 42nd Street, and Frank Owens performing Lullaby of Broadway with a distinctly Gershwinesque feel. There's also Glen Roven playing 55th Street Bop in a trio for piano, violin and cello.
The bonus track on this disc has pianist, conductor and teacher Leon Fleisher performing Earl Wild's arrangement of Gershwin's The Man I Love. He plays it entirely with the left hand, a reminder of the rare condition he suffered, causing him the loss of his right hand for performance.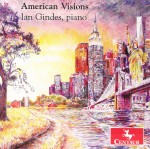 Pianist Ian Gindes is a commissioned officer in the US National Guard. His pride in the distinctive language of American music is evident throughout the tracks of American Visions (Centaur CRC 3476). More than half the disc is music by Aaron Copland whose Four Piano Blues No.3 opens the program with a tender and haunting tribute to pianist William Kapell. Gindes establishes his credible interpretive abilities in this quiet and muted piece.
He next explodes into Copland's Rodeo where Buckaroo Holiday and Hoe-down are crisp, powerful and highly energized. Saturday Night Waltz is often played more pensively but Gindes' approach is entirely consistent with the rest of the suite and works well.
Our Town is Copland's music to Wilder's play. It's less idiomatic than Rodeo and Gindes' approach reflects the composer's focus on the atmospheric, emotional narrative. Gone here is the big Copland piano sound of Rodeo. In its place is a deeply quiet introspection delivered by sparse writing and measured playing. Gindes proves to be a superb Copland interpreter.
A couple of fun tracks follow. Études by Earl Wild on Gershwin's Fascinatin' Rhythm and Embraceable You are demonstrably virtuosic. Stephen Hough's equally brilliant arrangements of Rodgers and Hammerstein's My Favourite Things and Carousel Waltz give Gindes another chance to show his mastery of the keyboard.
The final track is a live recording of Sousa's The Stars and Stripes Forever for two pianos, eight hands in which Gindes is joined by Tatiana Shustova, Jiafang Yan and Jing Hao. Rousing from start to finish!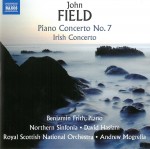 Irish-born John Field (1782-1837) was a composer of a modest body of works. Despite their relative neglect, they are exquisitely crafted for any pianist who makes the effort to understand their composer. Benjamin Frith in John Field – Piano Concerto No.7; Irish Concerto with the Northern Sinfonia; David Haslam (Naxos 8.573262), shows Field's language to have many elements that are antecedents of phrasings and figures we hear in the music of Chopin and Liszt, who both attended the 1832 Paris premiere of the Concerto No.7. It makes for curious listening as Beethoven- and Schubert-like elements also occur. Still, there's no doubt Field evolved his own voice. He rejected the current trend for virtuosic exhibition, instead favouring nuance and subtlety in his writing and playing. Frith captures these hallmarks of Field's music. He is generous with his pauses and capably exploits every opportunity to create contrast and interest in Field's ideas.
Frith is especially engaging in the Irish Concerto, where his gentle touch matches the beauty of Field's numerous and ornate melodies. This is lovely material and Frith lets not a single note escape his affectionate attention.
The Piano Sonata No.4 in B Major has a frequent early Classical feel and Frith plays it with balanced Mozartian sensibility. Here too there is an ever present lightness to Field's music that uses none of the turmoil or bombast of some of his contemporaries.
This Naxos disc brings together recordings from 1996, 2013 and 2014. Production values have remained wonderfully consistent over the years and the spread in performance dates is not evident without reading the notes.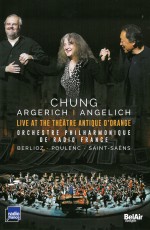 Here's a terrific video production of a concert featuring familiar and impressive names: Chung, Argerich, Angelich: Live at the Theatre Antique d'Orange, Orchestre Philharmonique de Radio France, BelAir Classics (BAC132). The first-century Roman amphitheatre is packed with an eager audience. Myung-Whun Chung conducts one of Europe's finest orchestras. And a statue of Caesar looks down on them all as they open the concert with Berlioz's Roman Carnival Overture.
The pianistic treat on the program is Poulenc's Concerto for Two Pianos and Orchestra in D Minor. Martha Argerich and Nicholas Angelich are at their respective Steinways. The whole thing is impeccably played and presented. Clever production offers occasional split screen views of both keyboards in action. Chung conducts the entire evening without a score. He joins the two pianists at a single keyboard to play Rachmaninoff's Romance for Six Hands in A Major. It's a bit harmonically thick at times but it's Rachmaninoff and everyone's having so much fun. Also on the DVD is Saint-Saëns' Organ Concerto and a blowout encore that brings the audience to its feet.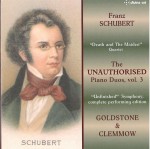 Schubert's string quartet Death and the Maiden has seen a couple of larger reworkings. Mahler set it for string orchestra and John Foulds for full symphony orchestra. In Franz Schubert, The Unauthorized Piano Duos, vol. 3 (Divine Art dda 25125) duo pianists Anthony Goldstone and Caroline Clemmow give us the recording premiere of this 1878 arrangement by Robert Franz.
Franz has arranged the quartet beautifully with part distribution balanced across the keyboard. He uses the added advantage of adding inner harmonies not available to the original four string instruments. Goldstone and Clemmow play fully pianistically using everything the piano can offer. It gives the feeling of the quartet being a rather large duo piano sonata and is completely believable.
The second movement theme and variations on the title Lied is wonderfully played. The third movement theme gets added punch from the piano's powerful bass register. Goldstone and Clemmow play an impressive final movement never showing the strain that Schubert's relentless tempo imposes.
This disc also offers the Unfinished Symphony in an arrangement by Hüttenbrenner, to which Goldstone has added his completed version of the Scherzo and Trio, using Schubert's sketches. Goldstone also adapts a fourth movement finale using the Entr'acte from Rosamunde D.797.