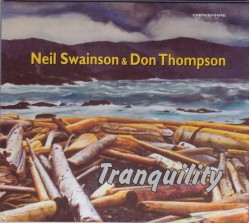 Tranquility
Neil Swainson; Don Thompson
Cornerstone Records CRST CD 141 (cornerstonerecordsinc.com)
Recorded October 3 and 4, 2012 at Inception Sound Studios, Toronto, here is another gem from Cornerstone Records and producer Barry Elmes, with two musicians who blend beautifully together in that most intimate of musical settings, the duo. Neil Swainson has a very personal sound and melodic quality to his bass playing and listening to Don Thompson's piano there is a rippling liquid quality that makes me think at times of a flowing stream.
The program begins with a unison statement of the Charlie Parker theme Quasimodo based on, if my hunch is correct, Embraceable You. The rest of the CD consists of compositions written by some of the finest musicians and composers, ranging from Henry Mancini's Mr. Lucky to Time Remembered by Bill Evans via Never Let Me Go by Ray Evans and Jay Livingston and an original, Tranquil, by Swainson.
There is also a waltz, something that I like to find on any album. There is something about 3/4 tempo which gives a natural swing to the music and this one, Everybody's Song But My Own by Kenny Wheeler is no exception. This is music played at the highest level by two masters of their art.
There is a liner note contributed by the late Jim Hall and I shall borrow a phrase from what he wrote – "Lovely music played beautifully by two fantastic musicians…" 'Nuff said.