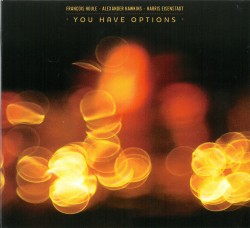 You Have Options
François Houle; Alexander Hawkins; Harris Eisenstadt
Songlines SGL1628-2 (songlines.com)
Ken Pickering, who recently passed away from cancer, was co-founder and artistic director of the Vancouver International Jazz Festival. For over three decades he created a singular and still-growing contribution to Canadian improvised music by regularly assembling ad hoc groups matching Vancouver musicians with their international counterparts. Among his achievements was this stellar assembly of Vancouver clarinetist François Houle, English pianist Alexander Hawkins and Toronto-born, US-resident, drummer Harris Eisenstadt. First matched in 2014, the three reunited during the 2016 festival and went into the recording studio. This resulting CD, an essay in chamber jazz that explores the trio's own fresh compositions and a few from some stellar composers, is dedicated to Pickering's memory.
The group's lyric potential is apparent first on Hawkins' opening Clue and Steve Lacy's Art. There's a rich, warm woodiness to Houle's clarinet and it's admirably matched with Hawkins' liquid keyboard and Eisenstadt's subtly propulsive drumming. Houle's edgy Run Riot and Eisenstadt's You Have Options. I Have a Lawyer will momentarily break the spell, but it's the group's reflective depths that define the CD: Houle's gently spiralling, impassioned lines on The Pitts; the group's insistently coiling phrases on the modal Prayer and the very light, traditional blues of Advice.
The group's breadth is evidenced by a free interpretation of Charles Ives' Largo, while Andrew Hill's Dusk, sometimes serene, sometimes gently animated, provides a fitting conclusion, from Houle's a cappella introduction to its shimmering conclusion.