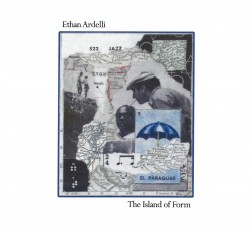 The Island of Form
Ethan Ardelli
Independent (ethanardelli.com)
The Island of Form, a new album from Toronto-based drummer Ethan Ardelli, is remarkable for a number of reasons. The first: despite the fact that Ardelli has been a prominent member of the Canadian jazz community for the past ten years, this is his debut bandleader album. The second: The Island of Form was recorded in New York by engineer James Farber, who has worked on albums by such jazz luminaries as Michael Brecker, Joe Lovano and Brad Mehldau; and was mastered by Greg Calbi, whose clients have included Bill Frisell, Aretha Franklin and the Ramones. The third: it's really good.
In addition to Ardelli, who composed all eight of its songs, The Island of Form features Luis Deniz on alto saxophone, Chris Donnelly on piano and Devon Henderson on bass. The album begins with the Afro-Cuban-tinged Agua, which builds intently before dissolving into a drum breakdown that precedes Deniz's confident solo. Thanks for Something, which starts with a duet between Ardelli and Deniz, contains a driving, percussive contribution from Donnelly over the song's vamp; Henderson takes a beautiful solo on Shangri-La Pearl. 5:55 AM, the album's shortest track, is mostly drum solo, and serves as a fun, fiery feature for the bandleader.
All four band members are technically gifted players, and Ardelli's album has many feats of compelling musical athleticism, but The Island of Form privileges tone, texture and melodicism, even during its wilder moments. Overall: an excellent debut.