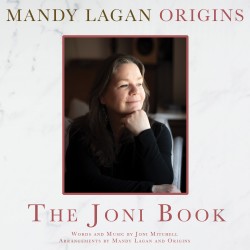 The Joni Book
Mandy Lagan - Origins
Independent (mandylagan.com)
I first met Mandy Lagan when she was a music student at Mohawk College. She already displayed considerable musical talent at that time, while possessing a keen interest in the music of legendary singer/songwriter Joni Mitchell. After hearing Mitchell's recording Court and Spark when she was a teenager, Lagan was "forever changed."
Flash forward several decades, and Mandy Lagan has released a sparkling tribute to her muse, titled The Joni Book, featuring a roster of Canada's finest jazz artists. She couldn't ask for a better or more simpatico group of musicians than Kevin Turcotte, Jim Vivian, Ted Quinlan, Dave Restivo, Andrew Downing and Blair Mackay.
Lagan rises to the challenge of honouring Mitchell's legacy, while making these tunes her own. She has lived with this material a long time, and accordingly, wraps her voice around the layers of lyrical meaning and shading embedded in these great songs.
It is truly a group effort, though, and all the musicians delve into both familiar (My Old Man, All I Want) and less familiar material (Conversation) with dedication and zeal. Everyone contributes to the inventive arrangements, ranging from the playful interplay on Help Me (featuring an outstanding trumpet solo by Turcotte), to the masterful textural arc they craft on Song for Sharon.
Somewhere, at her home in Los Angeles, Joni Mitchell is smiling.