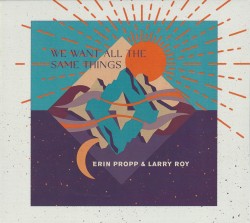 We Want All the Same Things
Erin Propp; Larry Roy
Chronograph Records CR-079 (erinpropp.com)
From the first downbeat of this fine recording, the listener is immediately drawn into Erin Propp and Larry Roy's refreshing blend of folk and jazz, a bright world chock-full of catchy melodies, thoughtful lyrics and great musicianship. On this collection of 12 songs, mostly originals, the Winnipeg-based singer highlights her ongoing collaboration with Roy, one of Canada's finest guitar players. The creative partnership has been a fruitful one, encompassing their 2012 Juno-nominated album Courage, My Love, as well as performances with the Winnipeg Symphony.
On this new recording, the duo continue to develop and deepen their artistry. Highlight tracks such as Farther On, The Light and Give Me More feature some exemplary songwriting, with Propp's thoughtful, highly personal singing and lyrics matched alongside Roy's distinctive arranging and harmonic approach.
Propp's versatility and strong affinity with the music of Brazil and Brazilian songstress Luciana Souza is highlighted on Recomeçar, a memorable melody composed by Humberto Piccoli. She also displays great vocal and emotional range on her interpretation of Hoagy Carmichael's The Nearness of You. When Propp offers her highly individual take on this much-covered American Songbook standard, it is as if she is pausing to savour every syllable and nuance of the song. It takes a great singer to pull something like this off on such a high musical level.
Special mention also goes to the incredible crew of supporting musicians, Larnell Lewis, Mike Downes, Julian Bradford and Will Bonness. Hopefully this fine recording will help to give Propp and Roy the wider recognition they so deserve.