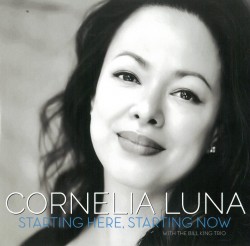 Starting Here, Starting Now
Cornelia Luna
Independent (cornelialuna.com)
With the release of her debut CD, gifted vocalist and actress Cornelia Luna has joined forces with multiple-award-winning pianist/producer/arranger, Bill King, and created a fresh, contemporary re-imagining of nine tunes which have been key in defining Barbra Streisand's style and taste. King refers to the recording as "The Streisand Project," which emanated from a memorable, creative encounter that King had in 1976 with iconic arranger Peter Matz (who was well-known as the favoured Streisand arranger throughout her early career). Upon re-connecting with the perfect artist for this project, uber-talented Broadway performer Luna (whom King initially met when she was 19), the recording was propelled into being.
King serves as producer/arranger/pianist here and bassist Dave Young and drummer Mark Kelso complete the Bill King Trio. Noted guest artists include vocalist Gavin Hope (duetting with Luna in Any Moment Now by Marvin Hamlisch), saxophonist Mike Murley and trumpeter William Sperandei. The strong opener is Harold Arlen's When the Sun Comes Out. Luna's sumptuous contralto and her emotional vocabulary create a web of intimacy and warmth on this lovely and swinging take.
Another highlight is Stephen Sondheim's Loving You from his hit show Passion. This is a triumph for both Luna and King. Her vocal instrument is sheer perfection, and King's piano work is masterful. Gotta Move – Matz's 1963 "Eleven O'Clock Number" – is also magic. This Barbra-defining classic has been perfectly contemporized as well as expertly and dynamically performed. Murley and Sperendei soar, swing, bob and weave through King's fine arrangement, and the versatile Luna is as skilled in rendering a ballad, as she is in presenting a thrilling, full-throttle performance.