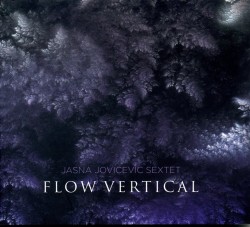 Flow Vertical
Jasna Jovićević Sextet
FMR CD 475-0318 (jasnajovicevic.com)
An indication of the high quality of music in Toronto is this CD of multifaceted compositions by Belgrade-native Jasna Jovićević. Jovićević lived in Toronto from 2006 to 2009, while receiving her MA in composition at York University, recording with local players and sampling different musical currents to use in her own work. However this CD, while proficient musically doesn't settle on a consistent genre.
With an unusual lineup (violin, viola, cello, bassoon, percussion and her own saxophones, bass clarinet, spacedrum and vocals), the seven tracks bounce among animated string-oriented tremolo showcases, Balkan-tinged vocal laments, spacey voice, string and reed elaboration, plus instrumental virtuosity that zips, from near-atonal to near-smooth jazz.
Ram Run through the Veins, the CD's lengthiest track, defines the conundrum in miniature. Beginning as an exercise in free-form saxophone squeals and whistles, backed by a sardonic march conveyed by splash cymbals, it settles down to become a quasi-ballad with triple-stropping strings and breathy English vocalizing accompanied by a bassoon obbligato. Other tracks such as Speak Loud My Inner Child show off Jovićević's unaccompanied saxophone prowess. Still others like Rising Barefoot Ballad and Silver Winds of a Thousand Petals create close-knit harmonies which express such intense emotionalism that either could be part of the formal Romantic canon.
Flow Vertical is a top-flight demonstration of what Jovićević can do as a composer and performer. But settling on one consistent narrative would better define her ideas.